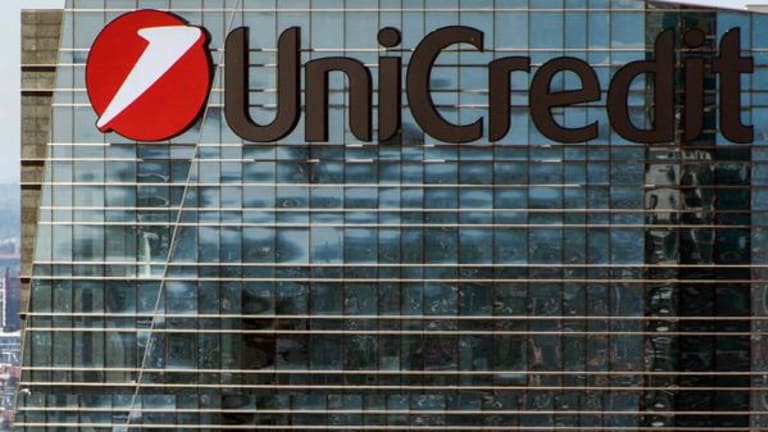 Italy's UniCredit Gains Sharply On Solid First-Quarter Numbers
UniCredit stock gained sharply after reporting a better top line, lower costs, lower loan loss provisions and better capital for the first quarter
UniCredit (UNCFF) stock rose sharply in Milan Thursday after Italy's largest lender posted stronger-than-expected first quarter profits and said bad loans on its balance sheet fell more than 10% from last year.
The bank said that it saw net-interest income stabilize during the quarter while fee income grew 4.5% and trading revenues benefitted from healthy client activity, resulting in a top line of €4.8 billion ($5.2 billion). Operating costs were down by 3% to €2.9 billion thanks to restructuring measures undertaken over the last nine months, while new provisions for bad loans fell by 11.8% to €670 million.
At the bottom line UniCredit declared net income of €907 million, up 40%, and some 48% ahead of the analyst consensus. 
UniCredit stock rose nearly 5% in the first hour of trading, to change hands at an intraday high of €16.97 before paring gains, in stark contrast to the 0.08% loss of the Stoxx Europe 600 Banks index.
"UniCredit had an encouraging first quarter with all core business lines contributing positively to the Group...These results underpin UniCredit's strengths as a simple pan-European commercial bank with a fully plugged in CIB," said CEO Jean-Pierre Mustier.
On capital, the completion of a mammoth €13 billion rights issue during the period meant that UniCredit's fully-loaded CET1 capital ratio rose to 11.45%, ahead of analyst estimates for a 11.27% capital buffer.
The bank has guided for a full year capital ratio that is above 12%. It is yet to factor in a roughly 150 basis point gain from the disposals of Bank Pekao (BKPKF) and Pioneer Asset Management.
"We believe that strong headlines across the board on asset quality, capital and profit recovery should all support continued re-rating of the stock," said Jefferies analyst Benji Creelan-Sandford, before reiterating his buy recommendation for the shares.
UniCredit set out in December to raise capital through asset sales and a rights issue as part of an effort to strengthen its balance sheet and bring its capital buffer into line with those of other banks of its size. 
Part of its asset disposal program is focused on ridding the balance sheet of nonperforming loans. The bank sold €300 million of bad loans in the first quarter and said Thursday that it flogged another €400 million during April.