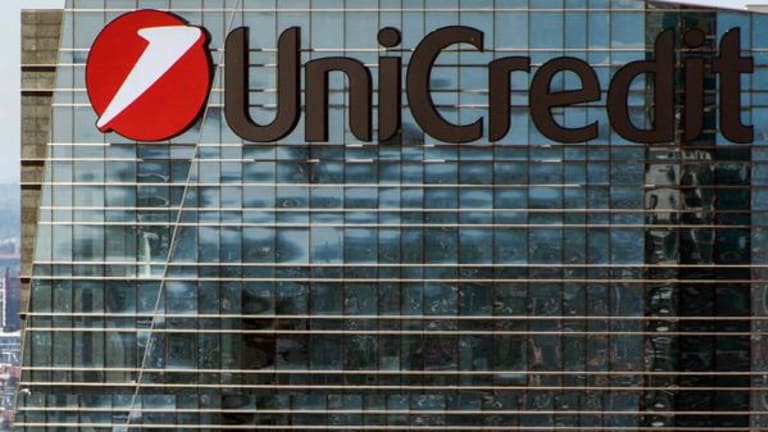 Italian Banks Recovering, Scope Ratings Reports
European rating agency Scope has improved its outlook on Italian banks, which have worked to reduce the bad loans on their books.
Perhaps one of the most important recoveries in Europe has been taking place unnoticed: The bad-loans position of Italian banks is no longer as bad as it was a few years ago. For investors with an interest in Europe -- and any well-diversified investor should have an interest in the area -- this opens opportunities.
Last month, Italy's biggest lender, Unicredit (UNCFF)  , raised almost €13 billion ($14 billion) in a rights issue to plug a hole in its balance sheet that had pushed its core capital ratio some two percentage points below that required by the European Central Bank at the end of last year.
Following the successful capital increase and significant provisions in the fourth quarter of last year, Unicredit was put under review by European rating agency Scope Ratings for a possible upgrade from its current A- credit rating.
On Thursday, the rating agency published a report on Italian banks' asset quality that is required reading for investors, as it dives deep into an issue that has kept them away from Italian banks and possibly other eurozone investment opportunities for a long time.
The main takeaway from the report is this statement by Scope: "In our view, bad debts and other non-performing exposures (NPEs) are largely a legacy of the past and are unlikely, as some have claimed, to lead to widespread bank failures or to weigh heavily on public finances. We believe asset quality is currently under control at most banks, especially at large systemic ones."
Marco Troiano, the report's author and a specialist in European banks, said the sale of NPEs is likely to take off again this year after slowing in the last part of 2016 because of the "very proactive approach" of supervisors, which insisted on speedy resolutions. The supervisors' aggressive approach may have contributed to a loss of confidence in asset valuations and in the sector more generally.
One thing that has passed almost unnoticed is that the trend in asset quality for Italian banks has been improving for several years. "We consider asset quality to be less of a problem today than it was a few years back," Troiano said.
As Scope's chart shows, the growth of bad loans has decelerated sharply since 2014 and essentially is zero at present.
The Italian economy got out of recession in 2014 but growth has been sluggish. As credit quality lags economic growth, the improvement in non-performing exposures is beginning to show only now.
Troiano said he believes Italian banks' NPEs will continue to fall in the coming years, albeit slowly, unless the country slips back into recession.
The timing of the decline will vary from bank to bank, with Unicredit and Intesa (ISNPY) set to be the champions. They already have reported declines in new NPE formation and a rise in recoveries for several quarters. Their NPEs combined make up 34% of the total NPEs in the system.
There are, of course, banks with troubling situations, such as higher-than-average NPEs and low coverage for them. Some examples are Monte dei Paschi di Siena, Veneto Banca and Banca Carige. Such banks' NPEs represent about 21% of those in the system.
Between these two groups of banks are other, smaller banks with NPEs that are either above the average or their coverage level is still low. But the largest of these, the popolari groups, have reported improvements in asset quality, in some cases due to disposals.
Besides, despite an image of inertia and slowness to act, the Italian government has taken quite a few measures to deal with the problem of nonperforming assets in the past few years.
For example, it reformed popolari banks legislation in 2015 and cooperative banks legislation in 2016 and gave more favorable tax treatment of loan-loss provisions as an incentive for banks to deal with bad loans.
Last year, the government also introduced the option to include clauses in loan agreements to allow out-of-court enforcement of property guarantees, which speeds up the process.
While investors have been worried about the politics, Italian banks have been pressing on with the efforts to clean their balance sheets. They by no means are done, but they are much further down the road than they are given credit.
This column originally appeared at 08:00 a.m. ET on Real Money, our premium site for active traders. Click here to get great columns like this from Jim Cramer and other writers even earlier in the trading day.
Employees of TheStreet are restricted from trading individual securities.