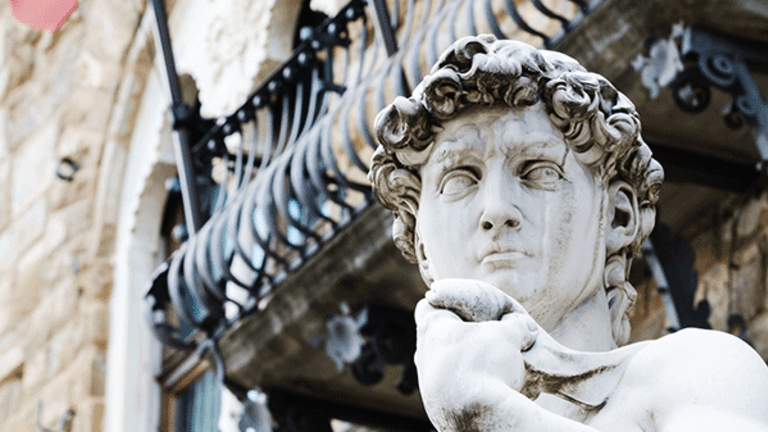 Italian Banks' Bad Loans Edge Lower, but Business Non-Payment Complaints Improving Quickly
The ECB's supervisory arm said bad loans on the balance sheet of Italy's banks totaled $305 billion in the three months ending in September, a modest decline.
The European Central Bank's supervisory arm said Tuesday that non-performing loans on the balance sheet of Italy's banks totalled €284.4 billion ($305 billion) in the three months ending in September, a modest €1.6 billion decline from the previous quarter.
The figures support earlier criticism from ECB supervisor Daniele Nouy, who told Italy's La Repubblica on Monday that the nation has done too little to reduce the stock of bad debts.
However, private data from Cerved suggests the number of nonpayment protests in Italy fell to the lowest level since 2008 in the third quarter, providing hope that the rising tide of bad debts in Europe's third-largest economy may soon begin to ease.
Cerved, a financial information provider in Italy, said Monday that the number of complaints from creditors over non-payment of invoices fell by an annual 18.2% in the three months ending in September and, at 10,400, the number was 55% below the peak recorded in 2013.
"Italian businesses' financial conditions continued to grow stronger in the third quarter of 2016, even in areas and sectors traditionally less virtuous, such as construction and the South," said CEO Marco Nespolo.
This trend was led most notably by a marked decline in the number of construction companies which failed to pay suppliers on time (a drop of 20.4%), a key figure, given the industry is responsible for more than 30% of all bad loans emerging from the business sector.
Additionally, on average Italian companies paid their dues nearly three days sooner during the quarter, while the portion of firms which payed on time rose by 130 basis points to 47%.
The data comes as the Italian banking sector has once again been rocked by volatility, driven by concerns over capital at the nation's largest lender, UniCredit (UNCFF)  , which is trying to repair its balance sheet after a failed attempt by BancaMonte dei Paschi (BMDPY) to right its own sinking ship in December.