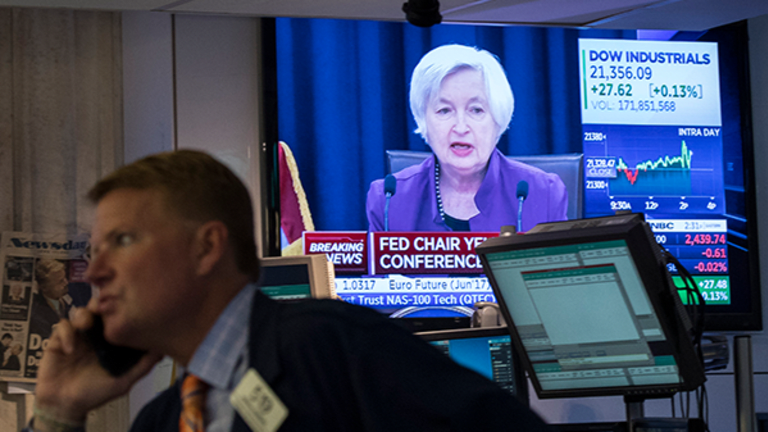 It's the CEOs, Stupid: How Meager Investment Hamstrings U.S. Economy
Corporate executives have curbed spending on new equipment while buying back more than $1 trillion of stock. The dynamic is holding back the economy, a Wells Fargo strategist says.
Who's to blame for the sluggish U.S. economy: President Donald Trump or Federal Reserve Chair Janet Yellen?
What about corporate CEOs?
Companies have dramatically slowed their spending on new plants, technology and equipment in the past three years, dampening the prospects for current and future growth, according to a strategist at Wells Fargo & Co. (WFC) - Get Wells Fargo & Company Report
New capital expenditures by Standard & Poor's 500 Index companies, excluding costs to replace depreciated assets, are growing at an annual rate of just 2%, well below the 7% rate witnessed as recently as 2014, said Paul Christopher, head global market strategist at the Wells Fargo Investment Institute in St. Louis. In 2007, just before the financial crisis, capital expenditures were growing at a rate of 4.5%.
The spending slowdown has become a vexing problem as policymakers including both Trump and Yellen seek ways to prod the U.S. economy out of its torpor. First-quarter growth dropped to a 1.4% annual rate in the first quarter, following a 1.6% expansion in 2016 that was the weakest in five years. 
Explanations range from a lack of confidence in the economy to uncertainty over Trump's proposed tax cuts, trade policies and deregulatory agenda. Another possibility is that CEOs and boards of directors are using their spare cash to buy back shares instead of reinvesting the money in their own companies, effectively prioritizing short-term stock-price gains over future earnings growth.
It's also likely, according to Christopher, that executives simply aren't seeing sufficient sales growth or new orders to justify big expenditures that would improve worker productivity or expand assembly lines. Companies as diverse as clothier Ralph Lauren Corp. (RL) - Get Ralph Lauren Corporation Class A Report  and trucker J.B. Hunt Transport Services Inc. (JBHT) - Get J.B. Hunt Transport Services, Inc. Report  have slashed their budgets for new investment. So has Conagra Brands Inc. (CAG) - Get Conagra Brands, Inc. Report , the maker of Chef Boyardee Beefaroni and Slim Jim jerky snacks. 
"If I were a business owner, I would say my sales aren't growing fast enough to want to buy a new computer system or add more inventory or build another warehouse or a production plant," the strategist said.
Yellen herself lamented the lack of investment on July 12 when she testified before lawmakers on monetary policy and the state of the economy.
"For many years, many American companies have been sitting on a lot of cash and have been unwilling to undertake investment in plants and equipment of the scale that we would ideally like to see," Yellen told the U.S. House of Representatives Financial Services Committee.
The lack of investment might also explain why inflation has remained stubbornly low -- prices for personal consumption excluding food and energy climbed just 1.4% in May from a year earlier -- despite U.S. unemployment near its lowest in a decade, Christopher said.
In a typical business cycle, accelerating sales prompt companies to hire more workers, which in turn drives up wages. As labor becomes more expensive, firms will then add new equipment, structures or technology to improve the productivity of existing workers.
"We're not really seeing that this time around," Christopher said. "In fact it's tailing off."
In the meantime, companies have plowed more than $1 trillion in the past two years into buying back their own stock, according to MarketWatch. Such moves increase earnings per share but shortchange future profit growth.
Ralph Lauren, the maker of Polo shirts, originally had planned on $325 million in capital spending during its fiscal year ended April 1. But the figure ended up at $284 million, after the New York-based company delayed several retail projects while adhering to an "increased focus on return on investment," CFO Jane Nielsen told analysts on a May 18 conference call. 
The company plans to spend $300 million to $320 million in fiscal 2018, "driven by new store openings, renovation of our retail environments and infrastructure investments," Nielsen said. But that figure would still be well below the $418 million spent in fiscal 2016. 
J.B. Hunt, based in Lowell, Ark., plans to spend $451 million to $476 million this year on tractor-trailers, chassis and containers, according to a filing. That amount would be lower than the $486 million spent in 2016 and $556 million in 2015. A spokeswoman didn't respond to a request for comment. 
Chicago-based Conagra, which also makes Snack Pack pudding and Manwich Sloppy Joe sauce, undertook several significant plant expansions and improvements in its fiscal year ended May 28, for a capital budget of $242 million, according to an annual report. But that figure was still down 13% from the prior year. A spokesman didn't respond to a request for comment. 
The economy is likely to muddle along unless growth in capital expenditures climbs above 4%, Wells Fargo's Christopher said. One catalyst for higher spending would be progress in Washington on stimulus in the form of deregulation or tax cuts. Or even more clarity on future policy.
The U.S. Senate on Friday voted down Republican lawmakers' latest attempt to overhaul healthcare laws, as some members of Trump's own party broke ranks to thwart one of his key campaign promises. 
The vote came during a week in which new White House Communications Director Anthony Scaramucci, in a profanity-laced tirade to the New Yorker, accused Trump's chief of staff, Reince Priebus, of leaking a financial-disclosure document to undermine him.
And on Saturday, the president himself took to Twitter to lambaste his own party: Senate Republicans "look like fools and are just wasting time," he said in a barrage of posts blaming the chamber for the health-care bill's failure.
"Whether you're Republican or Democrat, people have noticed the political polarization in the country, and they're not sure where the leadership is going next," Christopher said.
More of What's Trending on TheStreet: