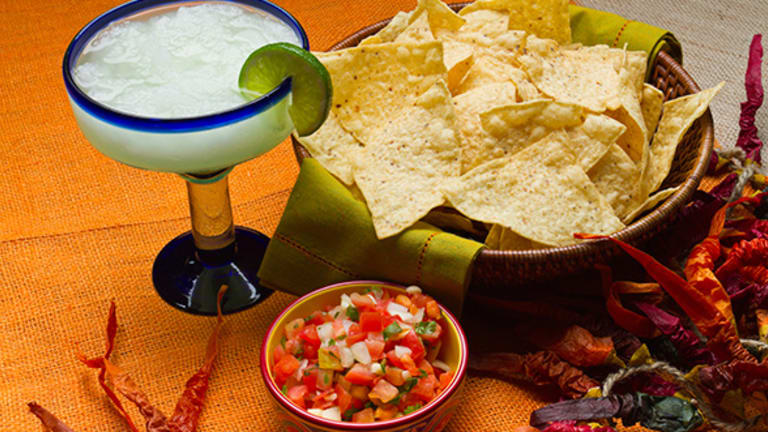 It's Going to Be a Happy Cinco de Mayo for Constellation Brands
The alcohol giant, which reported blowout annual results last month, is one of the favored drink suppliers at Jim Cramer's Brooklyn Mexican restaurant.
Cinco de Mayo promises to be a big night for Constellation Brands (STZ) - Get Constellation Brands, Inc. Class A Report .
And it's the biggest night of the year for Bar San Miguel, a Brooklyn Mexican restaurant owned by Jim Cramer, TheStreet's founder and manager of the Action Alerts PLUS portfolio.
The bar serves 140 tequilas and 40 mezcals, he says.
One of Cramer's favorite tequilas is Casa Noble, which Constellation acquired on Aug. 13, 2014 for undisclosed terms.
On tap at Bar San Miguel are two Constellation beers, Modelo and Corona. Constellation shelled out $2.9 billion on Feb. 14, 2013 to acquire Grupo Modelo's Mexican brewery and perpetual U.S. brand licenses from brewer giant Anheuser-Busch InBev. The deal gave Constellation control of the production of Modelo and Corona, as well as other brands, for marketing and distribution in the U.S.
Constellation is Cramer's "favorite sin stock." The alcohol giant announced blowout annual results last month, including 9% annual sales growth.
"They've gotten wine right, they've gotten beer right, they've gotten tequila right," Cramer said.
"It is hard to overplay how attractive Constellation remains with its unique meld of powerful top-line growth, high and improving margins, and the positive optionality of an improving balance sheet and accelerating free cash flow," Pivotal Research Group analyst Tim Ramey wrote in note after the 2015 results.
In the past year, Constellation has shifted its acquisition strategy toward premium wine and craft beer, spending over $1.5 billion on acquisitions in the spaces.
Cramer believes Constellation's next acquisition may be in mescal, pointing to a recent article in The New Yorker about the drink's boom. "I think Constellation is going to do something there, perhaps adding onto what is already a pretty good Casa Noble franchise," he said.