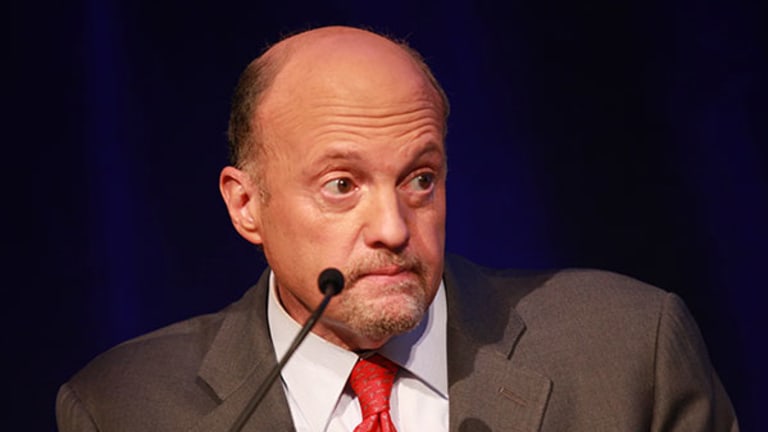 It May Be Tech's Turn; A Genuinely Nutty Idea: Jim Cramer's Best Blogs
Catch up on Jim Cramer's thinking over the past week about a cautionary note on tech and strength in specialty apparel.
NEW YORK (TheStreet) -- Jim Cramer fills his blog on RealMoney every day with his up-to-the-minute reactions to what's happening in the market and his legendary ahead-of-the-crowd ideas. This week he blogged on:
A cautionary note on tech, and
Strength in specialty apparel.
Click here for information on RealMoney, where you can see all the blogs, including Jim Cramer's -- and reader comments -- in real time.
Next Week, It May Be Tech's Turn
Posted at 7:14 p.m. EST on Friday, July 25, 2014
They turned on retail. Then they turned on aerospace. Then they turned on industrials and housing. Will tech be next?
You have to worry about the way this week went out. We have ignored bad geopolitical news for several weeks because the earnings were pretty darned good, but it seems like the ignoring days are over.
Plus, toward the end of the week, I thought there was as much bad as good on the earnings front. Plus, for the first time in ages, it felt good to have some cash.
[Read: Twitter or Facebook: Who Won the World Cup's Social Media Battle?]

I think that next week's headwinds are going to be about a ton of new supply and a sense, post-Visa (V) - Get Free Report , that we are going to start getting geopolitical guide-downs from companies that do business in Europe. That has been noticeably absent this earnings period until today.
We have raised a lot of cash for Action Alerts PLUS, as we seem to be in a period where the risk/reward has changed for a lot of our stocks. It was gratifying to see Lear (LEA) - Get Free Report and Stanley Black & Decker (SWK) - Get Free Report run. But we are back in the world that if you don't blow away and guide up, you get a Starbucks (SBUX) - Get Free Report. Given the runs we have had, the bar has been lifted a little too high. Or to put it another way, if Starbucks were at $75 going into the print, it would be at $78 now. It just got there going down, not up.
I felt that by the end of the week there were too many moving parts: bonds not making sense, industrials being clobbered on the same old news and aerospace being shot everywhere.
But tech hung in, I think because of good numbers from Facebook (FB) - Get Free Report the day before.
[Read: How Walmart Can Get the Well-Off Customers It Needs to Grow ]

I know not a lot of tech reports next week, but have you noticed the stalling out in Microsoft (MSFT) - Get Free Report, Intel (INTC) - Get Free Report, Hewlett-Packard (HPQ) - Get Free Report and Oracle (ORCL) - Get Free Report?
I like all of those, but I recognize that they have gone about as far as they seem to be able to go on the same old news that enterprise spending has been going up.
They act like the industrials did the week before last: plateauing.
No, I am not a bear. But I have eyes, and anyone who was bullish could not have liked what you saw near the end of the week, particularly when the Chinese purchasing managers' index reported out strong and all of the levered industrials underperformed.
Supply and Russia.
Age-old enemies of the bull.
At the time of publication, Action Alerts PLUS, which Cramer co-manages as a charitable trust, was long FB and ORCL.
A Genuinely Nutty Idea
Posted at 10:48 a.m. EST on Thursday, July 24, 2014
You want to hear the nuttiest idea yet? You know what group is doing incredibly well with fantastic growth and terrific gross margins?
It's specialty apparel -- namely, Skechers (SKX) - Get Free Report, Under Armour (UA) - Get Free Report, Carter's (CRI) - Get Free Report andHanesbrands (HBI) - Get Free Report.
Tonight on Mad Money, I'll have Skechers on, and this company has been just doing so well, with all new lines of footwear and terrific promotion. The stock is still way too cheap.
As for Under Armour, a heavily shorted technology stock that happens to be in the apparel industry, management has highlighted that it is doing well in footwear and in international sales. The truth is, though, there isn't anything that this company isn't doing well. The direct-to-consumer service is amazing. The gross margin is terrific. The stores are amazing. This is a momentum stock that has much further to go.
Nike's (NKE) - Get Free Report good, but not as good as Under Armour.
[Read: Two-Thirds Of Consumers Are Planning Home Renovations]
I have to do more work on Carter's, but this is just a remarkable back-from-the-dead comeback story.
Then there is Hanesbrands, which is the consolidator of a fragmented undergarment industry. The company gobbled up Maidenform, and has already turned it into an incredible cash machine. I profiled Hanesbrands not that long ago on Mad Money, and I think the growth is totally sustainable for at least another year.
Contrast these with VF Corp. (VFC) - Get Free Report and PVH (PVH) - Get Free Report. The first one is doing quite well, but it has become caught up in the whole department-store slowdown. The second paid way too much for Warnaco and has been struggling ever since.
I believe in both VF and PVH, because the management teams are quite good. But failing to point out the disparity between the special guys on one hand, and the general companies on the other, would mean being oblivious.
At the time of publication, Action Alerts PLUS, which Cramer co-manages as a charitable trust, had no positions in the stocks mentioned.