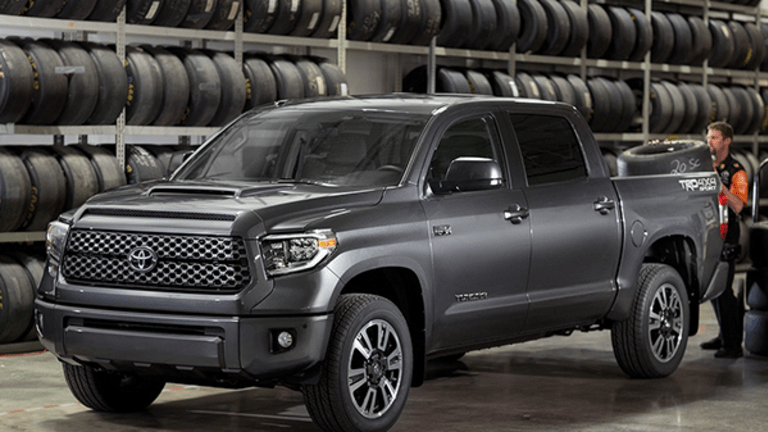 Could Toyota Motor Corp. (TM) - Get Toyota Motor Corp. Sponsored ADR Report emerge from the latest U.S. sales downturn as the No. 1 seller of new vehicles, displacing General Motors Co.  (GM) - Get General Motors Company (GM) Report , the historic No. 1 in its home market?
It's not impossible. Sales figures from July could be a preview of things to come as the Japanese automaker slowly and steadily gains ground in the U.S. on GM and Ford Motor Co. (F) - Get Ford Motor Company Report . Toyota has done particularly well in the U.S. during industry downturns, gaining share when less financially sound rivals are forced to cut spending on advertising and to pare back lower-profit sales to rental fleets.
Expect Tesla to Raise Money in 2018 So It Could Produce 500,000 Mass Market Electric Cars
Toyota finished slightly behind Volkswagen AG (VLKAY) as global No. 1 in 2016 and both are slightly ahead of the alliance of Renault SA and Nissan Motor Corp. (NSANY) on a global basis, which now include vehicles built by Mitsubishi Motors Corp., in which Nissan holds a controlling 34% stake. Automakers value large size -- in terms of overall vehicle sales -- because it allows them to spread huge capital expenditures for technology, new designs and tooling over more units and it's a way to attract customers who may prefer to buy a car from the market leader.
In July, Toyota's sales of 222,057 vehicles, up 3.6% including its Lexus luxury vehicles, was only 4,000 or so behind GM, which saw sales fall 15.4% in July. GM has been deliberately curtailing sales to rental fleets, which accounts for most of the drop. Wall Street analysts have encouraged GM to concentrate on profitability over size and increase the proportion of vehicles sold to individuals.
Whenever the market begins to cool, as it has lately in the U.S., "We see that as an opportunity," said Jack Hollis, group vice president of sales for Toyota. "We always try to stay with our plan and not try for higher highs or lower lows" based on overall consumer demand. At a meeting of Toyota dealers in May, he said, "We talked about continued spending of marketing resources, not reductions."
As of July 1, GM's overall share of the U.S. market was calculated to be 16.8% by Kelley Blue Book. Ford's was 15.4% and Toyota's was 13.7%. GM at one time claimed half the U.S. vehicle market, while Toyota first began selling cars here in the late 1950s.
For July, Toyota surged to 15.6% of the U.S. market, according to Hollis. Toyota, which has a low level of sales to rental fleets compared to GM and Ford (F) - Get Ford Motor Company Report , said it already is the No. 1 seller of vehicles to individual consumers in the U.S. GM disputes this claim and said it is slightly ahead.
The length and depth of the current downturn in vehicle sales in the U.S. could prove to be telling for Toyota, as well as for GM and Ford. If it the current downturn of five straight months reverts to sales growth, the normal pattern of GM and Ford leading the market could continue. Otherwise, Toyota's financial strength and its powerful dealer body could vault it to a leadership position.
More of What's Trending on TheStreet:
Tesla's Remarkable Rally Just Getting Started: Chart
Doron Levin is the host of "In the Driver Seat," broadcast on SiriusXM Insight 121, Saturday at noon, encore Sunday at 9 a.m.
This article is commentary by an independent contributor. At the time of publication, the author held no positions in the stocks mentioned.