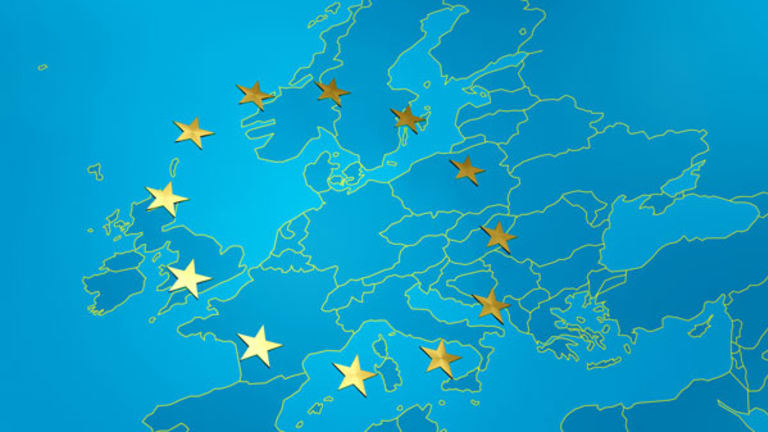 Is This the Silver Lining for the Greek Election Cloud?
The result of Monday's presidential election in Greece may have spooked the markets for the short term, but for the long term, it could be a blessing in disguise.
NEW YORK (Real Money) -- Judging by the market reaction, you'd really think the failure of the third presidential vote in Greece is a surprise.
The Athens stock exchange was down more than 5%, with banks leading the way, while the major European indices -- the FTSE 100, the French CAC-40 and the German DAX -- spent most of Monday in the red.
And yet this may prove to be a good opportunity to buy on dips in these usually too bullish markets, as the negative reaction could turn out to be exaggerated.
The failure to elect a president does not mean that the wheels have fallen off the Greek economy (or indeed that Greece will leave the euro, as some investors now fear).
Early elections will take place on Jan. 25, so in less than one month. And while Alexis Tsipras, the president of left-wing party Syriza, promised that austerity-backed bailouts are a thing of the past, it may not be so easy for him to fulfill his promise.
Yes, his party is ahead. But opinion polls also show that it is closely followed by New Democracy and Pasok, which together could still form a coalition and rule if the vote doesn't turn out to be in Syriza's favor.
Courtesy of Societe Generale
Even if Syriza wins, it will probably still need to ally itself with one of the big parties in order to be able to govern. Tsipras' party has made some very populist promises. Raising the minimum salary by 50% and creating more government jobs, as well as negotiating a fresh restructuring of the country's debt are a few of them.
But, depending on the result of the election, Tsipras will probably have to tone down his rhetoric and learn to compromise in order to ensure his party is able to run the country.
One thing that Monday's Greek election result shows is that politicians are still the ones who will determine the fate of the eurozone.
It is up to the Troika now -- the European Union, International Monetary Fund and European Central Bank -- to make sure it can negotiate a way for Greece to stay on the reform path while not alienating voters even more.
One such compromise would be another round of debt forgiveness, something that Tsipras advocates already, saying that ordinary Greeks have suffered disproportionately.
Some analysts say that the eurozone will have a lot to gain if in fact Greece were to receive debt relief, coupled with useful reforms to accelerate its economic growth.
Despite the private sector bailout in 2012, the public debt load remains high, at 317 billion euros ($386.7 billion) or about 175% of Greek GDP, notes Michel Martinez, euro area analyst at Societe Generale.
Even at an effective interest rate of 2.3%, which is lower than the eurozone average interest rate, the cost of servicing the debt makes up nearly 5% of GDP.
"Hence, Greece would need to have a strong growth profile and a large primary surplus to put its public debt on a sustainable path. This is unrealistic," Martinez said.
According to the IMF, Greek debt is expected to peak this year at 174% of GDP and decline gradually, reaching around 128% of GDP in 2020 and 117% in 2022, "as fiscal adjustment continues and the economic recovery takes hold."
But Martinez argues that in order for that to happen, the IMF has assumed an "optimistic" nominal GDP growth rate that would average 4.9% over the next decade. The Fund also assumes a primary budget surplus -- the difference between revenues and expenditures not taking into account debt servicing costs -- of no less than 4.2% of GDP over the same period, which "does not seem realistic" to Martinez and therefore the country could do with a fresh round of debt restructuring.
However, there are political problems with forgiving Greece's debt outright. Let's not forget that this time, most of it -- around 250 billion euros -- is held by the official sector: the IMF, the ECB, the European Financial Stability Facility (EFSF) and bilateral loans by eurozone member states.
Of these, the IMF takes precedence over any other creditors when it comes to countries repaying their debt, and the ECB will probably not be involved in any bailout.
This leaves about 194.7 billion euros, of which 141.8 billion euros is debt that Greece owes to the EFSF, and the rest is debt to other eurozone member states, according to statistics compiled by Societe Generale.
Martinez says that indirect bailouts such as forgiving interest payments on loans from eurozone lenders and extending loan maturity to 50 years would cut the effective interest rate in half to 1.5% between now and 2022, pushing the total debt ratio to 125% of GDP by 2022, much closer to the IMF's projections.
"Of course, such debt relief would come with new conditions. It would potentially be reinforced with some additional support from structural funds from the EU and a continuing process of reform," he says.
The result of Monday's presidential election in Greece may have spooked the markets for the short term. But for the long term, it could be a blessing in disguise: It may have just persuaded the rest of Europe to go easier on Greece.
This article was originally published on Dec. 29 at 12:00 p.m. EST on Real Money.