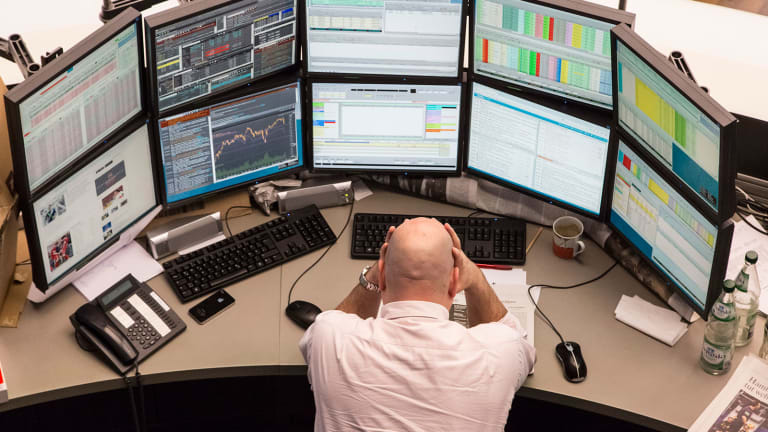 Is the Stock Market Set for Waterfall Selling or a Brief Respite?
In the wake of Monday's and Tuesday's selloffs, ignore the hype. Here's what detailed technical analysis tells us about where the market is headed next.
NEW YORK (TheStreet) -- The Dow Jones Industrial Average and S&P 500 have now fallen 14% and 12%, respectively, from their highs in May.
The overhyped selloff on Tuesday was not even in the same league as Monday's, even though the high-to-low point range was impressive.  
When you look at the closing breadth on Monday (nearly 15 losing stocks for each one winning stock) vs. that on Tuesday (1.2 losing stocks for each winning stock), the internals were much less extreme on Tuesday.  
In fact, having a nearly even ratio of advancing issues to declining issues on a day that saw the Dow and S&P each fall around 1.3% suggests that something very different is happening below the market's surface.
Another anomaly is visible when you observe the action of the CBOE Volatility Index, or VIX, vs. the S&P 500. When was the last time you saw VIX fall 11.5% on the same day the S&P 500 fell 1.3%? If the answer is not never, it's virtually never.
Speaking of the VIX, there's lots of advice on the Internet about how to make a fortune using the VIX, but this volatility index is no different from any other investment vehicle. You've got to know when to hold 'em, and when to fold 'em, and there are no short cuts.  
Knowing when to buy low and sell high in a stock is hard enough, but doing so in derivatives of derivatives is very hard. No offense to those who actually can make fortunes here. But most of us humans just can't get these fancy plays right over time.  
There are mixed messages everywhere, with some TV commentators, economists, and strategists telling us that this is the buying opportunity, while others are saying there will be another 5% to 10% correction.
Now is the time to separate the trees from the forest. Otherwise, all that glib advice out there could leave you confused.
Let's ask the decision support engine to lend some objectivity and see what happens. The question is: "If we had no money in VIX at this moment, would buying or selling actions be indicated?"
Here's the forest view: On Monday, the VIX met the target we posted before the open, in the 45, plus or minus 5, zone.  It reversed from 50, near the 10-standard-deviation band (a statistical anomaly so rare that it lasted only seconds), and was all the way down to 28 by early Tuesday. That is an eight-market-hour swing from Friday's close at 28 to Monday's peak at 50 to Tuesday's open at 28!  
By Tuesday's close, the VIX was back to 36, which was only the six-standard-deviation band. Imagine being relieved at six-standard-deviation bands! 
This dramatically lower extreme than Monday hints that the next day or two will see the VIX fall below Tuesday's open and test the 23, plus or minus 3 zone, which includes both the two-standard-deviation and three-standard-deviation bands.
Unless the market decides to implode today, and close with a Dow 14,000 handle, this is not the condition that indicates that buying actions are appropriate. Therefore, if you have to take action in VIX, selling actions should be used.  
Odds are that by the time the market opens Wednesday, the early futures selling of the Tuesday evening stock index session will have strengthened, and it'll be too late to sell the VIX at the Tuesday close, as stock index futures will be higher than their Tuesday close. The DSE hints in this direction based upon the details discussed above.
As we move from the forest view to the tree view, we can see that daily VIX stochastics are rolling over, creating heaviness for VIX pricing. The panic of the day, this time, could be for those too long in VIX exposure to panic out, rather than panic in, as in Monday's opening hour.  
Obviously, we can't tell the news that will surface while we sleep, but the herd is in the mood for a bit of good news, so as I was getting ready to sleep around 1 a.m. Tuesday, a bounce for Wednesday, perhaps even Thursday/Friday, seemed likely.  
The forest view for the Dow is that a small bounce is needed that tests 16,200, plus or minus 250. Once this is complete, later this week, the extremes of Monday's spike to 15,370 will be broken, as 15,000, plus or minus 150, becomes the ideal landing zone for the initial decline from the 18,300 all-time high.  
Then, a multiweek to multimonth bounce will rise 1,500, plus or minus 250 points, possibly into January 2016 (plus or minus six weeks). This is a minimum decline. If the current decline is one degree more complex, then there will be at least two more lower lows and lower highs, which will lower the decline's target landing zone to the mid-14,000s, plus or minus 300.
Examining the trees, any move here above 17,125, before Monday's lows are broken, will not be consistent with these forecasts. A Dow close above 16,762 will hint that 17,125 is rising in probability. So, we have the targets, as well as the levels where new analysis must take place. 
Thus, to answering the DSE question above, at this moment, under this scenario, selling actions in the VIX and buying actions in the Dow are indicated.  
For more of this kind of analysis, join our reservation list for the launch of our new real-time, live-market analysis chat room. Launching September: decision support engine analysis from bell-to-bell, addressing indexes and stocks, as well as member questions throughout the day.
This article is commentary by an independent contributor. At the time of publication, the author held no positions in the stocks mentioned.