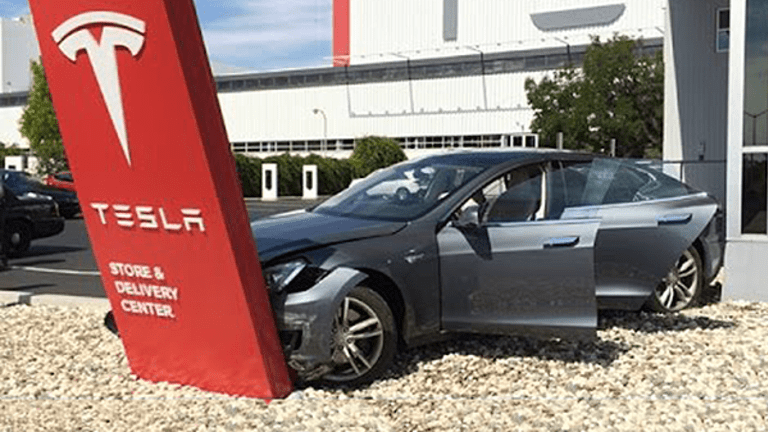 One Wall Street Firm Slaps Red-Hot Tesla With a Sell Because It's Running on Empty
Talk about bearish.
UBS analysts on Thursday reiterated their sell rating on Tesla (TSLA) - Get Tesla Inc Report shares and said basically that the stock is running on fumes.
They stated that there is no fundamental basis for the stock's jump to $281 from $190 since the end of November, especially since the firm faces uncertainty around the prospects for the success of Solar City, which Tesla acquired last year.
"We struggle to understand the run-up, particular as Q4 deliveries missed, though positive spin on the Musk-Trump relationship, reconfirmed Model 3 launch timing, and expectations of new reveals (including more autonomous features) are likely factors," the analysts told clients in a report.
UBS cautioned that the firm burned $1 billion in capital in the fourth quarter and that shareholders will probably face further dilution from another likely round of capital raising. They also cautioned that the combined Solar City and Tesla would need to make forward earnings revisions to account for the acquisition.
"Solar adds more risk and complexity to business with the closure of the Solar City merger; Tesla is assuming numerous risks. Realize the Solar names fell about 46% over the year last year," the report said.
The report concluded with the analysts' concerns about profitability for the Model 3 given battery costs.
Watch More:Here are a few of Elon Musk's Mind Blowing Ideas
"We estimate the stock is currently pricing in +1.7m sales in 10 years (vs. 2.0-2.4m unit sales for BMW/Mercedes)," they wrote.
The firm cut its 2016 earnings estimate to a loss of $3.50 a share from a $2.50 a share loss based on expected tardiness of some deliveries and the acquisition of Solar City. They also trimmed 2018 through 2020 estimates based on the Solar City deal. The firm maintained its $160 a share Tesla price target.