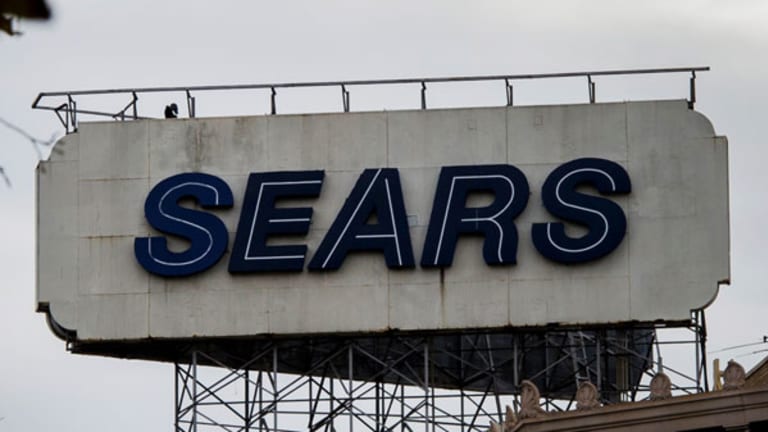 Publish date:
Is Sears on the Brink of Collapse?
This once-mighty brand appears to be on the verge of total collapse with little chance of survival.
This once-mighty brand appears to be on the verge of total collapse with little chance of survival.
This is a sad financial tale that offers little hope for the company in question. Sears Holding Corp.'s (SHLD) hauncho Edward Lampert could go down in history as the chairman who presided over corporate carnage -- the utter destruction of value at this once leading American department store chain.
The stinging 37.66% drop last year in the company's shares continues to rage on even as fresh clouds loom on the horizon. A nearly 13.67% decline year to date merely underscores the damage already done. Today, 50% of Sear's market value stands obliterated, with the company struggling to come to terms with the bleeding.
data by
In fact, Lampert's multiple efforts to craft a turnaround has fallen flat on its face. One wonders if the company's fortunes would have been different, if Lampert hadn't left Goldman Sachs way back in the late 1980s to go out on his own.
We believe Sears could witness a full-fledged collapse, sooner than you think, making its stock one of the most dangerous investments in the world.
Let's begin by looking at the company's latest quarter, which intersected with the biggest holiday of the year. Christmas season sales were dismal.
Adjusted EBITDA for the fourth quarter of 2015, excluding none core items, reflected losses of about $82 million. In the same quarter last year, the company had managed an adjusted EBITDA of $125 million.
In fact, customer traffic is dropping at an alarming rate at the company's outlets. Comparative sales of Kmart dropped a whopping 7.2% and Sears (domestic) fell by a jaw dropping 6.9%. This is a massive under-performance when you consider how the company's rivals are currently faring.
For instance, Macy's reported a comparable sales (owned plus licensed) drop of 4.3% in the fourth quarter. Target reported a comparable-store sales increase of 1.9% in the fourth quarter, driven by e-commerce growth. Wal-Mart Stores (even as it struggled with its own share of challenges) posted U.S. comparable-store sales that were 0.6% higher in the fourth quarter. Sears, clearly, is way, way behind.
And just when you felt the company was an excellent value buy, given its rock bottom evaluations, the story is markedly different: Sears intends to write down the value of its trade name by $200 million. And Sears isn't the only one - falling titan Sprint S has taken a $1.9 billion trade name impairment. Both Sears and Sprint are belong to a class of toxic equities that will collapse this year.
So, if you want to buy shares of a company that is devaluing its own brand and trade name, we suggest you accept the obvious peril lurking right above you.
Lampert isn't running a company that's currently viable. Don't take our word for it -- an analyst covering the stock (with a sell rating) recently suggested that "the company is no longer viable as a retailer in its current form."
Making little cash on its own, the company's free cash flow metric has turned negative since 2011. Between 2012 and 2015, Sears has recorded net losses over $6 billion.
Book value dropped dangerously from over $77.75 per share levels in 2007 to just $1.1 in 2015. Sears will ultimately have little cash left to pay anybody; remember its $3.04 billion debt pile is at risk (for creditors).
Lampert's big plan is to cut costs. But then it's doubtful if Sears' expense reduction game plan of over $600 million in 2016 can change the fortunes of this company. About fifty stores are scheduled to close. A clutch of assets will be sold.
The trend will carry on until there is actually nothing to sell, nowhere to sell and nobody to sell to.
Our verdict is sharp and succinct: Stay away, until Lampert leaves the building. Sears looks irrevocably bleak.
What a terrible year so far for investors! Stocks have been in a severe slump all year, as a sputtering China and plunging oil prices batter the weakest equities. Do we face a repeat of a 2008-style debacle? You need to prepare now, by weeding out the fundamentally flawed stocks that could ruin your portfolio. We've done the homework for you, by putting together a report on the world's most dangerous stocks. These equities are poised to collapse; don't get left holding the bag. To download your free copy, click here.
This article is commentary by an independent contributor. At the time of publication, the author held no positions in the stocks mentioned.