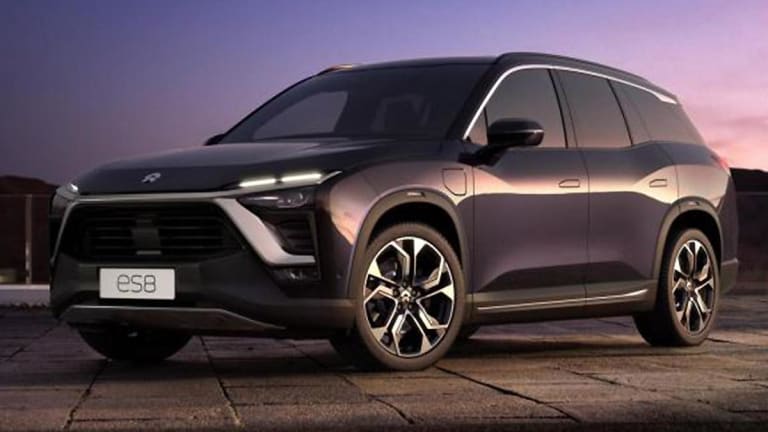 Is Nio Stock Finally a Buy After Earnings Beat?
China's Nio beat on earnings and revenue, but it's far from being out of the woods. Here's the must-clear resistance level to watch now.
Price updated from 4:00 pm closing.
Shares of China's Nio (NIO)  ADRs are on the move Tuesday, closing up 3.63%, to $4.00, in the first trading day of the holiday-shortened week -- and then rising .75% in after-hours trading. The move comes after the company topped earnings and revenue expectations.
But is it enough to warrant a long position? Perhaps fundamentalists with a pair of rosy glasses may find Nio stock attractive. When it comes to the charts, though, this one remains a no-touch for now. We need to see a few key developments happen before bulls can be safe on the long side.
That's even as a GAAP loss per share of 38 cents came in 12 cents per share ahead of expectations. Fiscal first-quarter revenue of $243 million came in $32.5 million ahead of estimates, beating consensus expectations by more than 15%.
However, there are warnings signs. Vehicle revenue fell 54.6% sequentially, while vehicle margins went from a positive 3.7% in the fourth quarter of 2018 to -7.2% in the first quarter of 2019.
Let's look at the charts and see if we can't get to the bottom of this.
Trading Nio Stock
Investors who were bullish on Nio stock felt that way for one reason: They thought it could be the Tesla (TSLA) of China. With China boasting the largest electric vehicle (EV) market in the world, as well as a larger population than the U.S., Nio had a big opportunity to capitalize on. It also had tough hurdles in the way, too.
While shares are bouncing on the day, they are far from out of the woods. What has me concerned the most is, can this newfound optimism last? Here's one line in the press release that I would worry about (bold emphasis added):
"Deliveries of the ES8 in April 2019 were 1,124 vehicles, which reflected a greater-than-anticipated slowdown in monthly deliveries primarily due to the electric vehicle (EV) subsidy reduction announced in late March."
That has me worried that Nio stock won't be able to see much follow-through to the upside, at least to the point where it can push through key resistance. On the charts, stiff resistance comes into play near $4.40 to $4.50 and for the most part, is trending lower. Around this area right now, Nio stock will face channel resistance (blue line), the 20-day moving average and possible level support that turned into resistance.
That last one -- support turned resistance -- has played out a few times with Nio stock. Most notably, $6 was strong support turned resistance. Then $5 did the same thing. Now $4.50 might as well.
Should Nio stock push through resistance, then the stock can begin repairing some of its heavy technical damage. However, if shares rally into resistance and fail to push through, the lows -- currently near $3.80 -- are back on deck. Below there and channel support is the next level to watch. Nio stock is a "prove me" name now. It needs to prove that it's a worthy long position by clearing key resistance. Otherwise, traders have no reason to buy this stock. 
This article is commentary by an independent contributor. At the time of publication, the author had no positions in the stocks mentioned.