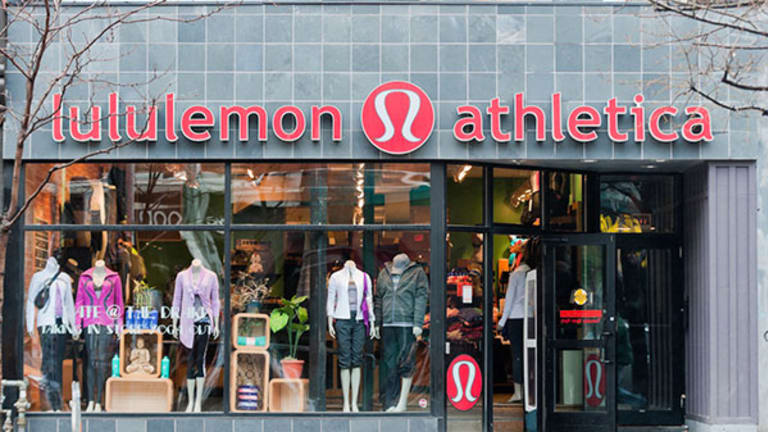 Is Lululemon Board Member Rhoda Pitcher for Real?
Founder Chip Wilson blames long-standing board members for Lululemon's lack of performance. Rhoda Pitcher could not be found to comment.
Founder Chip Wilson blames long-standing board members for Lululemon's lack of performance. Rhoda Pitcher could not be found to comment.
(The following story has been updated and was originally published on Real Money on June 17, 5:48 p.m. ET)
Ask Chip Wilson who is to blame for the plight of the company he founded, Lululemon Athletica (LULU) - Get Report , and he loudly and clearly points at the yoga-apparel maker's longest-standing board members.
Lululemon has been under fire in recent years for issues with its clothing. The company recalled about 318,000 drawstrings from its hoodies and jackets as well as a line of see-through yoga pants.
Since Dec. 10, 2013, the same month the current management team was appointed by the board, shares of Under Armour (UA) - Get Report have increased 76%, and Nike (NKE) - Get Report by 39%. The S&P 500 is up 16%. Lululemon shares have increased 5% in that time.
"If the company is being run so poorly ... then you have to go after not the CEO [Laurent Potdevin], but you have to go after the board, because the board is actually nominating the CEO," Wilson told Jim Cramer on CNBC's "Squawk on the Street" Wednesday. When Cramer pushed Wilson to reveal which board members stand in the way, he replied, "It's the long-standing board members."
In Wilson's open letter to the shareholders in June, he said Lululemon has "dramatically under-performed the market and its peers."
So we sought out those long-standing board members -- Rhoda Pitcher, Martha Morfitt and Michael Casey -- to get their responses to Wilson's accusations. Except we couldn't find one of them -- and not for lack of trying.
Of Lululemon's 10-member board, Rhoda Pitcher is the director with the longest tenure, since December 2005. She also serves as a member on the compensation committee and is chair of the nominating and governance committee. A 2013 proxy statement for the annual shareholders meeting said that the board selected Pitcher because of her extensive experience in "management consulting, culture development and strategic planning."
Pitcher was compensated well during a time when Wilson says the company was being run poorly. In 2010, she made $157,650 in cash, stock and options awards, and $172,428 in 2011. The following year, she earned $183,013 in stock awards. Pitcher made $194,007 in 2013. And in 2014, she earned $206,904, and $217,257 last year. Pitcher was also just awarded an additional 1,772 shares on June 10. This puts her total holding in Lululemon at 21,932 shares, according to Bloomberg data.
While Pitcher's compensation is well-documented, her experience and qualifications outside the Canadian-based company are unclear.
Her biography on Lululemon's corporate website states that she holds a master's degree in "organization development" from University Associates Inc. But that institution appears to be unaccredited, as a search for "University Associates" on a U.S. Department of Education website yielded no results. Furthermore, a Google Map search of the address shows a residential home in Tucson, Ariz.
Google Maps Street View of University Associates Inc. address

Pitcher's bio also states that she founded her own consulting firm, Rhoda M. Pitcher Inc., in 1996, providing "services in organizational strategy and the building of executive capability to Fortune 500 corporations, institutions, start-ups and non-profits." But the company does not have any web presence, contact information or identifiable clients.
The Real Money team was able to verify that the company is registered in Washington state by The Aguiar Group, which is based in the Seattle area, not far from Pitcher's last-known home address, in Bellevue, Wash., according to a Securities and Exchange Commission filing. In a phone call Friday, CEO Carmen Aguiar declined to comment on the status of Rhoda M. Pitcher Inc., saying that it is "confidential" information.
Google Maps Street View of The Aguiar Group address

The business address registered with the Washington Secretary of State showed what appears to be a home address. A Google Maps search revealed a multi-story home that looked to be behind gates, adjacent to a country club. Aguilar's accounting firm is located in what appears to be a private home on a nearby street.
Google Maps Street View of Rhoda M. Pitcher address

Pitcher's previous work experience as described in the Lululemon bio, could not be verified either, as she is credited with co-founding and selling "two international consulting firms," both of which are unidentified.
Email requests, followed by phone calls to Lululemon for an interview with Pitcher, were not immediately answered. While Lululemon did not directly respond, a representative of public relations firm ICR said they did not have the requested materials "on hand" at this time.
Attempts to interview four other board members, including Martha Morfitt, were unsuccessful. The remaining members did not have contact information listed at the company's website. Lululemon's former CEO Christine Day did not wish to comment at this time.
"The issue with these directors is not personal," said Chip Wilson in an email statement to Real Money. "But, the fact is, I believe the data shows they have failed as directors of Lululemon."
So, the longest-serving director on the board of a $10 billion public company has a personal history that cannot be traced, no identifiable photo, a business that cannot be found, and a degree from an unaccredited entity with a residential street address.
So who is really to blame for the board's so-called problems?
-- This story has been updated with current competitor comparison data provided by Wilson's representative.
-- Carleton English, Adam Leverone, Jason Keschner and Henri Fernandez contributed to this story.