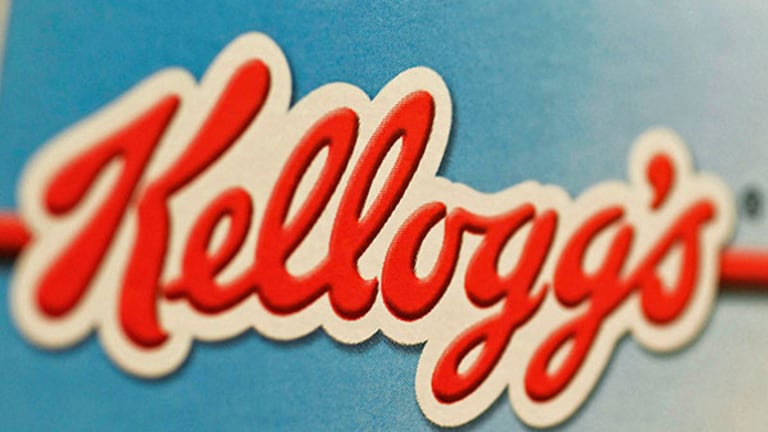 Is Kellogg Safe From the Cereal-Killing Generation?
Cereal sales are slumping as millennials skip breakfast. With slight improvements in its second-quarter earnings, is Kellogg a worthwhile opportunity?
Cereal sales are slumping as millennials skip breakfast. With slight improvements in its second-quarter earnings, is Kellogg a worthwhile opportunity?
Millennials have developed a reputation for being food-obsessed. Armed with Apple iPhone cameras, they seem to be snapping photos of every single meal to upload to their Facebook and Instagram accounts. And their demand for what they perceive as being higher-quality and healthier ingredients have sent sales of sodas (even the iconic Coca-Cola) plunging.
They've driven the rise (and fall) of Chipotle Mexican Grill. And they've even brought McDonald's to consider putting kale on its burgers.
However, they're just not that keen on cleaning up after themselves in the kitchen.
According to a survey from research firm Mintel, roughly 40% of millennials skip breakfast because they find cleaning up afterward too inconvenient.
This has wreaked havoc on the breakfast cereal industry. In 2015, sales in this sector came in around $10 billion, versus $13.9 billion in 2010. This has made investing in the top cereal brands -- General Mills (GIS) - Get Report and Kellogg (K) - Get Report -- a risky bet.
However, earnings results released yesterday by Kellogg suggest that the company is managing to stay afloat during this spree of cereal killing.
Kellogg reported a profit of $280 million, or 79 cents per share, for the quarter, versus $223 million, or 63 cents per share, a year earlier. And the company, which is headquartered in Michigan, raised per-share earnings estimates from $4 to $4.07 to $4.11 to $4.18. The stock surged upward on the news.
However, revenue plunged by 6.6%, to $3.27 billion, missing analyst expectations of $3.36 billion for revenue and 91 cents per share for profit.
Now is not the time to get back into Kellogg.
Much of the improvement to the company's finances was made through strict cost-cutting measures and better-than-expected results in Venezuela. However, cost cutting doesn't guarantee sustainable improved sales, and the economic and political outlook for Venezuela continues to be troubling. I wouldn't bank on long-term gains here.
Kellogg's sustainable success lies in the company's efforts to make cereal more appealing for millennials. The company is repositioning many of its classic brands -- such as Special K -- as snack foods rather than boxed, loose breakfast cereals (snack bars don't require doing the dishes).
And the company is also taking another unusual tack. Kellogg has opened a café in Times Square that promises the joy of breakfast cereal without the mess. For about $8, customers can order up a bowl of cereal with milk and their choice of gourmet toppings.
It sounds a bit ridiculous, but the project just might give a boost to Kellogg's sales. Greek-yogurt maker Chobani has seen a 40% sales boost since it opened a café in New York's SoHo neighborhood.
The Kelllogg café opened two days before the close of the second-quarter reporting period, so we don't know yet the effect it will have on the company's bottom line. However, this goes to show that until millennials learn to clean up after themselves, cereal-dependent companies are going to need to think outside the box to stay afloat.
Investors should continue to be wary of these soggy stocks.
---
As you can see, Kellogg is worth avoiding right now. But what if I told you there is a way to make $67,548 per year - or more - without stocks at all, just by following this simple step-by-step process? The trader who is sharing this secret has been right more than 8 out of 10 times, turning $5,000 into more than $5 million for himself. Click here to see how easy it is to follow his lead and collect thousands of dollars in "Free Money" every month.
This article is commentary by an independent contributor. At the time of publication, the author held no positions in the stocks mentioned.