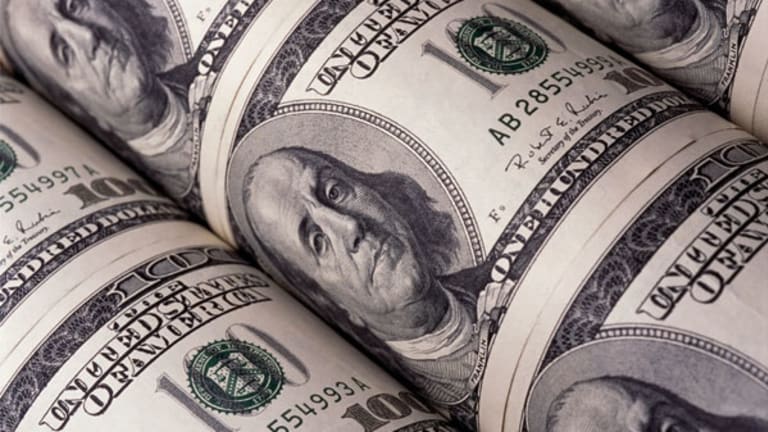 Is Japan in Trouble?; SAC Capital: Cramer's Best Blogs
Catch up on Jim Cramer's thinking over the past week, including Japan's unstable market and criminal charges against SAC Capital.
Catch up on Jim Cramer's thinking over the past week, including Japan's unstable market and criminal charges against SAC Capital.
NEW YORK (
) --
fills his blog on
RealMoney
every day with his up-to-the-minute reactions to what's happening in the market and his legendary ahead-of-the-crowd ideas. This week he blogged on:
Japan's unstable market; and
criminal charges against SAC Capital.
for information on
RealMoney
, where you can see all the blogs, including Jim Cramer's -- and reader comments -- in real time.
It's Just a Mild Hangover
Posted at 10:58 a.m. EDT on Friday, July 26
At last, we have one of those days when we come in and people say, "We have to sell because..." And the "because" isn't answered with a U.S. situation, such as tapering or earnings, or a fight between the House and the president. Today it's all about whether Japan is in trouble.
I am adamant that Japan isn't in trouble but that the market there has become unstable in its volatility, and it does freak people out. I come back to the high quality of earnings we have seen all week and a belief that we can't throw out the baby with the Japanese bathwater.
Just think last night and this morning about the ratio. We had a bad number from
Expedia
(EXPE) - Get Report
that is hurting the travel stocks, but if you go over the quarter and the conference call, you would think that that's the wrong takeaway and that the other travel names should be bought. In the meantime, you have terrific numbers from
Starbucks
(SBUX) - Get Report
and
Gilead
(GILD) - Get Report
last night after the close -- two huge-cap stocks -- and then good numbers from
Weyerhaeuser
(WY) - Get Report
and
Stanley Black & Decker
(SWK) - Get Report
this morning, both of which could have tripped us up and didn't. Don't forget that
Amazon
(AMZN) - Get Report
reported a quarter that was widely viewed as disappointing, and it didn't take the Internet cohort down. In fact, it has barely kept down Amazon itself.
Read: Floating Rate Funds to Avoid Interest Rate Risk
I think today just feels like a bit of a hangover and nothing more, not the start of something big.
And, oh yes, we are a buyer of Japan for the Action Alerts PLUS charitable trust, as the situation there is going negative to positive and not back to negative again.
At the time of publication, Action Alerts PLUS, which Cramer co-manages as a charitable trust, was long WY.
The Game Looks Rigged
Posted at 12:32 p.m. EDT on Thursday, July 25
Did you ever think that when you saw a stock move that someone knew something you didn't?
Did you ever suspect that the "big boys" had the call and you were just a peon, someone to be fleeced in a game of Three-Card Stock Monte by people who had the inside skinny when you never could, people who knew what the quarter would be before it was reported, what the next takeover would be and where the next shortfall would occur?
If you read the indictment of SAC Capital that was filed today, you can draw only one conclusion: Your suspicions were absolutely right. It was rigged by the big boys, at least by this multibillion-dollar hedge fund. The implication of this indictment is that they had the call pretty much consistently, meaning that they knew what was going to happen in a broad range of stocks, stocks too numerous to mention here but they include
Nvidia
(NVDA) - Get Report
,
Dell
(DELL) - Get Report
,
Intel
(INTC) - Get Report
,
Cisco
(CSCO) - Get Report
.
Cypress Semi
(CY) - Get Report
,
Broadcom
,
Yahoo!
(YHOO)
,
Microsoft
(MSFT) - Get Report
,
Research In Motion
and
AMD
(AMD) - Get Report
.
Read: Why Abenomics May Not Save Japan in the Long Run
That's right, this indictment alleges that the firm basically and routinely knew what was going to happen ahead of time and if you were buying or selling those stocks you were just an uninformed dope. They had information, according to this document, that was as good as gold and they had it every day of the week. Now the government wants back what it perceives to be the ill-gotten proceeds of that information, something that would effectively wipe out SAC capital, if the indictment itself doesn't do that as brokerage firms may be reluctant to lend SAC Capital money, its lifeblood, because they fear that they might not see it back if the firm has to close its doors. That's how it has worked on Wall Street when a big firm has been indicted in the past, namely Drexel Burnham and before that EF Hutton, storied names brought down almost instantly by charges as heavy and as frightening as these.
Now, why is the firm being indicted you might ask, and not Steve Cohen if his firm is the alleged perpetrator of these crimes? Some would say that it's happening simply because the government couldn't nail Cohen. They had nothing on him. So this is desperation, just an act that says, "OK we have indicted many people connected to this firm, but no one has flipped against the man they worked for so we have to take action anyway because we can't let Cohen get away with it."
I don't think that's the case and it wasn't my sense of what the government would do when I interviewed Preet Bharara, the U.S. attorney for the Southern District of New York, last week at the Delivering Alpha conference.
To me, the government is saying, "look, Cohen recruited people who had an edge, typically an illegal edge, people who knew more than you do, people who were meant to find out things you couldn't, including genuine inside information that should not have been traded on, including information about all of those stocks mentioned above and many others."
Read: Advisor Opportunity: Investors Are Baffled by Bonds
The document then alleges that Cohen paid these recruits gigantic bonuses if they had the kind of perfect information that makes for fabulous, but illegal, gains, the kinds you always thought someone was getting all along.
The key to this case isn't that Cohen then took the inside information and then bought stocks on it. In fact, it's the opposite. The fraud the government believes happened here involves a process where Cohen was deliberately kept in the dark about why these analysts wanted to buy these stocks. The government alleges that the whole firm was predicated on the notion of "don't ask, don't tell," where Cohen wasn't supposed to ask why the analyst liked or disliked a stock and the analyst wasn't supposed to volunteer it.
If the government's right, then SAC was pretty much a criminal enterprise, an outfit set up to violate the law and keep the top guy insulated, the exact opposite of what's supposed to be happening at an honest firm. That kind of firm should be put out of business. It wrecks the level playing field. It makes us all feel like mugs. Firms, like people, are innocent until proven guilty, so I am anxious to see what Cohen says in response. But the main takeaway here is that you weren't being paranoid about stocks, you weren't wrong to think that someone did indeed have tomorrow's paper today and the government's just not going to let the firm keep what they perceive to be illegal gains, and, for that matter, let it continue to rig the game against you.
At the time of publication, Action Alerts PLUS, which Cramer co-manages as a charitable trust, had no positions in the stocks mentioned.