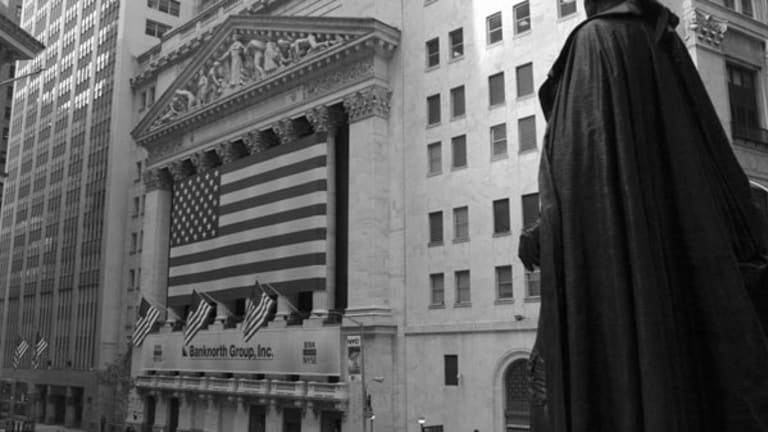 Is It Safe? JPMorgan Card Defaults Grow
More JPMorgan customers aren't paying their credit card bills, which might cause problems for the bank.
TSC Ratings provides exclusive stock, ETF and mutual fund ratings and commentary based on award-winning, proprietary tools. Its "safety first" approach to investing aims to reduce risk while seeking solid outperformance on a total return basis.
After beating analysts' earnings expectations last week,
JPMorgan Chase
(JPM)
Chief Executive Officer Jamie Dimon vowed to return the $25 billion in government aid the bank had received "as soon as possible."
Dimon should hold on to those funds. The pace of defaults in the company's
credit card
business, its third-biggest revenue source, rose for the eighth-straight quarter. If the economy weakens further, more of JPMorgan's customers will probably stop paying their bills.
Banks are experiencing record
defaults as strapped consumers lose jobs and miss loan payments. The rate of uncollectable accounts is rising across the industry. Competitors
Capital One
(COF)
and
Bank of America
(BAC)
have warned investors that conditions could deteriorate this year.
Investors have turned bullish on finance companies in the past month. JPMorgan shares have jumped 28%, while those of
Citigroup
(C)
and
gained 12% and 30%, respectively. Standard & Poor's investment bank and brokerage index advanced 19%.
Last week, JPMorgan said its first-quarter net income fell 10% from a year earlier to $2.1 billion, or 40 cents a share. Analysts had forecast the company to earn 32 cents. Revenue jumped 48% to $25 billion.
JPMorgan's credit card unit lost $547 million during the quarter, making it the bigger of two money-losing businesses. The company, which holds 168 million credit cards accounts, became the nation's biggest MasterCard and Visa issuer when it acquired Washington Mutual in the wake of its failure last year.
The company's net charge-off rate, the percentage of credit card accounts considered uncollectable, increased to 7.7% in the first quarter from 4.4% a year ago and 5.6% in the fourth quarter. The bank's charge-off rate has doubled in the past two years from 3.6% as of March 2007.
While JPMorgan's charge-off rate is growing, it's better than the rates of
American Express
(AXP)
, Capital One and Bank of America, which range from 8.6% to 9.3%. Rates at the three rival companies have also risen in recent months.
Growth in JPMorgan's investment banking unit compensated for its weak credit card business. Investment banking generated net income of $1.6 billion, or 71% of its profit, after losing $87 million last year. The majority came from fixed income trading, a volatile business.
While total deal volume is down, the company topped investment banking league tables for equity and debt fees, according to
Dealogic
, a company that provides tools to banks. It's a modest strength when you consider the riskiness of the company's lending businesses.
Still, Dimon is eager to return taxpayer dollars the company received through the Troubled Asset Relief Program. Repaying the aid would allow the bank to reinstitute executives' bonuses. Banks that accepted TARP funds agreed to suspend bonuses.
If JPMorgan pays back the TARP money before the nation's economy starts to grow again, it could expose the company to unnecessary risk. Its Tier 1 capital ratio, a measure of its financial stability, would fall to 9.2% from 11% without the aid. Regulators consider a 4% ratio adequate.
Investors should avoid JPMorgan, which is rated "hold" with a grade of C. Despite a few glimmers of hope, our economy is still deteriorating and financial companies remain at risk. More than 6 million Americans are unemployed, and that number is expected to rise in the weeks ahead. Paying credit card bills will become harder for many people.
TheStreet.com Ratings, recently cited for Best Stock Selection from October 2007 through February 2009 , is an independent research provider that combines fundamental and technical analysis to offer investors tremendous value in volatile times. To see how your portfolio can use this research,