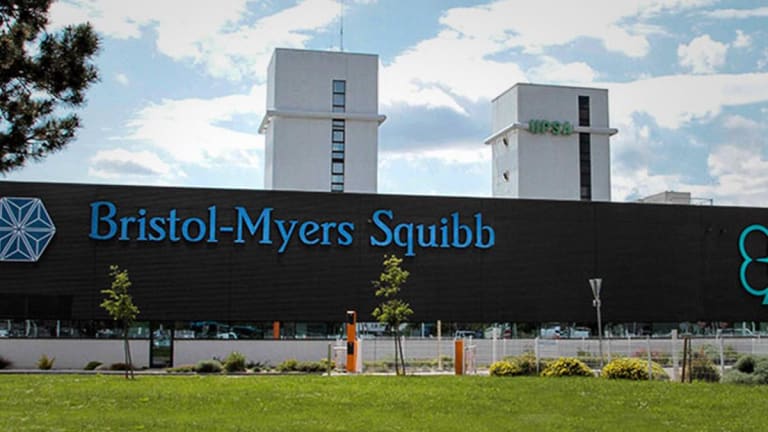 Is Bristol-Myers Paying Too Much for Celgene?
BMY agreed to acquire CELG for $74 billion in cash and stock.
BMY agreed to acquire CELG for $74 billion in cash and stock.
On Bristol-Myers Squibb
I am going to go out on a limb and guess that unless you own shares of Bristol-Myers Squibb (BMY) - Get Report , you may not have known that the shares went ex-dividend today. The 41 cent quarterly dividend that amounted at last night's closing price of $52.43 to a annual yield of 3.13%. Down more than 8% and trading with a $48 handle in pre-opening trade, I just don't know how much shareholders will appreciate the payout.
The Deal
On a day where the financial media over-covered the Apple (AAPL) - Get Report revenue and margin warnings for their fiscal first quarter, one of the largest deals in the history of all pharmaceutical deals seemed overshadowed, if possible. The skinny is that in short, Bristol-Myers Squibb had agreed to acquire Celgene (CELG) - Get Report for $74 billion in cash and stock. Is BMY paying too much? It does seem that this is what the marketplace is trying to tell us. CELG closed on Wednesday night at $66.64. This deal will value CELG at $102.43 per share, based on CELG shareholders receiving one share of BMY plus $50 in cashola. On top of that, these shareholders will also receive the rights to more shares based on the deal getting past various regulatory hurdles.
Celgene was trading around $89 in the overnight session. Does that mean investors don't believe in this deal? Does this evoke a similar reaction to the IBM (IBM) - Get Report /Red Hat (RHT) - Get Report deal? RHT has still never been within ten dollars of the announced $190 takeover price for that deal.
In Other News
Bristol Myers just received yesterday approval from the FDA to use the firm's Sprycel medication for use with patients of at least one year of age in the treatment of Philadelphia chromosome-positive acute lymphoblastic leukemia. That's a positive, but the day's focus was on pricing.
The concept of drug pricing made the news it's way around the news cycle on Wednesday. I have written on this. You know how I feel. While yes, a broad swath of older drugs saw increases in pricing at the consumer level for the new year, the fact is that returns on research and development has been in decline, and deals like the one announced between BMY and CELG may become more commonplace. On that note, the pricing moves may have been really moves of corporate posturing as the battle against higher drug prices is one thing that the public, the president, and the Democratically controlled House of Representatives will likely agree on. On top of that, it seems obvious that at some point, and how far off can it really be... that drug prices hit the limits of elastic demand for those suffering from non-life threatening conditions.
It seems to me that there are two paths for big pharma to travel in their pursuit of increased growth. Seek to acquire or merge with lower cap biotechs, or work to increase total sales though coverage expansion. Seeking greater coverage would be one way to stay in the good graces of politicians who really don't agree on anything else, and stay out of the klines of increased regulatory fire.
My Thoughts
Why get fired up about a firm that appears to stretch itself in order to perhaps overpay for another? I already own Pfizer (PFE) - Get Report  but sold Abbot Labs (ABT) - Get Report . 
(Apple and Abbott Labs are holdings in Jim Cramer's Action Alerts PLUS member club. Want to be alerted before Jim Cramer buys or sells AAPL or ABT? Learn more now.)
At the time of publication, Stephen Guilfoyle was Long PFE.