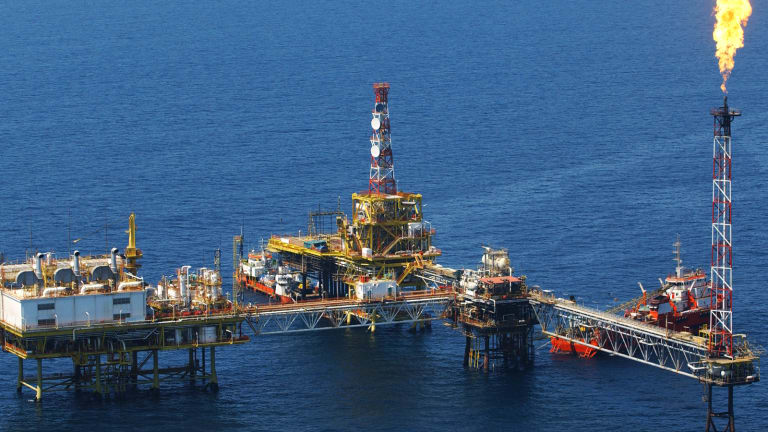 Is an Oil Bottom in Sight?
Oil prices have fallen precipitously to around $30 a barrel. But a JPMorgan analyst says the bottom may be near.
Oil prices are falling again, but a bottom is in sight, according to one analyst.
"Right now, what we're dealing with in the oil space is an oversupply issue," said David Lebovitz, global markets strategist at JPMorgan Asset Management. "We need to work through this excess supply before prices will find a bottom. We are optimistic -- given cuts in production, given cuts in the number of rigs which are operational -- that we will find a bottom sooner rather than later, but this really comes back to traditional supply and demand dynamics."
Lebovitz doesn't think the energy sector's woes will spark a U.S. recession. "When we look at the oil and gas sector, compared to the housing sector back in 2007 to 2008, the comparisons are on a completely different scale. You have a labor force in the oil and gas space of about 200,000 workers and a construction labor force of about 6.5 million."
Still, stocks and oil prices have been moving in lockstep in recent weeks, even though the energy sector is just 7% of the S&P 500 (SPY) .
Perhaps dovish tones from the Federal Reserve'sstatement on Wednesday, its first one since raising rates for the first time in nearly a decade last month, will help unhook markets from oil prices.
"Dovish messaging from the Fed is going to be key," Lebovitz said. "I think the market is just looking for a little bit of reassurance from global central bankers that they are not going to normalize policy too quickly and that things are going to stay easy. Now whether that's the right thing for them to do is a separate question, but the market will be taking its cues from central bankers."
But amid a terrible January for stocks, with the broad S&P 500 down 7%, Lebovitz said there is value being created.
"We're advising clients to stick to their strategic allocations," he added. "We do not think the U.S. economy is headed into a recession. We think that stocks were a little bit overvalued relative to their underlying fundamentals, but as markets reprice with that underlying stream of earnings, there will be value created, particularly in the cyclical sectors."