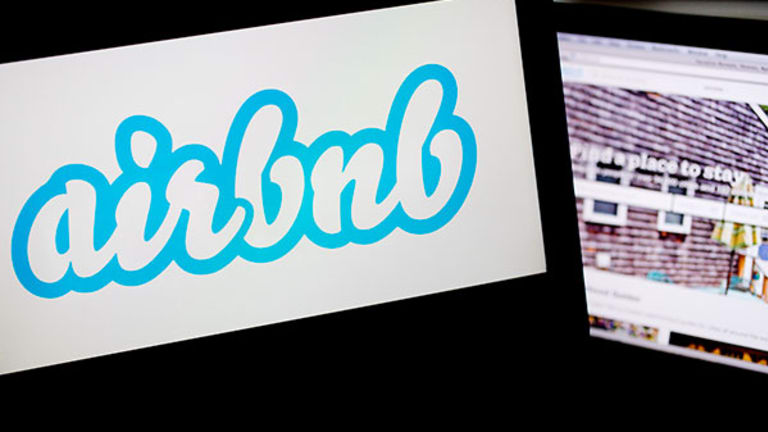 Is Airbnb Ready to Take in $1.5 Billion in Funding?
The home rental company would be valued at 424 billion if that $1.5 billion in funding comes to pass.
The home rental company would be valued at 424 billion if that $1.5 billion in funding comes to pass.
NEW YORK (TheStreet) -- Home rental company Airbnb could be close to taking in $1.5 billion in funding, which would boost the company's value to $24 billion.
The financing is expected to be led by U.S. private equity firm General Atlantic, according to the Financial Times. Other investors reflect international interest in Airbnb, reportedly including Hillhouse Capital of Beijing, investment firms Tiger Global and the United Kingdom's Baillie Gifford, as well as U.S. mutual fund group Wellington, Fidelity and T. Rowe Price (TROW) - Get Report. General Atlantic, Hillhouse Capital and Tiger Global are also reportedly new investors in the company.
If the funding is completed, it would tie Facebook (FB) - Get Report for the biggest equity investment round for a private tech company. In its prior fundraising round just 15 months ago, Airbnb was valued at $10 billion. The agreement is expected to be announced imminently, according to sources familiar with the matter cited by the Financial Times.
A $24 billion valuation puts the company above hotel operator Marriott International (MAR) - Get Report, which is valued at $21 billion, and nearly double the $14 billion valuation of travel Web site Expedia (EXPE) - Get Report.
Airbnb has increased its revenue projection for this year to more than $900 million after performing better than it expected in the first quarter, according to the Wall Street Journal, which cited a person familiar with the matter. That would be up from its revenue of $250 million in 2013. The company reportedly expects its revenue to reach $10 billion in 2020. Founded in August 2008, Airbnb lets travelers rent private homes or apartments for short-term stays. The company says it operates in 34,000 cities in 190 countries and has enabled more than 35 million guests to be hosted around the world.