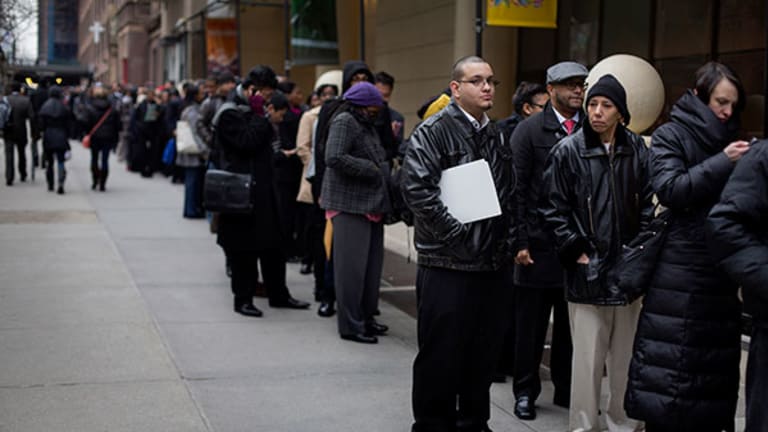 Is ADP's Jobs Estimate Strong Enough to Satisfy the Federal Reserve?
More strong data raises the stakes for the Fed's September interest-rate decision. Big businesses led August hiring gains, adding 70,000 workers, while small firms hired 63,000 new employees.
Investors betting on the Federal Reserve to raise rates in September just got some modestly bad news.
Private employers added 177,000 jobs in August, according to a report from payroll processor ADP (ADP) this morning. That follows a revised growth estimate of 194,000 in July and sets the stage for a jobs report from the Labor Department on Friday, in which the average forecast calls for a gain of 185,000.
The news was less strong, however, from cyclically sensitive sectors that Fed officials are known to be watching closely as they consider whether to boost the Federal Funds Rate from its current range of 0.25% to 0.5%. Construction added only 2,000 jobs and manufacturing added none, according to the report. Some manufacturers have struggled because of soft export markets and sluggish investment in equipment and building that have held down U.S. growth.
"This is becoming a very familiar refrain -- another month, another 177,000 jobs," said Mark Zandi, chief economist at Moody's Analytics, which conducts the survey for ADP. "The labor market is sturdy, strong."
The ADP report excludes government hiring, which would suggest that Friday's jobs report will show the overall economy added about 185,000 jobs, Zandi said. But in recent years, the government has usually underestimated August hiring and revised the number upward in later reports, he said. He speculated that the government will report about 150,000 new jobs for August on Friday, boosting the number as more accurate data comes in after Labor Day.
The Fed has been moving toward rate hikes, with economists speculating that policymakers will act in September if Friday's jobs report is strong. But with the central bank having backed off an expected hike in June, economist Bernie Baumohl of Florida Gulf Coast University puts the number that would force the Fed's hand at more than 200,000 August jobs.
"It's pretty much in line with what I expected, doesn't change my view for Friday -- 172,000 jobs," Regions Financial chief economist Richard Moody said in an e-mail. "Not exactly the data I would want to depend on if I were, say, a central banker contemplating policy moves."
The quirks of August data mean the Bureau of Labor Statistics number could be even lower than Zandi's 150,000 estimate. said Jim O'Sullivan, chief U.S. economist at High Frequency Economics. In recent years, ADP's August estimate has averaged 63,000 more than the Labor Department's initial report, with subsequent revisions all but closing that gap, he added.
In ADP's numbers, big businesses led hiring growth, adding 70,000 workers. Small firms with fewer than 50 workers each added 63,000 and companies with 50 to 499 workers added 44,0000. In July, mid-sized firms led the way with 68,000 jobs, followed by small business with 61,000 and large companies with 50,000.
A 183,000-job jump in services employment was offset by a drop of 6,000 positions in goods production. Services gains included 53,000 new professional positions, and another 15,000 at financial-services companies like Bank of America (BAC) .
Such growth is a pivotal consideration in the Fed's interest-rate decisions, judging by public statements from Chair Janet Yellen and especially Vice Chair Stanley Fischer, who has emerged as the most vocal hawk on the central bank's monetary policy committee.
"We've had very strong hiring reports in the last three months," Fischer said on CNBC Friday. "The problem with this economy is that there are so many numbers every day you have to find the main thrust of what's going on in the economy.''
Fischer said the economy is reasonably close to full employment and inflation is rising slightly by some measures, though he acknowledged that price gains are still shy of the central bank's 2% inflation target. Earlier this year, Fischer said as many as four rate hikes were possible this year.
His remarks spurred futures markets to boost the odds of late-2016 rate hikes. As of late Tuesday, the market saw a 24% chance of a September hike and 56% odds of a boost by December. Prices put the chances of two hikes this year at only 11%, according to CME FedWatch.
The economy has been adding jobs at a pace economists say is consistent with bringing the 4.9% unemployment rate even lower by the fall. At the current clip, joblessness could hit 4.4% by fall if work force participation does not rise, Point72 Asset Management chief economist Dean Maki said.
The economy's growth rate is more than twice what's needed to provide enough jobs to cover population growth, Zandi said.
That's reflected in positive data on new home sales from builders like D.R. Horton (DHI) and PulteGroup (PHM) , while strong housing-related spending has boosted the likes of Home Depot (HD) and Lowe's (LOW) .
Near-record auto sales have helped tighten the jobs market as both carmakers and dealers expanded payrolls.
This good news hasn't translated consistently into stock returns, however. Car makers from Tesla  (TSLA) to General Motors (GM)  have seen their stocks dip in the last year, and many home-building stocks have also struggled.
This article is commentary by an independent contributor. At the time of publication, the author held no positions in the stocks mentioned.