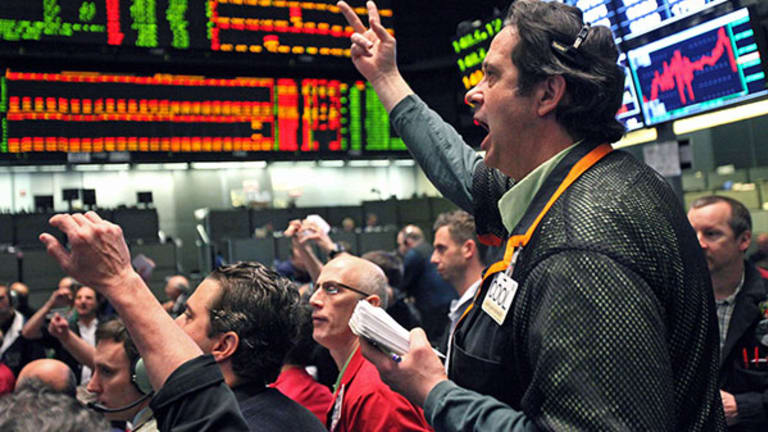 Is a Santa Claus Rally Comin' to Town?
It's a question of whether you still believe, even despite the fact that the Federal Reserve raised interest rates. Next year, though, might get naughty.
Do you believe the Christmas spirit will pay your portfolio a little visit, bearing bountiful gifts?
It's possible the Santa Claus rally rally could ensue in the stock market this year despite the fact that the Federal Reserve raised interest rates.
The current factors indicate that the market will continue to rise and the S&P 500, a benchmark index, will rise to 2,250 by the end of the year, said Matthew Tuttle, the portfolio manager of Tuttle Tactical Management U.S. Core ETF (TUTT).
"There will be a Santa rally, and the S&P 500 could rally by 5% or so [despite the fact that] the market is currently very oversold and due for a bounce," Tuttle said.
A rally toward the end of the year could be the "final speculative blow-off" before the market dips next year. Tuttle predicts that since a bear market could occur by the summer of 2016, though "stocks can ignore bad news for now."
The hike by the Fed will not subdue an uptick because the market has already anticipated an increase and a decision will remove any uncertainty concerning the U.S. central bank.
"I do not believe that the likely Fed rate increase will kill the Santa Claus rally, because the move is likely already priced in the market in the short run," said Robert Johnson, president of the American College of Financial Services in Bryn Mawr, Pa. "In the short-run, financial markets may actually benefit from the rate increase."
Unless a major geopolitical event occurs, investors should be "looking forward to the holiday season," he said. Data since 1950 demonstrate that the percentage of up days during the Santa Claus period from December 25 to January 3 for the S&P 500 was 62.3% while the percentage of positive days for the entire year over that period was 52.9%.
"There is historical evidence that the Santa Claus rally is real and generally delivers handsome returns to investors," Johnson said.
Expect Small Rally
While the market will rally in the last few weeks of the year, don't count on a huge increase since it is likely that the Dow will close at 18,000, only a few hundred points from its current value, said Patrick Morris, CEO of New York-based HAGIN Investment Management.
"The first quarter should be good for stocks since the Fed's rate hike impact won't come into the numbers for a quarter or two," he said. "I think there is a 25% chance of a recession, but there is no sign of it now."
Even if an uptick occurs, stocks are already "modestly expensive," said Jim Wright, chief investment officer of Harvest Financial Partners in Paoli, Pa. and a portfolio manager with Covestor, the online investing marketplace.
"We could have a Santa rally, but it is not like we are starting from a point where everything is cheap and there are lots of compelling values in the markets," he said.
Investors are expecting an interest rate increase from the Fed, but volatility surrounding the meeting could dampen returns.
"Bottom line, we see no reason to expect any kind of a sizable rally," Wright said. "We think investors should focus on the long run -- or at least until next Labor Day -- and use declines to add to investments."
Coal Might Be in Your Stocking
Not everyone thinks the market will see jolly end-of-year returns.
Without a catalyst to spur the markets to move "substantially higher," a Santa Claus rally is not "in the cards" for this year, said Tom Cassidy, a senior trust investment officer at Univest Wealth Management, a Souderton, Pa.-based financial institution.
The current headwinds in the market might push returns down and serve as a caution to investors. The markets are already "fully to slightly over valued at close to 18 times 2015's earnings for the S&P 500," he said.
Fourth-quarter corporate earnings are estimated to decline by over 4%, and for the entire year, they are also predicted to be slightly down. With oil prices remaining at seven-year lows and the Fed raising rates for the first time in nine and a half years, volatility will increase, Cassidy said. The market will increase slightly higher, but it is limited to a 1.5% growth.
"If the Federal is able to avoid upsetting investors next week by emphasizing that future increases will be gradual and data dependent, I could see a small relief rally in response to getting the first rate hike behind us, but not a Santa Claus rally," he said.

Where is Market Headed?
While the S&P 500 swung widely this year with trading as low as 1,867 and as high as 2,130, the day to day volatility was often immense, but "it has ended up going nowhere," Cassidy said.
"I don't see the market being much higher than where it is today by year-end," he said. "I wouldn't be surprised if the last day of trading in 2015 determines whether we have a positive or negative year."
While institutional money managers are "scrambling to catch up to the major market averages" and seeking a rally to boost their performance -- and with retail investors wanting higher returns -- a true Santa Claus rally is not likely to happen because of weak economic data, said David Twibell, president of Englewood, Colorado-based Custom Portfolio Group.
"Absent stronger economic data, I'm skeptical any late December rally will have legs," he said. "The economy appears to be trending lower."
With the increase in global geopolitical risks, the market will produce a good year if the S&P 500 generates a 5% to 8% return, reaching 2,240 to 2,250, said David Harden, president of Summit Global investments, a Bountiful, Utah-based investment management firm. the Dow could add another 8%, which would produce another 1,400 points and end the year around 19,100. A higher increase could occur with the Nasdaq of around 10%, which would adds another 500 points, ending the year close to 5,600.
"It's important to keep in mind, though, that it's not a straight line," said Harden. "I see a lot of growth happening in the fourth quarter of 2016 after the election is over when many of the risks are out of the way."
Issues such as a slowdown in China's economy or the current bull market being "long in the tooth" since 2009 could all hinder where the market ends, said Michael Driscoll, a finance professor at Adelphi University in Garden City, N.Y.
"All of these reasons and many others could certainly give investors pause when they consider whether or not there will be a Santa Claus rally in 2015," Driscoll said. "Basically it is a toss-up as to whether Santa will show up at 11 Wall Street this year. You have to ask yourself if you still believe."