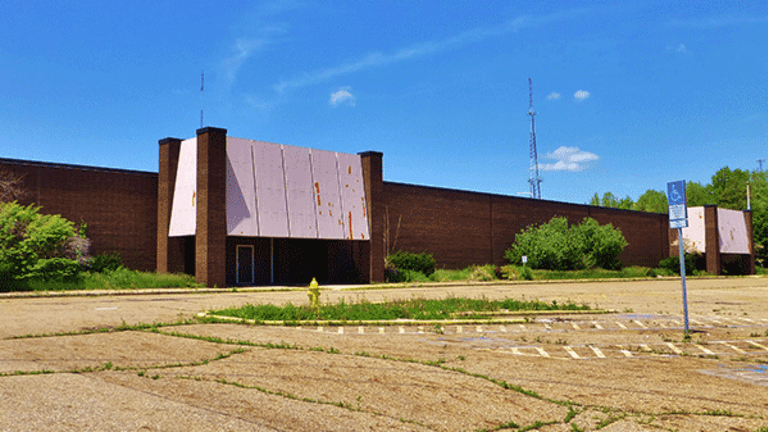 Publish date:
It's Bizarre How Dying Sears Shares Are Climbing as Rivals Get Hammered
The stock may actually be setting up for a short-term long trade.
The stock may actually be setting up for a short-term long trade.
The carnage in the brick-and-mortar department store space continues after J.C. Penney (JCP) - Get Report reported disappointing earnings before the open Friday, following reports from Koh'ls (KSS) - Get Report and Macy's (M) - Get Report  that took down prices in Thursday's session. Sears Holdings (SHLD)  has been deconstructing itself for the last five years and is arguably the "worst in breed" of the retailers.
So what is the stock doing today? It is up 1% or 2% in the session, in sharp contrast to its competitors. This doesn't suggest any change in the fundamental Sears narrative, but Friday's strength may be a signal the stock is setting up for a tradeable bounce.
View Chart »View in New Window »
Sears made two significant lows this year, the first coming in February, and it turned out to be the bottom of a cup-and-handle formation. The second low came in June and it turned out to be the bottom of rising triangle pattern. The rim lying resistance level of the cup and handle pattern was broken in March and the stock moved up to the pattern price target projection, which is measured by taking the height of the cup and adding it to the rim line.
The stock immediately reversed direction and broke back through to the resistance line. A series of higher lows began forming in June under horizontal resistance, again in the $9.50 area, forming the current triangle pattern. Resistance is being reinforced by the flat 200 day moving average, and the uptrend line of the triangle is being reinforced by the rising 50-day moving average. The stochastic oscillator is crossing above its centerline reflecting the recent positive price momentum. Chaikin money flow is still a negative territory, but the Chaikin oscillator, an average of the 3-period and 10-period accumulation/distribution line, has turned up and is attempting to cross its center line.
The best that can be expected from Sears is a short-term bounce in the stock price. If this small show of strength continues and there is an upper candle close above the $9.50 level, the stock is would be a speculative short-term buy, using a tight trailing percentage stop. The triangle projects a pattern price objective measured by taking the widest point of the triangle and adding it to the breakout level and it targets the $13 area.
More of What's Trending on TheStreet:
Editors' pick: Originally published August 11.
The author is an independent contributor and at the time of publication had no positions in the stocks mentioned.