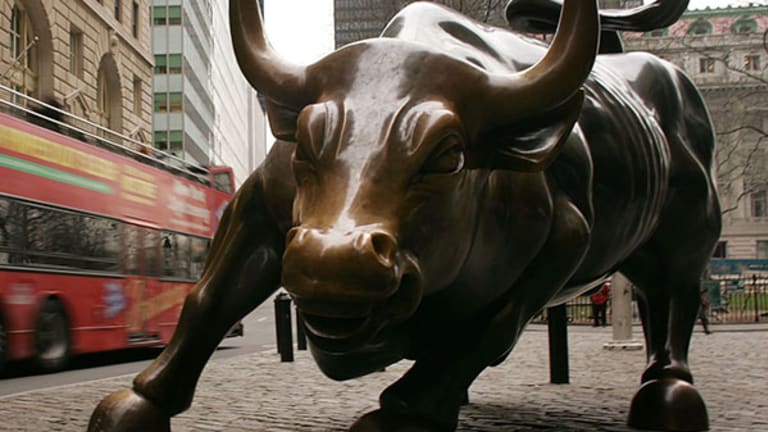 Irma and Harvey Busted Algos; Probably Done Deals Under Trump: Best of Cramer
Cramer explains that hurricanes Irma and Harvey busted the algorithms and also discusses how some deals have probably gone down during this administration.
Here are Jim Cramer's top thoughts on some of the biggest stories of the week. 
Jim Cramer: Irma and Harvey Busted the Algos
Maybe Irma and Harvey were perfect storms, perfect in that they knocked out the algorithms that had set this market on tenterhooks going into September.
That's right, it's almost as if the stocks that are now winning were on some sort of list to short against others -- and the two hurricanes busted the shorts.
As I perused the stock charts this weekend, I couldn't help but admire a couple of groups that had really created tremendous downward pressure on the market for ages.
First, you had the auto complex, stocks like that of BorgWarner (BWA) or Dana Inc.  (DAN) or Magna (MGA) , or even General Motors (GM) itself. These had been horrendous stocks for months and contributed to an overall concern about an economy that was losing steam. But flush insurers and a wealthy populace where the storms hit -- as opposed to where Katrina fell -- are leading to a much-larger recovery for trucks and cars than anyone saw coming.
The storms also put a spur into the stocks of construction and material companies. Some, like Terex  (TEX) , saw its stock boosted by an activist presentation at the Delivering Alpha conference. Caterpillar told a good tale at its analyst day. United Rentals (URI) remains the single best way to play the intermediate-term rebuild, as the purchase of equipment to clean up after a storm and rebuild is strictly one for the United Rentals' of the world.
Waste Management (WM) , which has been held back by a lack of construction in key areas -- it's real bread and butter of growth -- saw its stock soar, as it's dominant in Florida and Texas.
Home Depot (HD) and Stanley Black & Decker (SWK) are prime examples of what I am talking about. These two were among the most worrisome stocks in the entire market, because both companies reported terrific quarters -- both on the surface and underneath -- yet no one cared. It was total "last good quarter" thesis trading, and it sent shock waves through those of us who said that the Amazon (AMZN) threat was overdone.
Now, though, the charts have gone from bad to good -- and you have to wonder how far behind Lowe's (LOW) stock might be from that of Home Depot's.
I think the spotty nature of what's going to be needed most after the storm has obscured the patterns here. Concrete and aggregates performed poorly. But wood demand has soared and so have the stocks. The selectivity has bedeviled traders. But the demand is clearly there.
And, of course, the rails had a fabulous week, again owing to auto inventory rebuilds, no doubt, as well as a re-stocking of chemical plants that had been idled by the storms.
I think the storms are behind the resurgence of both the refinery stocks -- West Texas Intermediate shot up and gasoline prices got jacked up with it -- and the oils, which reacted positively to inventory declines and rig count softness, even as the dearth of inventory and the rig count weakness are probably both aberrant. In other words, like the auto/rail component, this group had been headed south. The storms changed the direction of the machines that were sending them that way.
Perhaps it doesn't matter, though, that it might be temporary, because when you look at those oil and gas charts, they show a very big turn, one that is long in coming -- and I don't think easily erased IF oil can take out $50. Big IF. But each day that it hangs around up here has to be, again like the autos, a threat to the shorts.
Oil and auto, home and home-related, two weak sisters of this market have become the drivers. These groups had been emblematic of what had been wrong: peak oil, peak auto and peak home. They were conspiring with some softer tech numbers and a decline in the banks to send the market into what looked like its usual August-September tailspin.
But the storms weren't in the algos. And the shorts became longs without the machines learning of it until it was too late to cover without some horrendous losses.
More From Jim Cramer
Jim Cramer Reveals Why He Sold Western Digital for His Charitable Trust
Action Alerts PLUS, which Cramer co-manages as a charitable trust, has no positions in the stocks mentioned.
Originally published Sept. 18 at 7:09 a.m. EDT.
Jim Cramer: Under Trump, These Are Probably Done Deals
No, I don't want you to be complacent. Yes, I want you to be skeptical. Absolutely I question how much longer these record-breaking numbers can go on.
Jim Cramer fills his blog on RealMoney every day with his up-to-the-minute reactions to what's happening in the market and his legendary ahead-of-the-crowd ideas. This week he blogged on:
More From Jim Cramer
But every time I want to say, "Are you kidding me? There's no way this thing can keep humming," something happens to make me think, wait, you can't just say, "Enough already, I have to curb my bullishness." There's so much good happening that you can't possibly sneer at it and still make the money you'd like to earn.
Take this Tuesday morning. My Squawk on the Street partner, David Faber, broke one of the biggest stories of the year, about talks between T-Mobile (TMUS) and Sprint (S) to merge into one giant phone company.
Next thing you know, both stocks are flying. T-Mobile's stock's up a quick 5%. Sprint's equity rallies almost 10%.
Let's go over all the ways that this is incredible. First, ever since T-Mobile reported a good quarter and the stock sold off, you had to believe it's at the top of the cycle. As it is, the stocks of Verizon (VZ) and AT&T (T) have been awful, mostly because of brutal competition. Sprint's stock had been atrophying, too. Then you get this news and boom, it's like a whole new world of possibilities for shareholders of both companies.
Now here's what's truly amazing about all this. There was a time when we would say, "Oh come on, these two companies can't merge. It would be anti-consumer. It has no more chance to pass antitrust muster than AT&T's aborted bid to buy Sprint six years ago."
But then again, you have to say to yourself, maybe it's not so farfetched. Maybe it can happen under this government. Maybe this incredibly pro-business Trump administration would say the tie-up makes sense because we need three strong phone companies instead of four weaker ones.
Stranger things have happened.
Deutsche Telekom owns 64% of T-Mobile and has often been thought of as a seller of the property. Softbank has a huge stake in Sprint and I am sure would like the company to be on more solid ground, which is what would happen if we get a stock-for-stock merger.
I was about to tell David that this deal couldn't happen unless T-Mobile CEO John Legere gets to run the combined entity and, sure enough, before I could blurt it out, David said that's a key part of the deal.
Look, I want to be as skeptical as all get out about this tape. But these kinds of deals make it hard for me to be as critical as I would like to be, especially after yesterday's Halftime Report when Pete Najarian told us someone bought 10,000 T-Mobile October $67.50 calls. Nice move there, provided that the buyer didn't know something he shouldn't have. Then it would be "do not pass go, do not collect $200."
These deals are anything but isolated. This morning Post Holdings (POST) bought Bob Evans Farms (BOBE) , which sells sausages, mashed potatoes, bacon and a whole lot more, for $1.5 billion in what was a terrific deal that produced a 7% gain for Bob Evans, which had already been up 55% for the year. How much can you ask for from a market? The answer? More than you are getting.
At the same time, on Squawk on the Street Tuesday morning we interviewed Nelson Peltz, who is trying to get a board seat at Procter & Gamble  (PG) . He's waging what's known as a proxy fight where he is asking all you P&G shareholders to vote for him in the largest packaged-goods board challenge in history.
P&G's stock has been going up for ages on this battle. I keep thinking there's no way that it will continue to fly over one man's attempt to get on the board of the Cincinnati giant.
But it doesn't stop. It has rallied another dollar to an all-time high.
While proxy fights are rare, we would be blind to ignore the large number of takeovers occurring each week and, perhaps more important, like the potential Sprint-T-Mobile combination, I think the Trump administration may bless every one of them.
For example, Monday when Northrop Grumman (NOC) bid for Orbital ATK (OA) , both the target's and, more importantly, the acquirer's stock went higher. Northrop Grumman's stock rallied again Tuesday.
How can the stock of Northrop Grumman keep going higher? For one, the synergies are pretty obvious. The possibilities for huge savings on the part of Northrop Grumman are obvious. The potential to bid on new contracts it didn't have could be enormous, especially when it comes to missiles, which is, in light of Rocket Man in North Korea -- the name President Trump gave to Kim Jung-un in his United Nations speech -- the hottest area of armaments for the moment.
Now back to how hard it is to be skeptical. Throughout the discussion of the takeover, one thing that wasn't mentioned was the possibility of this deal being blocked by the Justice Department's antitrust division. Nobody said, "You know what, this makes it so there are fewer competitors that could bid and drive down the price of important military equipment." It would almost sound like Pollyanna, goodie-two-shoes kind of talk if someone did.
That's amazing because a year ago I don't think this deal would have gone through, and if Hillary Clinton had won I don't even think the two companies would entertain it. Not any more than United Technologies (UTX) would be able to buy Rockwell Collins (COL) to eliminate a potential competitor in some key portions of the airline business, a deal that was announced two weeks ago.
There's not been much done between the White House and Congress this year. It's been pretty rancorous with the latest posturing, the sit-down between the president and Nancy Pelosi and Chuck Schumer being still one more gambit that could sour things within the Republican Party. The repeal-and-replace horror-show waste of time, the border-tax fiasco, these are all distractions from two parts of the agenda that we would have expected by now -- tax reform and repatriation.
But one thing is for certain: This administration is demonstrating a love of the laissez-faire and it is possible that all of these deals will pass muster. In another time, with the exception of the Bob Evans deal, they wouldn't even be thought about for the obvious fear that they would have been opposed by the Justice Department's antitrust division simply because of market power concentration.
We've been able to keep our phone bill down because four companies compete for our business. But that competition will definitely die down if T-Mobile and Sprint merge. Yet I can't imagine this Justice Department's antitrust division trying to block this move.
Ideally, you want Northrop to compete with Orbital on contracts. Sure, they don't both make the same armaments, but why couldn't they if Northrop wanted into that business so badly? It's obviously anti-competitive.
You think the government would want United Tech to own a huge part of the plane to the point where it can be too powerful a supplier and box out, say, Honeywell (HON) ? I think the Democrats would find a reason to stop these deals because they are no friend of big business. But I think this government would bless anything, even the tie-ups between the health maintenance organizations and the aborted Baker Hughes (BHI) -Halliburton (HAL) deal that were blocked under the Obama administration's tough antitrust department.
Between here and year end, the notion that deals will get done without any repercussions or opposition from the Justice Department could end up being a hallmark of the stock market.
Again, I want to believe this rally can't continue. We have some stretched valuations that are difficult to defend. We have had huge moves that should lead to profit-taking.
But then when you get these bids and this kind of proxy fight and they all move up stocks, the bottom line is that it is awfully hard to be as disciplined as you would like. When discipline constantly costs you money, you have to start worrying if your discipline is misplaced and you have to develop the fortitude to stay in and not run out of this market. After all, that's been the smart call for all of 2017. I'm beginning to doubt if it won't be that way throughout what's supposed to be the worst month for stocks each year. Who knows? With this Justice Department looking the other way, can you imagine the deals that could be dreamed up?
I have to believe the wave's still early and it will last for as long as the buyer's stock goes higher and the market greets each deal with tremendous love.
Jim Cramer Reveals Why He Sold Western Digital for His Charitable Trust
Action Alerts PLUS, which Cramer co-manages as a charitable trust, has no positions in the stocks mentioned.
Originally published Sept. 19 at 3:35 p.m. EDT.
Click here for information on RealMoney, where you can see all the blogs, including Jim Cramer's--and reader comments--in real time.
How to avoid being Amazon roadkill.
How Northrop-Orbital deal is bigger than just the synergies.
Action Alerts PLUS, which Jim Cramer manages as a charitable trust, has no positions in the stocks mentioned.