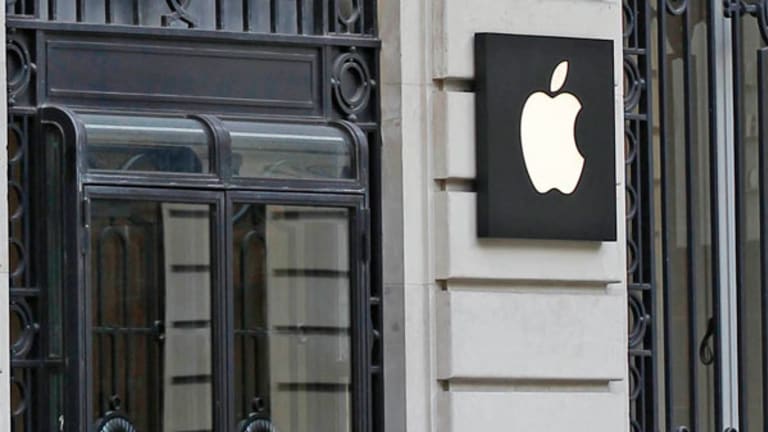 Irish Budget Proposes End to Apple Tax Shelter
Apple's 2% Irish tax rate may come under pressure given new details in Ireland's 2014 budget.
NEW YORK TheStreet -- The Irish government said on Tuesday it will consider eliminating a treatment that allows firms such as Apple (AAPL) - Get Apple Inc. (AAPL) Report to be taxed as a "stateless" corporate entity as part of the country's 2014 budget preparations.
The budget could signal the end to what many U.S. legislators have deemed a "tax dodge" that put Apple's tax rate in the country at below 2%, far lower than Ireland's 12.5% corporate tax rate, and even more burdensome taxation levels in the U.S. 
As Ireland works to engage with the European Union and the The Organisation for Economic Co-operation and Development on issues of tax policy and corporate taxation, the country will consider an elimination of "stateless" tax in its upcoming finance bill.
"The second measure to be included in the Finance Bill is a change to our company residence rules aimed at eliminating mismatches -- that can exist between tax treaty partners in certain circumstances -- being used to allow companies to be 'stateless' in terms of their place of tax residence," the country said in a press release on Tuesday.
Ireland further said in its 2014 budget preparations that the country is working actively with the EU and the OECD on eliminating what it calls "aggressive tax planning" by some corporations within its jurisdiction. "Aggressive tax planning by companies is a major issue for legislators across the  world and it needs to be addressed. Ireland is very much involved in the process of addressing the issue," Ireland said.
Apple was pilloried by U.S. lawmakers in a May Senate Permanent Subcommittee on Investigation hearing into what it called Apple's "Profit Shifting and Tax Avoidance."
In a 40-page report issued by subcommittee heads Sen. Carl Levin, D-Mich., and Sen. John McCain, R-Ariz., Apple was accused of owning Irish subsidiaries that "paid no income taxes to any national tax authority for the past five years."
Steve Dowling, an Apple spokesperson didn't immediately return an e-maill seeking comment.
The subcommittee claimed Apple avoided taxes on about $44 billion in foreign profits by way of maneuvering that put hundreds of billions in the company's revenue outside the taxing authority of any country. Specifically, the firm was accused as using a loophole in Ireland to avoid tax authorities.
"Apple sought the Holy Grail of tax avoidance. It has created offshore entities holding tens of billions of dollars, while claiming to be tax resident nowhere," said Sen. Levin. ahead of the hearing, which honed in on Apple's treatment as a stateless entity in Ireland.
"Apple claims to be the largest U.S. corporate taxpayer, but by sheer size and scale, it is also among America's largest tax avoiders," Levin added. The subcommittee had previously hauled Apple competitors such as Microsoft (MSFT) - Get Microsoft Corporation (MSFT) Report and Hewlett Packard (HPQ) - Get HP Inc. (HPQ) Report to Washington for similar discussions.
Apple CEO Tim Cook and CFO Peter Oppenheimer strongly rejected Levin's assertions in the May hearing and said that Apple would support reforms to what many corporations have complained is an over-burdensome corporate tax regime in the U.S.
"Apple complies fully with both the laws and spirit of the laws. And Apple pays all its required taxes, both in this country and abroad," Tim Cook, Apple CEO said at the hearing. Cook conceded in his testimony that certain Apple subsidiaries based in Ireland effectively have no tax residence, however, he characterized those facts as a prudent management of Apple's cash and within the realm of existing tax law.
The Senate subcommittee did not claim Apple was in violation of the law or its spirit.
Apple has been busy managing its growing stockpile of cash, particularly earnings held in the company's overseas subsidiaries. In the second quarter, Apple returned a record $18.8 billion in cash to investors and it is in the process of a goal to distribute $100 billion in cash by the end of 2015. Apple's annual dividend payments are now expected to exceed $11 billion.

Some investors, particularly Carl Icahn of Icahn Enterprises and David Einhorn of Greenlight Capital have asked that Apple distribute even more cash to shareholders, although they advocate the firm take on incremental debt instead of repatriating foreign funds to fund those payouts.
Apple shares were gaining less than 1% in early Tuesday afternoon trading at $499.23.
Johnson & Johnson's Synthes Deal Revives Foreign Tax Debate
Ireland Welcomes Watson Pharmaceuticals, an American Success
-- Written by Antoine Gara in New York.