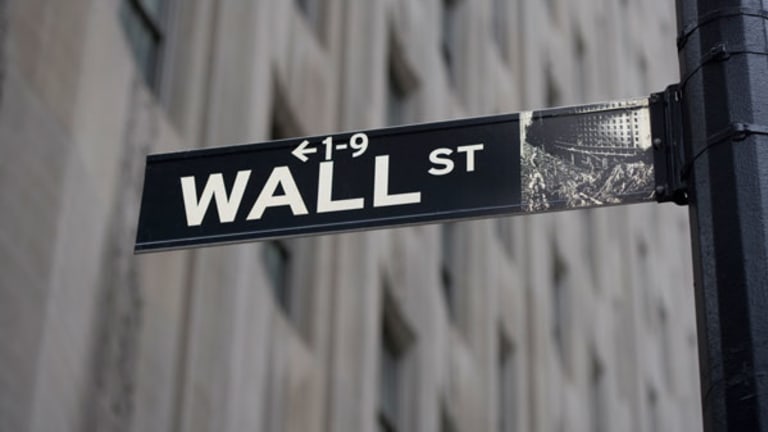 Investors Shun Bed Bath & Beyond, Walgreens Growth Deals
In Bed Bath & Beyond and Walgreens selloffs, investors may be too skeptical on growth acquisitions.
NEW YORK (
) -- After growing earnings from post-recession lows, companies like
Bed Bath & Beyond
(BBBY) - Get Bed Bath & Beyond Inc. Report
and
Walgreens
(WAG)
have recently cut their biggest ever acquisitions in an effort to retool earnings prospects and growth.
The problem is that in a lukewarm earnings environment, investors have punished both companies - in part - for the moves. Now, it's time for investors to question whether widespread corporate austerity can be a long-term opportunity for the companies that are mapping out new growth plans.
In May,
Bed Bath & Beyond
(BBBY) - Get Bed Bath & Beyond Inc. Report
cut its biggest-ever
when it bought
Cost Plus World Market
(CPWM)
for nearly $500 million, in a deal that was seen as a way to combat a slowdown at the brick-and-mortar home goods store. Initially, the move pushed Bed Bath & Beyond to all-time highs over $75 a share as many perceived the deal to be a
smart growth play
.
After announcing a second quarter sales and profit margin slowdown on Wednesday and providing a cloudy outlook for the remainder of 2012, investors are punishing Bed Bath & Beyond shares, pushing them nearly 15% lower to $62.96 in Thursday trading, erasing share gains since the Cost Plus deal. But faced with less-than-stellar comparable store sales and earnings, the strategic benefits of the acquisition may be all the more clear.
Many analysts reacted to the Union, N.J.-based retailers share slump as overdone, citing high expectations for Bed Bath & Beyond's M&A and continued strong execution by management. Credit Suisse analyst Gary Balter, who raised his Bed Bath & Beyond price target to $91 after the Cost Plus acquisition, said there was "little to like" in the company's earnings and guidance. When pressed to decide whether the earnings show growth has peaked at Bed Bath & Beyond or if the company's M&A will revive sales, Balter remains a bull.
"We believe investors are overreacting to the costs of the acquisitions and underestimating the benefits," wrote Balter in a note reacting to earnings. "We are especially excited by the Cost Plus acquisition, which we believe can provide significant sourcing and comp opportunities in the future," he added, noting that part of Bed Bath & Beyond's guidance miss comes from costs associated with the acquisition that should have been expected.
After successfully competing with the likes of Web-based competitor
Amazon
(AMZN) - Get Amazon.com, Inc. Report
and big box retailers, acquiring new channels of growth may not be such a bad bet for Bed Bath & Beyond, after posting a 30%-plus three year growth rate of earnings.
In buying Cost Plus, Bed Bath & Beyond will take ownership of new private label brands and designs, and a business that has returned to profitability after the recession.
Cost Plus generates 68% of its sales from exclusively branded and sourced products, meanwhile, the company's foods selection may give Bed Bath & Beyond stores a feel akin to
Williams Sonoma
(WSM) - Get Williams-Sonoma, Inc. Report
and a selection that's similar to
Whole Foods
(WFM)
and Trader Joes.
"Our Buy thesis on BBBY is predicated upon several drivers including square footage growth, share gains through traffic increases, organic operating margin gain opportunities and free cash flow generation," wrote Deutsche Bank analyst Mike Baker, in a Thursday note reiterating a $75 price target. "
We believe the pending Cost Plus acquisition has several merits which could help drive upside to estimates," added Baker, who sees the deal adding 10 cents to 2012 earnings per share.
Even some analysts who took Bed Bath & Beyond's earnings as cause to cut earnings and price target estimates remain long-term bulls on the company's strategy. "We advise clients to keep in perspective that trends at BBBY slowed and did not fall off a cliff," noted Oppenheimer analyst Brian Nagel, who cut the company's 2012 earnings estimates slightly and its price target to $80 from $84. Nagle maintains an outperform rating based on the company's long-term outlook.
On Tuesday,
Walgreens
(WAG)
shares
after the nation's largest drug store chain acquired a 45% stake in
Alliance Boots
, in an international growth plan to hit back at competitors
Express Scripts
(ESRX)
and
CVS Caremark
(CVS) - Get CVS Health Corporation Report
, who are expected to take market share in the U.S.
Amid a contract standoff with Express Scripts and expected market share losses in the consolidating U.S. market, Walgreens mapped out how England-based Alliance Boots will add to its earnings and transform the company into an international pharmacy powerhouse with a top presence in the U.S. and Europe. Shareholders and analysts didn't buy the plan, dumping the company's stock to one-year lows below $30.
But amid calls for a focus on share buybacks and a resolution to its dispute with Express Scripts, Walgreens may be vindicated for finding a differentiated growth strategy, while using attractive interest rates to venture abroad when few C-suites have the nerve to do so.
Walgreens highlighted that the deal could add up to 27 cents to its earnings per share when the deal closes and $1 billion in cost savings through 2016, in a projection that was affirmed by analysts.
"The synergy numbers are very real," said GAMCO Investors analyst Jeff Jonas, in a telephone interview. Still, Jonas questions whether the move will offset U.S. revenue losses were it to lose its Express Scripts and Medco business. He would have rather seen the company use its cash for share buybacks and to eat the costs of a settlement.
On Tuesday, Walgreen suspended a $4 billion share buyback program, but said it would increase its quarterly dividend to 27.5 cents per share from 22.5 cents.
In spite of a generally negative reaction to the deal, Walgreens may benefit from low interest rates and skepticism that Alliance Boots can continue to grow its earnings. "The deal can be EPS and value accretive, without stretching on synergies or underlying growth," wrote UBS analyst Jason DeRise in an analysis of the deal.
DeRise assumes that Walgreens will only achieve half of the $1 billion in cost savings - citing skepticism on the execution on revenue synergies - while forecasting a slowing of Alliance Boots earnings growth to 2% from a five-year growth rate of 13% on an expected European healthcare spending slowdown. "While the deal is not an easy win, we do not need to stretch our assumptions to find the deal creating value for shareholders," DeRise adds.
The risks are big for Walgreens, as people question how big its earnings drop will be in the U.S. and whether pushing into European healthcare, which is funded by cash strapped governments, is mistimed.
The company will pay $6.7 billion in cash and stock for the 45% stake in Alliance Boots and will have the option to buy a remaining 55% stake for $9.5 billion. That prospective $16.2 billion takeover valuation also comes with roughly $11 billion in Alliance Boots debt after its 2007 private equity buyout.
But after the deal, expectations of zero growth at Walgreens may be too low. "
Walgreens is currently priced for moderately lower EBITDA margins 6.9% with 0% top line growth over the longer term. These growth expectations appear low," wrote Credit Suisse analyst Bhumika Gashti, in a note that highlights Alliance Boots higher than industry average earnings and margins.
Gashti says that at current share prices, Walgreen's risk and reward "appears compelling." The deal will hinge on whether Walgreens can achieve single digit profit growth at Alliance Boots, the analysts noted.
In Thursday afternoon trading, Walgreens rose slightly to $29.27, pushing shares slightly off 52-week lows. Year-to date, the company's shares are off over 11%, underperforming double-digit stock gains by competitors Express Scripts and CVS.
In fearful time for capital investment, investors who want to put their money behind corporate risk takers may do well to take note of recent moves by Warren Buffett and activist investor Jeffrey Ubben.
Despite calls by investors like Whitney Tilson for Buffett to increase share buybacks at
Berkshire Hathaway
(BRK.A) - Get Berkshire Hathaway Inc. Class A Report
, the "Oracle of Omaha" recently indicated that he's drawn his
in search of a $20 billion deal.
Meanwhile, Ubben of ValueAct Capital recently told
TheStreet
that he's
investing in turnaround and growth efforts
at companies like
Adobe
(ADBE) - Get Adobe Inc. Report
and
Valeant Pharmaceuticals
(VRX)
, which hinge on M&A.
"We're always fighting the last war in this age of austerity. The problem is that like people don't trust the government, they don't trust their companies," said Ubben in May.
A continued M&A lull and investor reactions to recent large-deals by Walgreens and Bed Bath & Beyond signals continued skepticism of C-suite aggression. However, investors with a contrarian bent may want to consider that the deals could eventually pay off.
Investors can also choose to invest in other M&A models.
Starbucks
(SBUX) - Get Starbucks Corporation Report
chief executive Howard Schultz is
about a strategy to attach big investments and expectations to relatively small sized acquisitions, mirroring
IBM's
(IBM) - Get International Business Machines Corporation Report
growth plan.
-- Written by Antoine Gara in New York
.