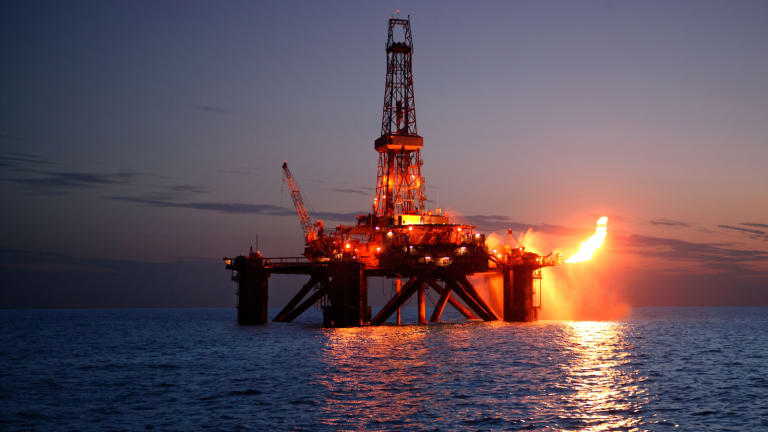 Investors Should Get Ready to Pounce on Oil Stocks
With Nymex data showing oil traders' collective sentiment has turned markedly toward the bullish, it's time to go along for the ride.
NEW YORK (Real Money) -- Anyone who reads my columns and follows my stock picks had to know that I had a "Winners from $60/barrel oil" column queued up and ready to go. It was a long, cold, lonely winter as a holder of energy sector securities, but we're ready to pounce on still-undervalued opportunities.
As I am writing this, the front-month WTI futures contract has just crossed $59/barrel. I am not a chartist, but we are clearly in a technical breakout here, and with Nymex data showing oil traders' collective sentiment has turned markedly toward the bullish, I want to be along for the ride.
The catalyst for today's move was the weekly Energy Information Association data. The EIA data showed:
U.S. crude inventories rose only 1.9 million barrels last week, a benign increase compared to recent stock builds.
Production of 9.4 million barrels for the week was below the four-week moving average, showing the gradual impact of the anything-but-gradual slashing of the U.S. rig count in 2015.
End-user demand remains strong, with total gasoline supplied up 4.4% from the corresponding period last year.
So, it's time to look at this group again, and, in a stroke of fortunate timing, I was able to meet with managements from many exploration and production companies at last week's IPAA OGIS conference in New York City.
I mentioned in a previous column that I have a recurring dream that an energy company CEO says, "We will do whatever it takes to pay our preferred dividends." Well, only one has done that and that was Miller Energy Resources' (MILL) CEO Carl Giesler. When asked last week at OGIS about his December comment that dividends on Miller's two preferred series are "sacrosanct," Giesler refused to walk back those comments, offering merely, "We intend to honor our obligations."
Miller's board of directors has traditionally declared preferred dividends on the last day of each fiscal quarter. Tomorrow is the last day of Miller's fiscal fourth quarter, and I am expecting an announcement then.
Miller's SEC filings show that in an agreement for covenential relief on its first- and second-lien debt, Miller agreed the company would have to raise $10 million in net cash proceeds from preferred share sales by Thursday in order to be allowed to pay the fourth quarter's preferred-share dividend.
Will that happen? I have no way of knowing, as Miller's open at-the-market SEC registration would allow them to do a $10 million sale without announcing it until the next quarterly filing.
But Miller's strong hedge position and continued receipt of tax credits from the state of Alaska allow for those payments. And if it did raise the $10 million in proceeds from selling preferreds, I am guessing it did through a sale to sophisticated investors who would not buy immediately ahead of a non-declaration. Not getting the first payment would probably be a pretty large disincentive to buy a fixed income security ... wouldn't it?
So, I'm buying MILL-D and MILL-C today in the hopes of another "they're alive" bounceback like this one.
I have preferred the preferreds of companies that have exposure to natural gas, but this WTI breakout might mean it's time to laissez les bon temps rouler and start buying the common shares of smaller E&Ps. I'm writing this column pre-2 p.m. ET, but I would note that Fed outlook/actions/tone/body language would have almost zero impact on this industry. These shares have been hammered with no concern to Fed policy, so don't let the media's extraordinary fawning over Yellen & Co. distract you from buying them today.
So, in addition to adding some of Miller's common today, I am revisiting (analyzing to potentially buy) the following oil-focused independent producers that I have mentioned in prior columns: Arabella Explorationundefined, Evolution Petroleum (EPM) , Goodrich Petroleum (undefined) , Torchlight Energy (TRCH) and Victory Energy (VYEY) .
Editor's Note: This article was originally published at 3 p.m. EDT on Real Money Pro on April 29.
At the time of publication, Collins' firm owns MILL, MILL-C, MILL-D, GDP-C, VYEY, AXLWF, AXPLT¿ and EPM-A, and has performed consulting services for VYEY and TRCH.