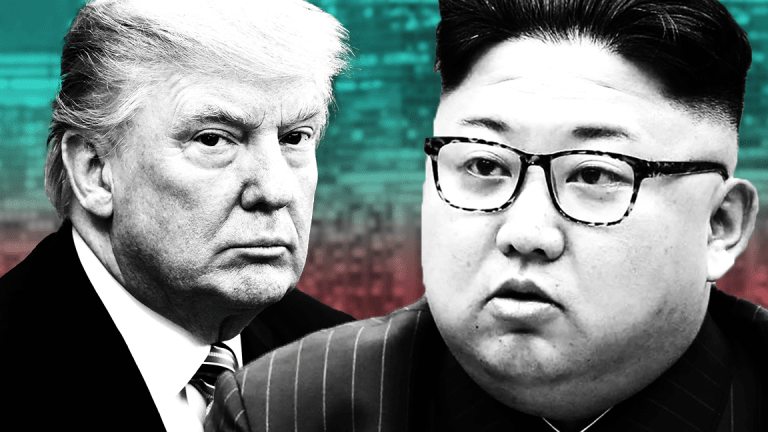 Investors Should Be on High Alert as Trump Meets With North Korea's Kim Jong-un
The market is staring down the barrel of increased volatility as President Trump meets North Korea's Kim Jong-un. An added unknown: a Federal Reserve meeting where the Fed will likely hike interest rates again.
The markets love the thrill from living on the edge. But, it could prove deadly this time around. 
All the major equities indices rose at least 1.2% this week as investors shrugged off Trump's G-7 diss and his looming meeting with North Korea dictator Kim Jong-un. What's more, the market pushed aside risks from an inevitable rate hike from the Federal Reserve this coming week and another possibly hawkish press conference from chair Jerome Powell. 
Cautions HSBC chief U.S. economist Kevin Logan, "We expect that there will be noticeable changes to the formal policy statement released after the June FOMC meeting. Changing the statement to remove guidance that is no longer appropriate makes sense, but also runs a risk that markets will interpret the modified statement as signaling a change in policy going forward when no such signal is intended."
But in the eyes of the market, who cares, right? This week's march higher in the markets were led by big-cap names that are hardly bargains on most measures of valuation (a clear sign of performance chasing that will come back to bite).
Key five-day gains include:
Investors that think the market could continue to overlook heightened geopolitical risk and slowing global growth are misguided. The market simply cannot stay on autopilot without some form of healthy risk adjustment.
Hence, it's critical you hop on the line with TheStreet's founder Jim Cramer for his monthly call with Action Alerts PLUS club members. Being held on June 13, the call will give you the insider knowledge from Cramer and his research team on how to be positioned in this market. Not only will the call educate, it will serve up actionable investing ideas and themes.