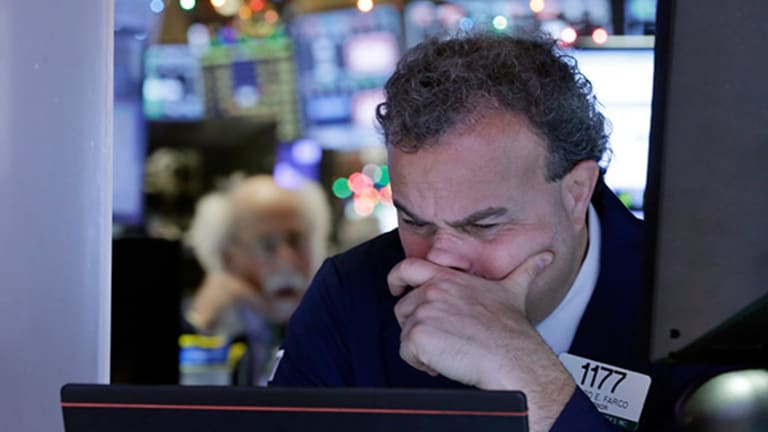 Investors Should Avoid Selling Stocks to Protect Retirement Portfolios
The massive sell-off in the stock market, amid fears of a global slowdown in China along with record low oil prices, is a sign of mere short-term market volatility.
The massive sell-off in the stock market, amid fears of a global slowdown in China along with record low oil prices, is a sign of mere short-term market volatility.
Editor's pick: Originally published Jan. 8.
The massive sell-off in the stock market, amid fears of a global slowdown in China along with record low oil prices, is a sign of short-term market volatility. Investors should avoid selling in a panic.
Though retirement portfolios received immense losses this week amid trepidation concerning geopolitical events, this does not spell trouble ahead for long-term investors as volatility in the market is not a new occurrence.
"This volatility is consistent with movements that we observed in 2015 and expect for 2016," said Matt Pierce, a portfolio manager with Covestor, the online investing marketplace, and president of Island Light Capital, a registered investment advisor in Dover, Mass. "This short-term market volatility does not change our view that U.S. equity markets will finish 2016 with mid to high single digit returns."
The qualms about China's lack of economic growth precipitated a 4% sell-off in U.S. equity and global markets this week while oil prices dropped to 12-year lows and Treasury yields declined as "market participants move to lower risk assets," he said.
"Last year's events, including the outcome of Greece and Europe, China, the Federal Reserve, oil prices and economic data were just the tremors," said Matthew Tuttle, the portfolio manager of Tuttle Tactical Management U.S. Core ETF (TUTT). "This is the quake."
The perception of a crash in China's market is driven by the country's authorities readjusting the yuan and closing their market on a large selling day, said Yale Bock, a portfolio manager with Covestor and president of Y H & C Investments, a registered investment advisor in Las Vegas.
Avoid Panic Selling and Following the Herd
Instead of being alarmed by the decline in market returns, investors should take advantage of the volatility to rebalance back to their long-term asset allocation targets by selling assets which have increased in value while buying quality assets that have declined, Pierce said.
The declines in the market present a "great buying opportunity" since the beginning of the year gives investors a new "window" to contribute to their IRA in 2016, said Greg McBride, chief financial analyst for Bankrate, the North Palm Beach, Fla.-based financial content company.
"Now is the time to take advantage of the market pullback and resist the urge for a knee jerk reaction," he said. "Anytime you see short-term moves in the market, people get riled up. The typical investor is not equipped to play a stock jockey and move in and out of stock positions."
While daily volatility was substantial in 2015, most of the major benchmark indexes wound up closing near where they started in the year, said Robert Johnson, president of The American College of Financial Services in Bryn Mawr, Pa. In 2015, three of the largest 20-point losses in the S&P 500 occurred since 1950. The past year also experienced large intraday swings such as August 24, 2015 when the Dow Jones index plunged over 1,000 points on the open, came back and then closed down nearly 600 points, he said.
"If you need the funds in the near term, then you shouldn't be in stocks in the first place," he said. "As difficult as it is, the best course of action for the long-term investor is to 'stay the course' and continue to add to investment positions through dollar cost averaging."
Selling in a panic leads many investors to get back into the market at higher levels, which occurred to many individuals in the aftermath of the financial crisis of 2008, Johnson said.
"When you sell in a panic you are doing the opposite of what Warren Buffett says: 'Be fearful when others are greedy and greedy when others are fearful,'" he said.

Outlook for Equities
The market consensus for 2016 is a "modest, high single digit return for the S&P 500," said Pierce. The majority of analysts expect the earnings growth of companies to remain modest, ranging from 3% to 7%, contributions from dividends to be 2% and share buybacks to account for another 2%. These factors will lead to S&P 500 returns to range between 7% and 11%.
"Given the uncertainty related to energy production, commodities pricing, overseas growth, debt levels in emerging economies, including China and the upcoming US presidential election, we think that valuation premiums will vary and contribute to equity volatility," he said.
Equities remain a good investment option and will outperform fixed income in 2016 by 4% to 6%, Pierce said.
The decline in the market could remain for awhile and could dip by 60% overall, said Tuttle. Buy and hold investors should never sell assets in downturns and instead wait for the "snap back and reposition," he said.
"Do not think that you can time the market," he said. "Moving all assets into cash with the thought that you will get back in when things are 'better' rarely works out well. The best bet is to adopt a tactical strategy that can get you out before the bad turns into really bad and then back in when the rally is starting."
Start of a Bear Market Not Likely
The recent collapse in the stock market does not signify the beginning of a bear market, said Edison Byzyka, vice president of investments for Hefty Wealth Partners in Auburn, Ind. The recent reaction appears to be more of a "cyclical movement rather than the start of a longer term secular bear market," he said.
"U.S. investors have not experienced much volatility following 2011 and there is nothing wrong with it as it is happening now," Byzyka said. "After all, markets cannot and should not, increase in perpetual movements to the upside."
The unemployment data released Friday will not provide relief for the market, but it could "snap back just because the market is oversold," Tuttle said.
This week's pullback in the market is simply a "revaluation" of what has occurred over the past several months, said Jim Mitchell, a portfolio manager with Covestor and partner at the Rockledge Group, a registered investment advisor in Brooklyn, N.Y. In October 2014, the markets faced nearly a 10% drawdown, yet recovered, followed by another 10% drawdown in August 2015 and its ensuing recovery.
"Individual investors need to take a page from this playbook," he said. "It's O.K. to get nervous; everyone does."