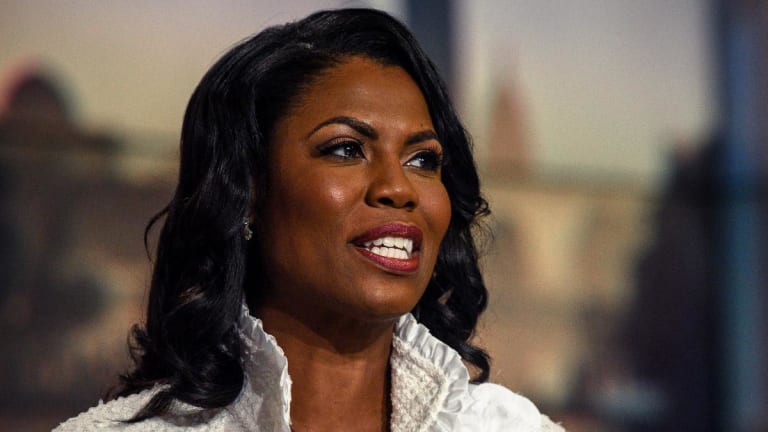 Investors May Have Omarosa to Thank for Pretty Good Week
Thanks, Omarosa. And you too, Bob Mueller, for distracting the president this week from trade wars and tariff skirmishes and allowing investors to make some money.
U.S. equity investors got off to a rough start this week amid more worries about a trade war with China and the danger of an emerging market meltdown.
By the end of the week, though, the Dow Jones Industrial Average I:DJI had posted about a 300-point gain, bringing it back to about 100 points below where it was at the end of the week of January 12. It wasn't that there was good news so much as the absence of bad news for the markets. Thanks, Omarosa. And you too, Bob Mueller.
It's been mentioned before, but warrants repeating that the U.S. markets tend to do better when President Trump's attention is fixed on something else besides trade wars, tariffs, currency devaluations, or actual wars in Syria, North Korea, or Iran. So, when on Thursday the commander-in-chief was obsessing about whether his former pal Omarosa was going to be slinging some mud about their relationship, Dow stocks sloughed off their Turkish funk and gained 336 points.
Since then, there's a sense that the president may be paying more attention to the investigation run by special counsel Mueller into the degree to which Russia interfered with the 2016 election and what, if anything, the Trump campaign had to do with it. The president is pretty tired of the whole thing, and this week he decided to try to punish one of the people he thinks is responsible for starting the probe, former CIA director John Brennan, by revoking his security clearance.
That caused a huge ruckus as political commentators speculated on whether Trump was compiling an enemies list and what that might mean for the future of the U.S. experiment in representative democracy. The president also appeared to be paying attention to the bank fraud and income tax evasion trial going on in federal court in Virginia, where Mueller's prosecutors are trying former Trump campaign chairman Paul Manafort on 18 felony counts.
The president noted to reporters on Friday that he regards the Manafort trial as "very sad," as in "it's very sad what they've done to Paul Manafort." Of course, President Trump is the head of the government and it's his own Justice Department that's prosecuting Manafort.
Stock market investors, though, were too clever to let their focus shift so rapidly and took advantage of the lack of Oval Office attention to put some bets down and bid prices higher. Caterpillar (CAT) - Get Report , whose future profits may be inhibited by the effects of a Chinese trade war and the effects of tariffs that depress American farmers, was one of the big gainers Friday. So were Pfizer (PFE) - Get Report and Johnson & Johnson (JNJ) - Get Report , two drugmakers whose products the president has denounced as overpriced.
Well, out of sight, out of mind. Investors have bid Pfizer up 16% this year and the stock has been on a roll since the end of July when the company posted better-than-expected quarterly results and provided better-than-expected full-year guidance.
And it must be said that Trump did address one change in the way markets work that might gain some traction: eliminating the quarterly earnings report. Evidently riffing on an idea from outgoing Pepsi (PEP) - Get Report chief Indra Nooyi, Trump said in a Tweet Friday that he had asked the U.S. Securities and Exchange Commission to study whether publicly traded companies should be allowed to report their results every six months instead of three months, as is the current practice.
Watch TheStreet's Executive Editor @BrianSozzi and reporter @JacobSonenshine discuss the issue below. 
Trump said that he made the request after speaking with some of the world's top business leaders. Of course, in June, the billionaire investor and Berkshire Hathaway Inc. (BRK.A) - Get Report CEO Warren Buffett and JPMorgan Chase & Co. (JPM) - Get Report CEO Jamie Dimon wrote jointly in a Wall Street Journal op-ed piece that companies should stop providing earnings guidance on a quarterly basis. Doing so leads to an unhealthy focus on short-term profits, they wrote.
Companies in Europe already have the option of posting results every six months, though some still opt to report every three months voluntarily, or pursuant to the requirements of a stock-exchange listing in the U.S., said Jordan Darrow, founder of Austin, Texas-based Darrow Associates, a national investor-relations consulting firm.
A change in the reporting frequency wouldn't likely save companies much money, since they'll still need to retain staff to handle the mid-year and year-end releases, Darrow said. Costs that pertain directly to the quarterly reports, such as a $500 press release and the accounting and legal reviews, are relatively minimal, he said.
"It'll save a little money but it's probably inconsequential for most companies," Darrow said.
Well, it's better than nothing.
To contact the writer:
john.pickering@thestreet.com or on Twitter @johnpickering16.