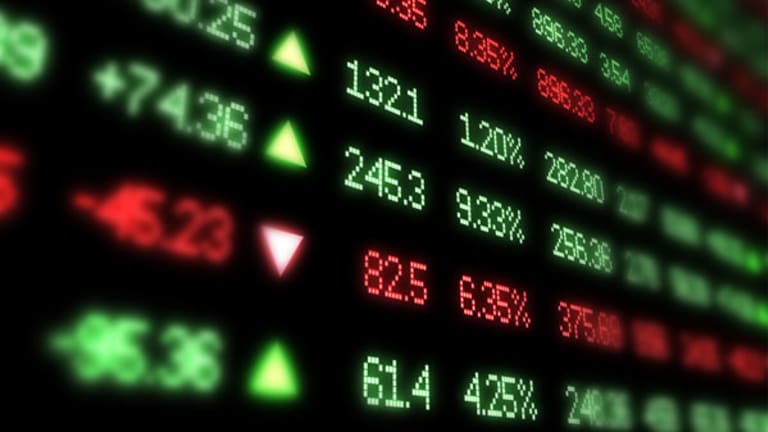 Investors Keep Getting It Wrong; Waymo Is Miles Ahead: Jim Cramer's View
Cramer shares his views on how investors keep getting it wrong, and also discusses how Waymo is getting it right.
Jim Cramer shares his views every day on RealMoney. Click here for a real-time look at his insights and musings.
Cramer: Investors Keep Getting It Wrong

Originally published May 25 at 3:59 p.m. EST
Sometimes it's simply a case of investors just getting it wrong. I am talking about some of these breathtaking moves that occur each day because of a fundamental lack of understanding about what's happening at different companies. Often these moves define the "underneath," what's really going on, even as the averages look like they are placid beasts sunning themselves on the plains of the Serengeti.
Take Best Buy (BBY) . Here's a company that most of the cognoscenti know as a showroom for Amazon (AMZN) , a place where you look, check it out and then buy from Amazon Prime.
Most people are wrong.
Best Buy is and always has been about product cycles. When there is a new product cycle that's huge, it can produce good numbers no matter what.
And when there are several sterling product cycles happening all at once? The results can be spectacular as they were this morning when we saw an upside surprise the likes of which most thought Best Buy never had in 'em. Now the stock soared ostensibly because it reported $0.60 in profit when the Street was looking for $0.40 and it had plus 1.6% comparable store sales when the analyst community thought it would have minus 1.5%.
But the real reasons why it went up? We have a new gaming product cycle and a new home cycle that are eclipsing anything that Amazon can possibly do to this chain.
The first cycle? The Nintendo Switch. This console is revolutionary and it is so hot that you have to go to the number one consumer electronics retailer to be sure you can even get one. And with the demise of so many other stores in the category in the last few years only Best Buy can get its hands on what it needs to sell.
The Switch, powered by an Nvidia (NVDA) chip, leapfrogs over other game consoles and therefore, in the stay-at-home economy, has become the be-all and end-all of the sector.
Second cycle? Let's just call it the e-sports cycle. There's an article in the Washington Post today about the stellar University of Maryland e-sports team that battles in the national collegiate League of Legends tournament. Maryland's real good but the kids practice in their dorms and they are up against schools like Robert Morris University Illinois and UC Irvine where there are scholarships and coaches and facilities that almost make the contest unfair.
Yep, e-sports is that big, which is why I keep telling you that you can still buy Take-Two Interactive (TTWO) because while collegiate Legends challenges can sell out major stadiums like the Boston Garden in minutes, Take-Two owns the rights to the whole NBA. Can you imagine one company owning all of the teams in a pro league that can pack houses around the world and get TV rights and advertising?
Third cycle? The emerging product category we know as the connected home. People may have forgotten that at one time, when home prices were soaring, Best Buy did a fabulous business in home movie theatres. I think the connected home will blow that away. Best Buy is using professional consultants to help, In Home advisors who will be rolled out nationally by the end of the year. The technology of the connected home can be baffling; Best Buy can solve it for you with a consultation and then, of course you buy the devices, especially televisions -- but all of the other equipment, too, and Best Buy makes fortunes. Don't forget that a lot of this stuff is controlled by your Apple (AAPL) phone and the new coming 8 cycle makes this a story that's only going to intensify as the year goes forward.
If you were thinking, once again, that retail's dead you not only missed the product cycle analysis but you also forgot that home spending is the best category out there and you can circle back to Home Depot (HD) if you can't stomach paying up ten for Best Buy.
Second mistaken preconception? That OPEC has any ability to control prices. For days we have heard that OPEC is infused with a new form of discipline led by the iron fist of Saudi Arabia and backed up by Russia, two gigantic exporters of oil.
But when we get to the actual meeting today we realize that OPEC's become a bit of a joke. Four OPEC nations are pumping all they can: Iraq, Iran, Libya and Nigeria. Then, of course, the biggest spoiler of all, the U.S., alone, is offsetting as much as the Saudis are holding back. There is no sign that the U.S. is going to slow down its production and given that we have lowered the cost of extraction to about half of what it was, with oil half of what it was at the high, drilling will never cease.
So once again, this beast of a sector is acting beastly because people paid attention to the Saudis and believed them even as their credibility should be in total question. The stocks cannot be bought at these prices. They have to fall in tandem with oil. Wake me when it's at $45, down four from here.
Then there's the inexorable desire of Americans to find a bargain wherever it can be found. We know Amazon's a bargain but for many in this country, a bargain comes down the block at the discounter. So when Dollar Tree (DLTR) reports what looks like a miss but is actually pretty darned good for the Dollar Tree portion of its business and will turn eventually for the Family Dollar portion, people lap it up.
Same thing with Burlington (BURL) , the store with closeout prices that are loved. It, once again, boosted its forecast. These are not like Best Buy, which is product-cycle driven. They are much more plays on the low wages of so many Americans and the desire to shop affordably for staples and clothing.
Oh and you want wrong? Check out the stock of Netflix (NFLX) today. We've seen this stock gallop endlessly and many have questioned its valuation after this year's 32% advance. Well the house of Piper Jaffray is certainly questioning it, with a piece of research entitled "Netflix Parr 2: International: if Sequel is anything like Original, Estimates way too low."
That's right, way too low. Piper says if you consider how domestic streaming took off you can certainly model that international could be much better than any analysts is looking for. How much could the estimates be off? How about by 100%.
If that's the case, then Netflix is most definitely priced wrongly -- hence the staggering six-point advance for the company's stock.
Finally, as much as they have moved, the defense stocks just aren't where they have to be yet. They have to keep soaring until people realize that our president is perhaps the greatest salesmen for arms in history. It's almost as if for every country he goes to he wants people to pay the piper for their own defense. The piper? Lockheed Martin (LMT) , General Dynamics (GD) , Raytheon (RTN) , Northrop Grumman (NOC) and so many others, including derivatives like Boeing  (BA) , United Technologies (UTX) and Honeywell (HON) .
People keep thinking they have to quit. They don't. I think that people now underestimate President Trump getting anything done while he's out there convincing our allies to pony up and they are doing it.
As long as investors keep getting it wrong, as long as they make mass misjudgments, there will be opportunities, and in all of these cases, the opportunities aren't for one day, they could be for weeks and weeks, as long as the catalysts remain in play and they are showing no signs of letting up any time soon.
Action Alerts PLUS, which Cramer co-manages as a charitable trust, is long AAPL.
Cramer: Waymo Is Miles Ahead of the Competition

Originally published May 23 at 11:31 a.m. EST
Driverless cars, driverless trucks, distant? Close? All I can tell you is that if you read this morning's Morgan Stanley recommendation of Alphabet (GOOGL) because of its Waymo division, you will be thinking it is here and now.
Now the big concern is that when an autonomous car has an accident it sets back the whole industry, because people are so skeptical of how well they can work. The skeptics have clearly never been in one, or they would know that the cars are far more rigorous than their human drivers--especially the tired, the texters and the impaired ones. If I were Waymo, I would be actively soliciting the auto insurance industry to vouch for the cars, because of the suspected dramatic decline in fatalities they would produce.

That's because Morgan Stanley ascribes a $70 billion valuation to Waymo, a 12% boost when it gets recognized for what it is -- the best hope for driverless cars.
The proximate cause for this push? The Waymo partnership with the No. 3 Distrupter on CNBC's annual list, Lyft, because it gives the company more access to miles driven, which is the key metric supporting Waymo's case as the dominant self-driving car. Action Alerts PLUS is a holder of GOOGL stock.
The way you measure the strength of your autonomous driving initiative is to see how often the car has to be disengaged because of issues. Waymo is far ahead of every other manufacturer, and the company's numbers are in evidence right on the California Department of Motor Vehicles website. That means it can be the prototype for all car manufacturers--and be Switzerland, if it wants to. I have been thinking that if Mark Fields, ex-CEO of Ford (F) , had hooked up with Waymo, as Fiat Chrysler (FCAU) is working with the company for minivans, he'd have kept his job.
Now I love this report, but I take issue with one element of it--the idea that Waymo may be spun off into a separate company.
I think that would be a big mistake, because the autonomous vehicle total addressable market is so much bigger than the search market is now. The latter is way too dependent on advertising--and advertising is considered a very cyclical business.
On the other hand, autonomous cars have several secular tailwinds:
The shortage of drivers for growth in all goods, right now;
The much-safer statistics of cars that are driverless;
The market for the physically-challenged: elderly and disabled people who can't drive.
Of course Waymo is not alone. Waymo develops its own chip systems, having found that others are too expensive. I would point out that the company with the best technology is Mobileye, which was bought by Intel (INTC) . I have been to Intel's factories and they are a wonder to behold. Mobileye has not been able to scale development of its chips at a price that can be competitive with the suite that Waymo is offering, but that could change with its Intel ownership.
No matter, Alphabet has not received the respect that it deserves for this other bet. Now it is happening. As the news leaks out of the "here and now" for autonomous cars, it can only spell a stock that goes higher--and a price-to-earnings multiple that is more befitting of a fast-growing stock than the relatively inexpensive P/E that it has now.
At the time of publication, Action Alerts PLUS, which Cramer co-manages as a charitable trust, was long GOOGL.
Action Alerts PLUS, which Cramer co-manages as a charitable trust, is long GOOGL and AAPL.