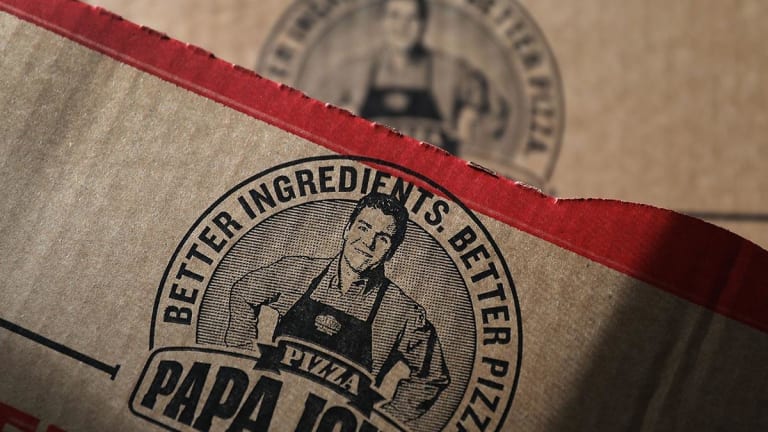 Papa John's Gives Investors Pizza Burn With Misses on Top and Bottom Line
Ouch! Papa John's gave investors a triple whammy of bad news when it reported earnings.
Ouch! Papa John's International Inc. (PZZA) - Get Papa John's International Inc. Report has served investors a triple whammy of bad news.
The Louisville, Ky., chain posted second-quarter 2018 financial results after the bell on Tuesday, Aug. 7 that missed on earnings per share, same-store sales and revenue.
Shares plunged 10% after hours to $36.91 after closing the trading day at $41.07, down 3%.
Adjusted EPS came in at 49 cents versus the consensus estimate of 54 cents, same-store sales dropped 6.1% compared with a 4.7% estimate, and revenue dipped to $408 billion, below the estimate of $424.4 billion and a 6.2% decrease from last year's $434.8 billion.
The struggling chain revised the outlook downward for full-year 2018 as well, including lowering adjusted EPS to $1.30 to $1.80 from $2.40 to $2.60 due to negative sales.
On a conference call Tuesday, CFO Joseph Smith said Papa John's now projected a drop in same-store sales in North America of 7% to 10% this year because of recent media coverage, with international comp sales declining 2% to rising 1%.
CEO Steve Ritchie in a statement said: "Results have been challenged by recent events. ... We have important work ahead of us, and I feel certain that with the collective efforts of our 120,000 corporate and franchise team members that the best days for Papa John's are ahead."
Not everyone is convinced, least of all founder John Schnatter, who has been battling the company in the media, and more recently in court. The former chairman is suing the company for the right to inspect the books.
"Today's results highlight the further deterioration of Papa John's financial performance under the tenure of Steve Ritchie, since he assumed CEO responsibilities in mid-2016," said Schnatter in a prepared statement on Tuesday. "Instead of addressing the real and fundamental issues confronting the company since that time period, and taking actions to turn sales around, the company is trying to deflect attention from the source of the problem -- management's ongoing failures with regard to financial performance -- and blame me for its problems."
Schnatter remains the chain's largest shareholder and has previously criticized Papa John's senior management and board, saying they have no plan to right the company.
The company has been mum in the media, but the board has fought Schnatter through legal actions, such as revoking his founder's agreement, which spells out Schnatter's company spokesman duties; adopting a poison pill to keep Schnatter and associates from gaining company control; and canceling his office lease at company headquarters. 
One analyst, anticipating a dismal second quarter, had moved on to the third quarter by Monday. 
"Second-quarter results are largely an afterthought at this point; we expect the focus for all participants will be sales trends in the initial weeks of third-quarter 2018 (July) as investors gauge how bad near-term sales declines could be. We believe current expectations are for a low-to-mid teens decline based on media reports, franchise checks and discussions with investors," BTIG LLC analyst Peter Saleh wrote in a note. "In addition to the sales decline, we would pay attention for any commentary on weekly trends to judge the pace and degree of fallout. The initial report about John Schnatter's use of a racial slur was on July 11, with subsequent articles about the company's problematic culture appearing on July 17-24. How quickly this initial report weakened sales trends and if those trends have since worsened, recovered or maintained will inform how quickly a recovery could happen." 
The analyst was referring to the news that rocked the company starting on July 11, when Forbes published a piece reporting Schnatter used the N-word during a media training session in May. The account has had a cascading effect on the company, which led to Schnatter stepping down as board chairman and the subsequent series of actions taken by the board to limit the founder's role in the company.
Schnatter remains on the board and holds close to 30% of the company.
Saleh added that of particular concern are the longer-term effects of sales declines, which could lead to store shutdowns: "Papa John's has struggled in recent years with a stubbornly high closure rate that spiked higher last year when comps were still slightly positive, resulting in the U.S. unit count declining for only the second time since 2005 (other was 2009)."
The company reported 35 net store openings in the second quarter, driven by international operations. Smith on Tuesday said Papa John's estimated it would open more than 350 locations, largely internationally, with "a number of store closures in the U.S.," adding the chain was working to mitigate closures.