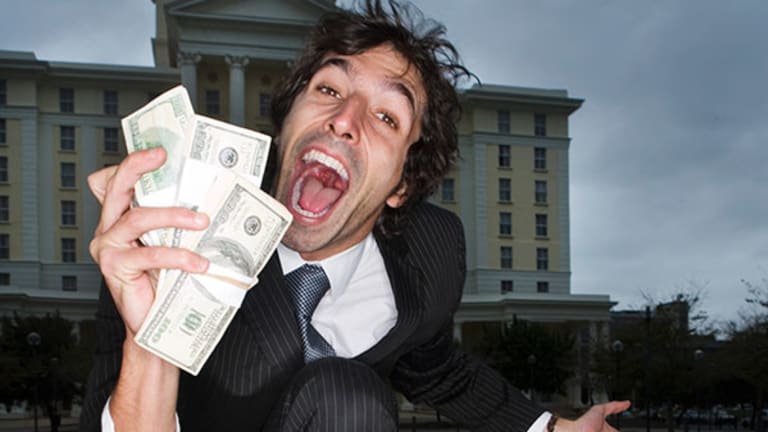 You Better Not Behave Like an Over-Caffeinated Day Trader Right Now
Better focus on upcoming earnings.
The markets are coming off a recording-breaking week, but the euphoria reminds me of what my mom used to call a "sugar high."
The wisest course for investors in the week ahead is to pause and wait for clarity. Above all, ignore the lurid headlines emanating from the nation's capital. The insurgent nature of the Donald Trump administration ensures daily uncertainty for the duration of his regime. Focus on the fundamentals, of which there will be plenty to scrutinize in coming days.
Sure, the Dow finally broke 20,000, but that shouldn't turn your head. Individual investors tend to buy and sell at the wrong times. Market tops make them "feel good," prompting them to pile in when valuations are too high. Instead of keeping an eye on the long-term horizon, they behave like over-caffeinated day traders.
President Trump's free market, anti-tax rhetoric gets Wall Street's heart racing, but the president's brash policies are a double-edged sword. Let's start with trade.
Trump threatened on Thursday to slap a 20% tax on imports from Mexico to help pay for his promised border wall, an announcement that sparked anxiety among investors and caused Mexico's president to cancel his planned trip to the U.S.
Bashing Mexico pleases Trump's base. However, you'd be hard pressed to find a business or financial leader who thinks higher tariffs and trade wars are positive factors for investors.
And then there's the impending chaos of Obamacare repeal. Although Republicans still don't have a replacement in hand, Trump is insisting on an accelerated timetable for terminating the Affordable Care Act, which would eliminate health insurance for 30 million Americans.
In secret recordings released to the press on Friday, Republican leaders attending a retreat are heard fretting that repeal would almost certainly create economic and budgetary mess, as well as a political liability for the GOP. This cloud will loom over health and drug stocks until Obamacare repeal somehow gets sorted out (if it ever does).
Which brings us to corporate earnings. As of Jan. 27, with 34% of the companies in the S&P 500 reporting actual results for the fourth quarter of fiscal 2016, 65% of companies have beat the mean earnings per share estimate and 52% have beat the mean sales estimate, according to research group FactSet. So far, the fourth-quarter blended earnings growth rate for the S&P 500 is 4.2%.
Those are welcome numbers in light of the protracted earnings recession corporate America has endured, but it's probably insufficient to sustain the market much longer. Slowing economic growth, excessive valuations and political uncertainty will give investors plenty to brood about.
Dow 20,000 finally happened
The forward 12-month price-to-earnings ratio for the S&P 500 is 17.2 times, above the five-year average of 15.1 times and above the 10-year average of 14.4 times. At the same time, economic growth is sputtering.
The Commerce Department reported on Friday that the U.S. economy grew at an annual rate of only 1.9% in fourth quarter of 2016, compared to 3.5% in the previous quarter. For full-year 2016, the economy grew a meager 1.6%, down from 2.6% in 2015.
Among the notable earnings reports to watch in the week ahead:
Monday: Banco Santander (BSAC) - Get Free Report . Tuesday: Aetna (AET) , Eli Lilly (LLY) - Get Free Report , Exxon Mobil (XOM) - Get Free Report , Pfizer (PFE) - Get Free Report , UPS (UPS) - Get Free Report , Apple (AAPL) - Get Free Report , U.S. Steel (X) - Get Free Report . Wednesday: Anthemundefined , Avery Dennison (AVY) - Get Free Report , Dominion (D) - Get Free Report , Facebook (FB) - Get Free Report . Thursday: Cigna (CI) - Get Free Report , ConocoPhillips (COP) - Get Free Report , Merck (MRK) - Get Free Report , Phillip Morris International (PM) - Get Free Report , Royal Dutch Shell (RYDBF) , Amazon (AMZN) - Get Free Report , Visa (V) - Get Free Report . Friday:Honda Motor (HMC) - Get Free Report , Phillips 66 (PSX) - Get Free Report , and Hershey Foods (HSY) - Get Free Report .
Apple and Facebook are holdings in Jim Cramer's Action Alerts PLUS Charitable Trust Portfolio. See how Cramer rates the stocks here. Want to be alerted before Cramer buys or sells AAPL or FB? Learn more now.
Salient economic reports due this coming week: Tuesday: Consumer Confidence. Wednesday: Motor Vehicle Sales, PMI Manufacturing Index, Construction Spending. Thursday: Chain Store Sales, Jobless Claims. Friday: PMI Services Index, Factory Orders.
Wall Street's mood is high today, but it could crash tomorrow. If you're looking for new (and safe) growth opportunities in these uncertain times, we've found a genius trader who turned $50,000 into $5 million by using his proprietary trading method. He's now guaranteeing you $67,548 per year in profitable trades if you follow his simple step-by-step process. Protect your wealth! Click here now for all the details.
John Persinos is an analyst with Investing Daily. At the time of publication, he owned stock in Apple.