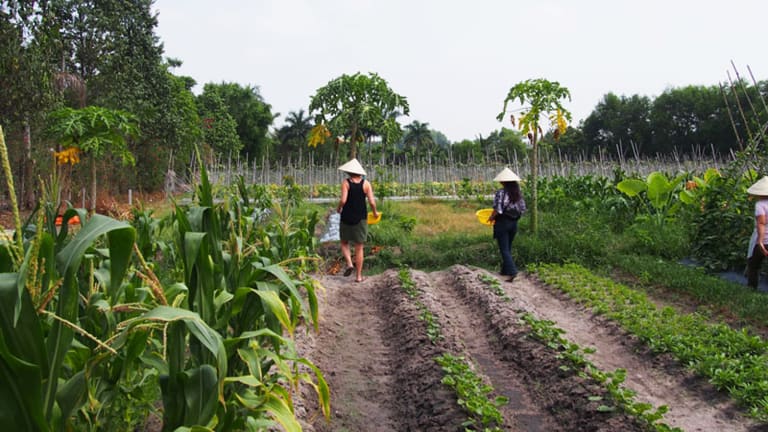 It's a War Out There, So Here's One Way to Invest
With Wall Street facing lots of bad news (and only limited good news), I've put some cash in the VanEck Vietnam Vectors ETF.
Vietnam isn't even considered an emerging market; MSCI classifies it as a "frontier" one. However, expectations for the country's 2018 economic growth run from 5% to 6%. And if U.S.-Chinese imports and exports are disrupted or at least slowed down due to a trade war, who's likely to benefit?
If you watch the news, you've seen the U.S. Navy making port calls in the Vietnamese port of Da Nang, a major America military base during the Vietnam War. You've also seen President Trump's big defense budget and China's response (an 8% increase over last year).
So, not only is Vietnam a place where U.S. manufacturers could turn for goods, but it's also a potential military ally -- not to mention a member of the original Trans-Pacific Partnership trade agreement that America never ratified.
I'm playing the country via the VanEck Vietnam Vectors ETF (VNM) - Get Free Report , which owns firms either based in Vietnam or that derive at least 50% of their sales from the country. The fund is diversified, with its largest exposure in staples, financials and real estate.
Let's look at its chart:
This chart displays the sharp contraction that was felt across many markets in early January/February. However, it shows none of the recent volatility associated with any potential U.S.-Chinese trade war, nor with the recent U.S. "tech wreck."
Rather, VNM still finds support at the 50-day simply moving average (marked "MA (50)" above). Its Relative Strength Index (marked "RSI"), daily Moving Average Convergence Divergence oscillator ("MACD") and Chaikin Money Flow ("CMF") all look to be in good shape, too. Additionally, VNM seems to have responded well to what looked to be a "Buy" signal coming out of that cup-and-handle pattern above.
What now? Well, the Pitchfork in the chart above clearly stakes out rising resistance -- but that's a whole lot better than the "kidney punch" that you're getting everywhere else.
Add it all up and I've recently gotten into this name. VNM might not get you rich, but it might preserve your capital while you wait for better days on Wall Street. And heck, the fund might even toss you a little capital appreciation in the process.
Retirement Is Coming. It's never too early -- or too late -- to plan, save and invest for the retirement you want and deserve. Let TheStreet's new premium subscription newsletter, Retirement Daily, give you the insider's edge on how to maximize and protect your most important investment, your retirement savings. Learn more about Retirement Daily and get a free trial subscription.
At the time of publication, Guilfoyle was long VNM, although positions may change at any time.