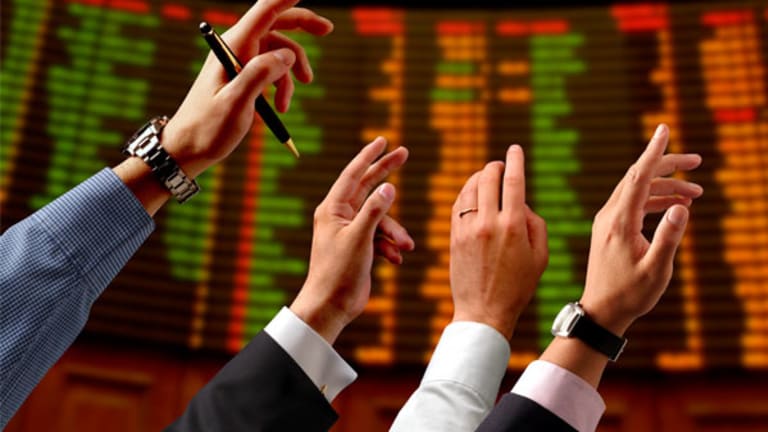 Publish date:
Investing in Europe May Not Be a Bad Idea; Tech Is the Place to Be: Jim Cramer's View
Cramer shares his views on Europe and tech earnings.
Cramer shares his views on Europe and tech earnings.
Jim Cramer shares his views every day on RealMoney. Click here for a real-time look at his insights and musings.
Cramer: Investing in Europe May Not Be Such a Bad Idea
Posted at 6:00 a.m. on Thursday, March 22, 2017
Suddenly, with two giant, albeit rejected takeover bids, Europe doesn't seem all that bad as a place to invest. Suddenly, the euro seems a little more stable. Suddenly the politics of Europe, after the incredibly destabilizing FBI revelations and the internecine squabble among Republicans, seem downright placid. And with the downfall of the so-called uber-nationalist party in the Netherlands, perhaps politically, suddenly Europe feels like the good old days when you didn't have to think about who was running the government.
OK, maybe I am biased after spending a few days talking to business leaders and fund managers in London. Perhaps I am dazzled that a staid company like PPG (PPG) - Get Report would pursue a $24 billion hostile bid for Akzo Nobel (AKZOY) or that Kraft-Heinz (KHC) - Get Report would be willing to shell out $143 billion for Unilever (UL) - Get Report , but you have to believe these aren't idle chunks of money thrown around by uninformed individuals.
And you certainly have to believe that politically, even one week from the release of the official Brexit document that Europe's got some stability to it that we, ah, lack for the moment?
Now, I am not calling for the end of the Trump trade. That will go on even if health care isn't repealed and replaced in the next 10 days. Only Comey calling for an indictment really stops the longer-term thesis that has carried this market far.
But let's take the case of Diageo (DEO) - Get Report . Here's a company that sells liquor all over the world that is then translated into weak pounds. How can that not be more desirable to Kraft-Heinz than Unilever at this point? Why do we insist that Kraft-Heinz has to stick with food? Check out Diageo's chart; Bruce Kamich, our technical analyst, says it could be time to take a big drink.
Or how about Santander (SAN) - Get Report ? With the hub of London about to be tarnished to some degree--even as I heard nary a public peep from any banker about how London could be impugned by Brexit--why shouldn't we be thinking about Spain doing better as a financial hub? Santander has done a lot to be recapitalized in the last few years.
We could go for Deutsche Bank (DB) - Get Report , too, while the rights trading plays out.
And if you felt that the world was going to be a stronger place, how about a stock like Rio Tinto (RIO) - Get Report ? You think there will be oil and gas mergers--assess BP (BP) - Get Report , which in Kamich's opinion has taken the long way back.
All I am saying--and Bruce Kamich yesterday did a series of terrific charts about European companies--is that the money has got to come somewhere. And with Brexit now discounted and with the Dutch elections perhaps emerging as the high mark of what could be called violent nationalism, investing in Europe, buying the stocks of U.K. companies that do small business in the U.K.--which is now subject I think to inflationary pressures at home--may not be such a bad idea.
Action Alerts PLUS, which Cramer co-manages as a charitable trust, has no positions in the stocks mentioned.
Posted at 10:52 a.m. on Wednesday, March 22, 2017

Cramer: Tech Is the Place to Be, if Earnings Matter
If earnings matter, you should buy tech. It doesn't need tax reform. It can be helped by repatriation, but I don't think anyone is denying that will occur and it has the strongest earnings profile.
I know people are lining up to buy recession-proof stocks, although the only ones besides the utilities that are working are the soda and snack companies, like PepsiCo  (PEP) - Get Report , Mondelez (MDLZ) - Get Report and Coca-Cola (KO) - Get Report .
I get that. The 10-year is signaling kerflooey on everything.
But the tech stocks are uniquely international--and all I keep hearing about is strength in Asia, Europe and of course the BRIC--Brazil, Russia, India and China--markets. Now you may quibble about Brazil, because it is a slow turn. But it is a turn--and the rest of Latin America away from Venezuela is a fast turn.
Funny, when I hear objections to this thesis it is on technical grounds, mainly that the reversals in Facebook (FB) - Get Report , Alphabet (GOOGL) - Get Report and Apple (AAPL) - Get Report wrecked the charts!
I do not hear anything on fundamental grounds. So reach for these stocks first if you are trying to figure out where to put money to work, as we are suggesting for club members of Action Alerts PLUS.
At the time of publication, Action Alerts PLUS, which Cramer co-manages as a charitable trust, was long PEP, FB, GOOGL, AAPL.
Action Alerts PLUS, which Cramer manages as a charitable trust, is long PEP, AAPL, GOOGL and FB.