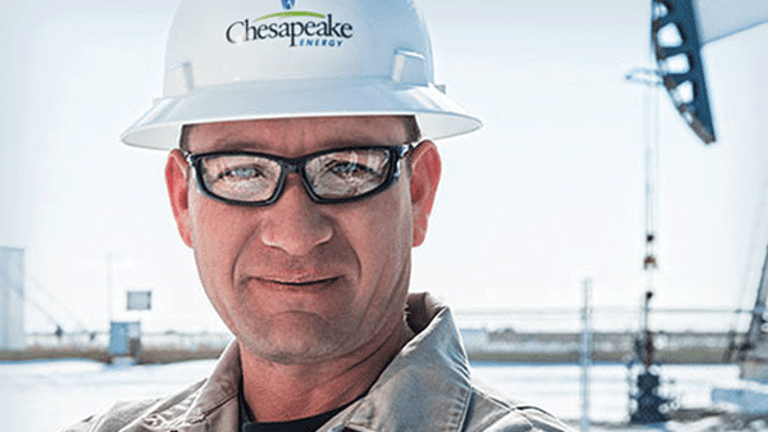 Investing in Chesapeake Still Isn't Without Risk
Chesapeake still has plenty of problems but it has laid foundations for long-term growth.
Chesapeake still has plenty of problems but it has laid foundations for long-term growth.
What a difference a year makes. Just last February, Chesapeake Energy (CHK) - Get Report was one of the world's most reviled stocks, losing more than 50% of its market value in a single morning, marking a year-over-year loss of a resounding 92%.
A massive load of debt, increased government scrutiny, and -- in early March 2016 -- the death of its former CEO in a fiery car crash ... Chesapeake's story last year had the makings of a Greek tragedy.
But then, in February, the independent oil-and-gas company -- the second-largest after ExxonMobil (XOM) - Get Report  -- released fourth-quarter results that met the Wall Street consensus. It seems the stock might be poised to turnaround.
For the quarter, the company recorded a profit of 7 cents a share on $2.02 billion in revenue, in line with analysts' expectations. And the company also narrowed its GAAP losses to 84 cents a share from $3.36 a share in the fourth quarter of fiscal 2015.
Despite the stock falling another 13.3% following the earnings results, there's potential for a brighter future for the oil and gas industry, thanks to a new Republican administration.
Chesapeake still has plenty of problems. The company is groaning under the weight of $9.1 billion in debt. But it's steadily addressing these troubles by selling multiple billions of dollars worth of assets, as well as streamlining its portfolio. It also halted its dividend in another money-saving move.
These moves should help the company regain its financial footing. It's now in a position to spend more, somewhere in the range of $1.9 billion to $2.5 billion, vs. $1.7 billion in 2016. Chesapeake is also expecting to operate between 16 and 18 rigs this year, compared with 10 in 2016.
The company has laid the foundations for growth in the long term. And it could also make an attractive takeover target for a much bigger player like BP (BP) - Get Report or Total (TOT) - Get Report . It would provide a good position in U.S. shale production for these multinational giants.
Investing in Chesapeake still isn't without risk. One has only to take a look at the last years of the company's history to realize that the unpredictable and awful can happen. However, for a long-term play, there's the potential for gains if the company can successfully mount a comeback and pay down even more of its debt.
If you're allergic to any amount of risk, continue to stay away from Chesapeake (as well as energy in general). But if you're looking for exposure to the energy sector, Chesapeake has the potential to deliver big returns.
The stock has declined 28.6% so far in 2017.
---
As we've just explained, Chesapeake is an excellent growth opportunity. If you're looking for other growth opportunities, we've found a genius trader who turned $50,000 into $5 million by using his proprietary trading method. For a limited time, he's guaranteeing you $67,548 per year in profitable trades if you follow his simple step-by-step process.Click here now for details.
This article is commentary by an independent contributor. At the time of publication, the author held no positions in the stocks mentioned.