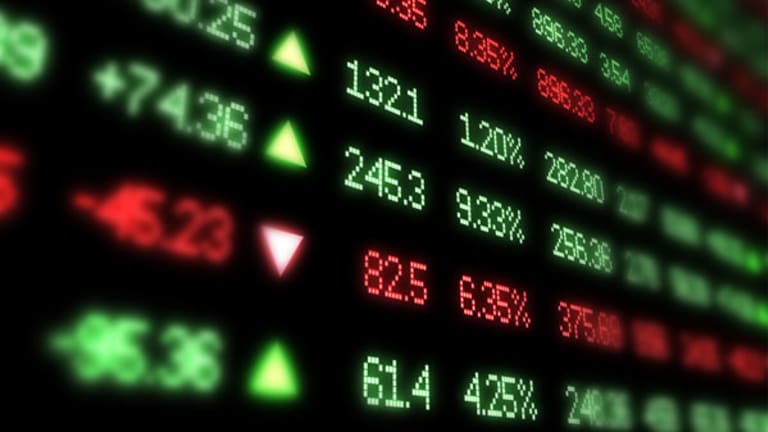 Investing Dangerously and Following Elon Musk: Jim Cramer's View
Cramer shares his views on oil, and discusses the long, strange trip that is Elon Musk.
Jim Cramer shares his views every day on RealMoney. Click here for a real-time look at his insights and musings.
Cramer: The Year of Investing Dangerously--in Oil
Originally published May 5 at 2:38 p.m. EST
Oils as leaders? We have to believe, with that increase in the rig count just announced, that it is even more likely that some fund blew up last night when oil hit $44 because there's no way we can just have a quick reversal as we have had today on supply and demand.
That said, I would feel better about calling a bottom if there had been some volume. How much volume could there be at 2:45 a.m. ET when it was down two bucks from here?
That means to me that if you are going to buy an oil, you have to be sure that you can handle another quick move down unless we find out that some hedge fund blew up.
If I were a hedge fund, I would be very circumspect here because I do not know how it can climb without going down again Monday unless something happens over the weekend, and I can't foresee what that would be.
If you can't resist, go liquid: Schlumberger (SLB) - Get Schlumberger NV Report , which has gotten very cheap very fast and makes for a good buy, or Halliburton (HAL) - Get Halliburton Company Report , which reported a very good quarter and isn't getting credit for it. We bought some oils yesterday for Action Alerts PLUS that make sense, too. But we did it small. Oil keeps letting the bulls down. It's probably not done doing so. (Schlumberger is part of TheStreet's Action Alerts PLUS portfolio.)
Action Alerts PLUS, which Cramer co-manages as a charitable trust, is long SLB.
Cramer: To Follow Tesla's Elon Musk, You Should Take Mind-Altering Drugs
Originally published May 4 at 6:24 a.m. EST
I think, if you are an analyst, the only way to really handle an Elon Musk Tesla (TSLA) - Get Tesla Inc Report conference call is to take mind-altering drugs, so you can really tune in and turn on to the entire psychedelic story that this man tells.
I don't know what else to say. No matter what you ask, no matter what you do, the answer is going to be something that blows your mind, and you really don't want to approach the topic with the stone-cold sober nature that rigor demands, because I think you will just look like a total dope.
He's just that good, and he's got to be incredibly frustrating for these people who are trying to draw up financial models to get their arms around.
Take, for example, this attempt at a rigorous question by the incredibly sharp Toni Sacconaghi from Bernstein:
"By my math it appears as though Tesla's new car inventory has increased substantially over the last couple of quarters, maybe 3500 units or about 50%, even though sort of production and delivery have been relatively constant," he says. So therefore, he ponders, is there demand pressure on the Model X or the S? Is there some sort of cancellation problem?
You have to say to yourself: that seems like a pretty serious issue, right?
Nah, what you don't know and Musk quickly explains is that there was confusion among customers about the value of the Model S vs. the new Model 3, and that caused some issues which he says were his fault, because he wanted to name the new one Model E, and Ford (F) - Get Ford Motor Company Report intended to sue him. And Tesla likes to give fully loaded loaners to anyone whose car is in the shop, so he needs those cars.
Oh, OK. How can you argue with that? In one fell swoop, he got you to understand that not only is there no demand problem, but does your car company give you a loaner that's better than the one you drive?
There's so many priceless moments on this call. Like when Brian Johnson at Barclays reminds Musk that a couple of years ago, when the stock was at $200--it's at $300 and change now. He asked Musk was there a scenario where the stock could get to $700 billion in market cap.
I am thinking to myself, where's he going to go with this one? Of course, the answer indicates either everyone's in on the joke or there's just a slight push back in the arrival date: "Well, now I am going to want to preface this by of course saying I could be completely delusional, but I think I can see a clear path to that outcome."
Hey, in this "Alice in Wonderland" call, that's good enough for me.
Or how about this one: Tyler Frank from Baird wants to know: "Elon, you had previously pulled out a target of 1 million cars by 2020, do you still think that's achievable?"
Come on Tyler, you are asking Elon Musk, not some regular circumspect captain of industry. His answer: "Yeah, I do, I think we need to come out with the Model Y sometime in 2020 or aspirationally late 2019. And then I think a million units is quite likely, combined, yeah. Maybe more."
Why not just say "definitely more," or "absolutely more," at least aspirationally?
Of course, there are fabulous moments when he says the tax credits to the industry are handicapping the company, because it keeps others in the game, and that the tax abatements from Nevada for the gigafactory aren't even all that real. He doesn't need no stinking subsidies--not with all of these firms on Wall Street throwing money at him.
Finally, Rod Lache, from Deutsche Bank, steps up right on cue and asks about China, and whether the government is going to liberalize foreign investment and what that means for plans to build a lot of cars in china.
Why doesn't he just groove a hanging curve ball right over the plate?
Musk sends it 440 feet into deep center with this one: "I don't think this is quite the right timing to make any announcement on that front, but I would expect us to define our plans more clearly by end of year specific to China production."
So, just in case you thought there was an inventory problem, just in case you thought there was a demand problem, just in case you thought he was off course in market cap or production, the one thing you do know is you can't short this stock because by year-end he could say he is going to make a million cars in China by year end 2020--at least aspirationally--and you will be hit by one of the most grand short squeezes in the world, which would be sure to wipe out any hedge fund's quarter.
My take? Enjoy the car. Enjoy the man. But understand that it's fabulous theater, even if everyone on this call was a bit delusional.
Action Alerts PLUS, which Cramer co-manages as a charitable trust, has no positions in the stocks mentioned.
Read More of TheStreet's Top Stories:
Why Tesla's Explosive Stock Price Deserves to Keep Plummeting
This One Indicator Is Calling for a Stock Market Rally Starting in June
Verizon's NFL Streaming Deal May be Sign of Things to Come From Carrier, Tech Rivals
Action Alerts PLUS, which Cramer co-manages as a charitable trust, is long SLB.