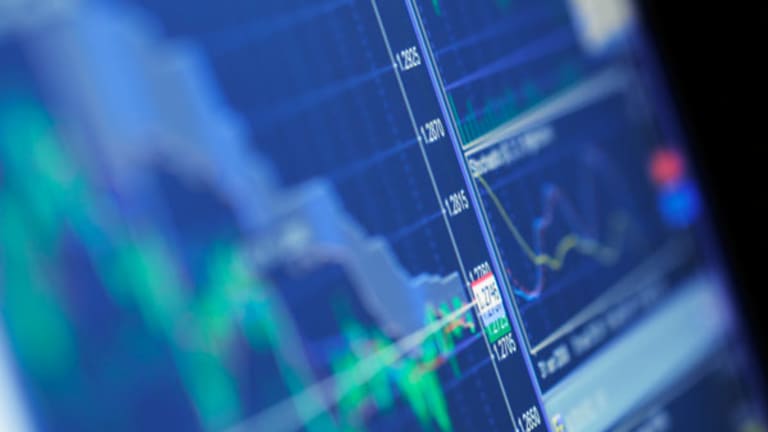 Invest Like a Drunk: 5 Booze Stocks to Buy in 2013
This group of stocks is wildly outperforming the broad market's already impressive pace.
BALTIMORE (
) -- We all know you shouldn't drink and operate heavy machinery -- but drink and trade in your portfolio? Investing like a drunk might actually make you some money.
Mr. Market deserves a toast in 2013. The venerable
index has managed to climb close to 11% on the year as of this writing. But one pocket of stocks has managed to do one better: consumer staples. Food, beverage and tobacco stocks in the S&P have climbed more than 17.7% since the calendar flipped over to January, and that number hops a full point when dividends are counted in the equation.
>>5 Hated Earnings Stocks That Deserve Your Love
Put simply, this group of stocks is wildly outperforming the broad market's already impressive pace.
And alcohol stocks offer some of the most exciting growth of the group right now. In recent years there's been a renaissance of "craft" beverage consumption. Consumers are paying premiums for niche beverage offerings, a trend that's long existed in the wine world, but has only recently crossed over into beer and spirits. That crossover presents a big opportunity for beverage manufacturers, especially as the amount of alcohol consumer per capita in the U.S. (and elsewhere) continues to rise.
>>5 Toxic Stocks You Need to Sell
Growth isn't the only story here. Acoholic beverage makers fall under the loose category of "sin stocks," which are known for their defensive posture when times get tough. In other words, people drink when times are good and they drink when times are bad too. With the rally that the S&P has already put underneath it this year, it's important to have a defensive allocation to your holdings, particularly one that's paying out dividends in this near-zero rate environment.
Alcohol stocks fit that bill.
Even if you're only interested in the "market research," it's worth taking a closer look at alcoholic beverage stocks right now. That's why, today, we're taking a look at
that are well-positioned to round out your booze portfolio in 2013.
>>5 Rocket Stocks to Buy as Stocks Bounce
Boston Beer
Boston Beer
(
) owns a meager 1% of the U.S. beer market, but that tiny share is enough to make the firm the fourth-largest brewer in the country. More important, SAM is the biggest craft brewer -- a distinction that's offering some stellar growth opportunities for investors right now. Boston Beer is best known for its Samuel Adams brand, which has grown from a regional favorite to a national staple in the last couple of decades. Boston Beer's more recent additions include Twisted Tea and Angry Orchard ciders, two products that have been gaining in mind share in the last year.
>>5 Consumer Stocks Ready to Push Higher
For the past several years, craft beer has been the single fastest-growing segment in the alcoholic beverage market. SAM's position as the industry's standard bearer should bring with it some big advantages. SAM's scale is substantial, but it's still dwarfed by the megabrewers, a fact that still provides some big opportunities to grow its sales volume materially over time. The firm puts out a wide array of seasonal beers that take considerably more effort and cost than a single beer would, but that variety gives SAM a big advantage in fueling sales through limited runs.
Financially, Boston Beer is in stellar shape. The firm owns a nearly debt-free balance sheet with approximately $5.50 in cash on hand. While that cash position doesn't exactly make SAM a deep value play, it does give the firm the wherewithal to keep spending CapEx budget on increased capacity and national advertising campaigns. For investors looking to get exposure to the fast-growing craft beer segment, SAM is the best pure play.
Molson Coors Brewing
Even though
Molson Coors Brewing
(
) is one of the big-three megabrewers, investors shouldn't ignore this firm. Molson Coors is one of the largest brewers in the world, with huge beer volumes flowing to the U.S., Canada, the U.K. and Eastern Europe. The firm's portfolio of brands includes Coors, Molson, as well as Blue Moon, Keystone and Miller Lite (the latter through a joint venture with
SABMiller
(SBMRY: Pink Sheets) here in the U.S.).
>>4 Big Stocks on Traders' Radars
Molson Coors hasn't ignored the craft beer movement. Its MillerCoors joint venture operates a unit dedicated to craft beer, with offerings like Batch 19 and Leinenkugel's designed to grab onto the fast-paced growth in that corner of the market. While those smaller craft brands aren't likely to overtake TAP's mainstay brands, they contribute some attractive growth for the firm.
Because of TAP's international reach, currency translation costs have been a challenge for the firm in recent years given the dollar's strength. Despite that fact, the firm continues to generate attractive cash flows that fuel a 2.4% dividend yield right now. Investors looking for a large-cap beer holding could do worse than Molson Coors.
Beam
Upping our proof brings us to
Beam
(
), an Illinois-based spirits maker that's best known for its namesake Jim Beam brand. The firm's other labels include Maker's Mark bourbon, Canadian Club whiskey, Sauza tequila, Pinnacle Vodka and Cruzan rum. Beam's split-off from
Fortune Brands Home & Security
(
) in 2011 made the firm a pure play in the liquor business, a move that's attractive in this market.
>>5 Stocks Fund Managers Love for 2013
While craft beer enjoys fast growth on the brewery side of the market, spirit makers are seeing an equivalent trend in "small batch" distilleries. Beam's small batch bourbon unit is well-positioned to take advantage of the trend at the same time it opens the door for small-batch variants of the firm's other spirits. Beam's portfolio is particularly attractive right now, and that makes up for some of the less attractive attributes of the firm post-split.
For instance, Beam's balance sheet falls on the leveraged side, a holdover from the firm's time as Fortune Brands. As Beam generates significant cash, it should be able to reduce that debt load and ratchet its dividend higher. While the firm's current dividend payout only amounts to 1.4%, investors need to acknowledge that this is a firm in transition. Investors willing to hold onto shares until Beam emerges on the other side will be rewarded for their patience.
Diageo
On the more mature end of the spectrum is
Diageo
(
), the London-based alcoholic beverage stock. Diageo owns one of the most diversified (and attractive) portfolios of premium beer, wine and liquor labels, including Smirnoff, Johnnie Walker, Captain Morgan and Guinness. As I write, Diageo's dividend payout works out to a 2.3% yield.
Diageo's focus is liquor. The vast majority of the firm's portfolio is comprised of its spirit brands, with beer and wine making up a comparatively small chunk of total sales. And DEO is continually increasing its reach. While the company's brands are mature, it uses an aggressive growth-by-acquisition strategy to achieve sales growth. One necessary evil of that approach is a relatively high debt load, an obstacle that, like with BEAM, is offset by stellar cash generation abilities; around 20% of DEO's revenues are converted into cash each quarter.
A huge sales force and global reach make DEO a force to be reckoned with in the global spirits category. The firm is by far the largest liquor producer in the world, and scale comes with some big cost advantages in sales and distribution efforts. That secures DEO a spot on our list of alcoholic beverage stocks worth buying.
Ambev
Last up is another big alcoholic beverage name,
Ambev
(
). Ambev is the largest brewer in Latin America with operations in 14 countries in total -- its biggest business units produce beer in Brazil and Argentina as well as
PepsiCo
(
) soft drinks in a handful of Latin American countries. Ambev also owns Canada's Labatt brand of beer. Diversified exposure to a high growth market makes Ambev a stellar option for investors seeking international exposure in their alcoholic beverage portfolio.
Ambev has historically been one of the most profitable brewers in the world, with net margins that weigh in above 30%. That ability to convert sales into profits is thanks in large part to the firm's geographic exposure as well as its scale. And while Ambev's soft drink bottling operations don't have all of the same advantages that its beer business does, there are more similarities than differences.
Ambev boasts a net cash position on its balance sheet as well as a track record of generating substantial free cash flows. A controlling ownership interest from
Anheuser-Busch InBev
(
) means that management has a big reason to focus on maximizing shareholder returns. That's part of the reason for the huge 4.5% dividend yield that the firm currently pays.
To see all of this week's alcoholic beverage stocks in action, check out
at Stockpickr.
-- Written by Jonas Elmerraji in Baltimore.
RELATED LINKS:
>>4 Under-$10 Stocks Making Big Moves
>>Fight Your Urge to Fight the Fed
>>3 Huge Stocks to Trade (or Not)
Follow Stockpickr on
and become a fan on
Facebook.
At the time of publication, author had no positions in stocks mentioned. Jonas Elmerraji, CMT, is a senior market analyst at Agora Financial in Baltimore and a contributor to
TheStreet
. Before that, he managed a portfolio of stocks for an investment advisory returned 15% in 2008. He has been featured in
Forbes
,
Investor's Business Daily
, and on
CNBC.com.
Jonas holds a degree in financial economics from UMBC and the Chartered Market Technician designation. Follow Jonas on Twitter @JonasElmerraji