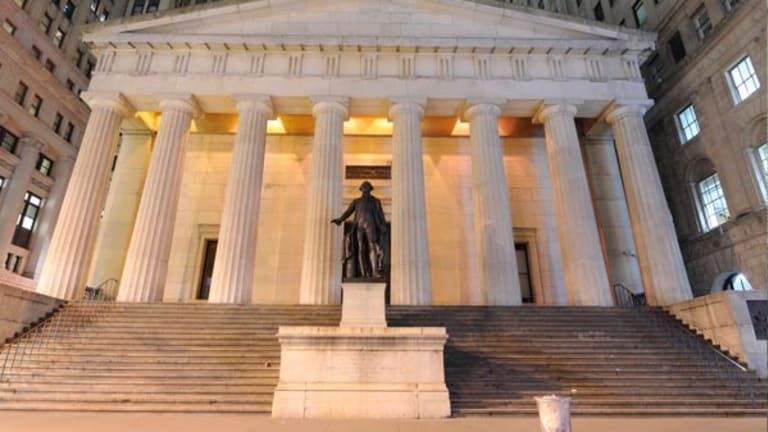 Invesco Closed-End Funds Declare High Dividends
Don't overlook closed-end funds when searching for dividend yield.
NEW YORK (
) - On Thursday Invesco declared the monthly dividends that will be paid for 32 of their closed-end funds. These dividends have an ex-date of 9/13, record date of 9/15, and payable date of 9/30, offer compelling choices for investors searching for dividend yield.
The dividends for later months are not guaranteed. However, month-end dividend yields of 8.99% from
Invesco High Yield Investments Fund
(MSY)
, 8.66% from
Invesco Van Kampen High Income Trust II
(VLT) - Get Invesco High Income Trust II Report
, 7.91% from
Invesco Van Kampen Dynamic Credit Opportunities Fund
(VTA) - Get Invesco Dynamic Credit Opportunities Fund Report
, 7.67% from
Invesco Van Kampen Municipal Opportunity Trust
(VMO) - Get Invesco Municipal Opportunity Trust Report
, and 7.60% from
Van Kampen Select Sector Municipal Trust
(VKL)
stand out from the pack.
These securities are not exchange-traded funds which tend to trade at prices close to their net asset value. When buying a closed-end fund, be sure to check the level of premium or discount to net asset value. Paying a premium can cut down your overall return while buying closed-end funds at a discount can add to your return as trading prices revert to net asset value over time.
-- Reported by Kevin Baker in Jupiter, Fla.
For additional
check out our Ratings Research Center.
Kevin Baker became the senior financial analyst for TheStreet Ratings upon the August 2006 acquisition of Weiss Ratings by TheStreet.com, covering equity and mutual fund ratings. He joined the Weiss Group in 1997 as a banking and brokerage analyst. In 1999, he created the Weiss Group's first ratings to gauge the level of risk in U.S. equities. Baker received a B.S. degree in management from Rensselaer Polytechnic Institute and an M.B.A. with a finance specialization from Nova Southeastern University.