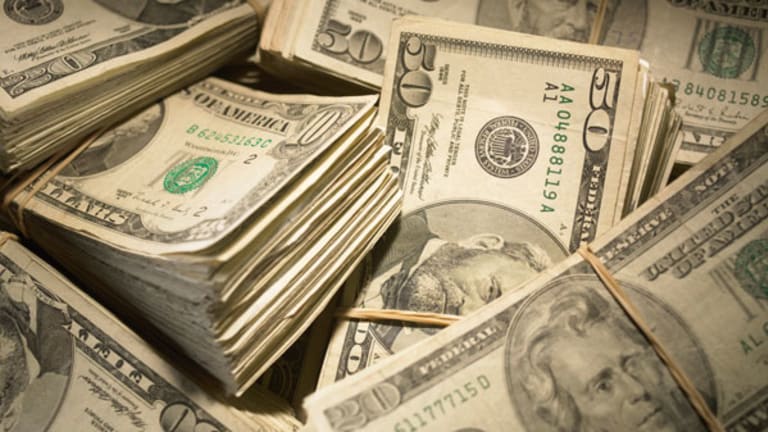 NEW YORK (TheStreet) -- Shares of a number of Internet security stocks are rising after two companies in the sector, Check Point (CHKP) - Get Check Point Software Technologies Ltd. Report and Fortinet (FTNT) - Get Fortinet, Inc. (FTNT) Report , reported stronger than expected results.
WHAT'S NEW: Israel's Check Point this morning reported third quarter earnings per share of 93c, versus analysts' consensus estimate of 91c. The company's revenue also came in above expectations. Check Point provided Q4 EPS guidance, excluding certain items, of 99c-$1.09, versus the consensus outlook of $1.03. The company's Q4 revenue outlook was also roughly in-line with the consensus estimate. "The third quarter represented another great quarter with results coming in at the high-end of our projections," said Check Point CEO Gil Shwed. "We continued to deliver double-digit growth in our combined products and software blades revenues. Growth was driven by demand for our data center and enterprise security appliances and next generation threat prevention software blades," he added. Last night, Fortinet reported slightly higher than expected Q3 EPS and revenue. On a negative note, the company provided Q4 EPS guidance of 13c-14c, versus the consensus outlook of 15c. However, its Q4 revenue guidance came in at $206M-$211M, versus analysts' consensus estimate of $202.92M. "We....exceeded expectations, as we continued to execute well against our growth strategy and benefit from security market demand and customer adoption of new Fortinet products," said Fortinet CEO Ken Xie. "Our investments in sales and marketing have continued to pay off evidenced by another quarter of traction in both new customer wins, as well as expansion within our existing...global customer base," he added.
ANALYST REACTION: In a note to investors today, Sterne Agee analyst Robert Breza wrote that Fortinet reported "very good" results, as it beat expectations in all areas. The company's strong sales execution should continue into its fiscal 2015, predicted the analyst, who kept a $32 price target and Buy rating on the shares. Meanwhile, Oppenheimer analyst Shaul Eyal wrote that Check Point's results were "solid" and that the company should continue to enjoy "smooth sailing," since its position against its competition had not changed. Eyal kept a $75 price target and Outperform rating on Check Point's shares.
PRICE ACTION: In late morning trading, Check Point rose 4.4% to $70.35, Fortinet added nearly 1% to $25.35, Palo Alto (PANW) - Get Palo Alto Networks, Inc. Report advanced 4% to $106.87, and FireEye (FEYE) - Get FireEye, Inc. Report jumped 4% to $30.42.
Reporting by Larry Ramer.
The Fly
provides comprehensive coverage of stock news and Street research and delivers it in real-time. The Fly breaks market-moving news and explains sudden stock movements in a rapid-fire, short-form story format. Follow @theflynews on Twitter. For a free trial, click