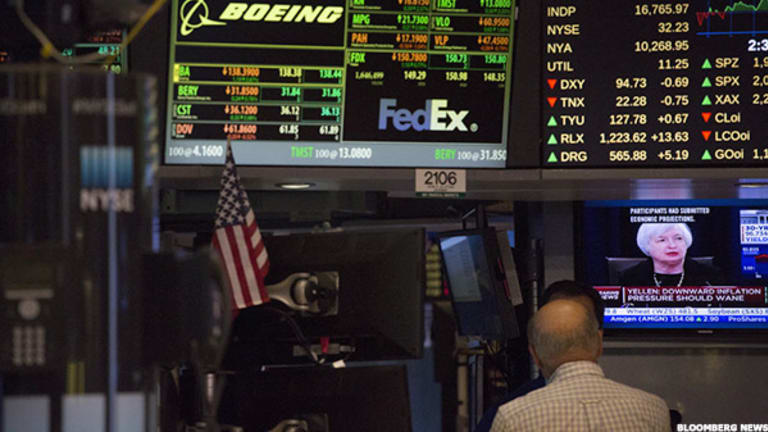 Interest Rates May Rise Faster Than You Think, Boston Fed Chief Says
Predictions of just one interest-rate hike before Dec. 31 are 'unduly pessimistic,' Boston Fed President Eric Rosengren says, and rates may not climb as slowly next year as traders think.
Sure, everyone agrees that the Federal Reserve will raise interest rates in the U.S. only gradually. But maybe not quite as gradually as traders are betting.
Federal funds rate futures that indicate the central bank will boost rates just once this year and next year appear "unduly pessimistic," Boston Federal Reserve Bank President Eric Rosengren, a voting member of the monetary policy committee, said in a speech Monday. "I personally expect that a stronger economy, at essentially full employment and with gradually rising inflation, will lead to more tightening."
Committee members had indicated in December that they might raise rates as many as four times this year after boosting them by 25 basis points for the first time since they were slashed to nearly zero during the 2008 financial crisis. Gyrations in global financial markets during January and February, however, coupled with a slowdown in China and tumbling oil prices, derailed that plan. At one point, markets were pricing in no increases at all in 2016.
Oil prices began rebounding from a low around $26 a barrel in March, though, and U.S. economic indicators continued to show strength, with the unemployment rate dipping as low as 4.9%, compared with a 2009 peak of 10%. An average of 230,000 jobs a month have been added in the past three months and consumer spending has grown, Fed Chair Janet Yellen noted in a speech last week.
Indeed, an increase of 215,000 jobs in March outpaced economists' expectations while the unemployment rate rose only slightly, to 5%. The bump "was for good reason, as the labor force participation rate rose for the sixth consecutive month," Bank of America Merrill Lynch global economist Ethan Harris said in a note to clients on Friday. 
Oil prices, meanwhile, topped $40 a barrel in March before paring gains, though they remain more than 60% below their 2014 peak of above $107.
 "With financial market volatility subsiding since earlier this year, it is to me surprising that the expected path of monetary policy embedded in futures markets is so low," Rosengren said. "The risks seem to be abating that problems from abroad would be severe enough to disrupt the U.S. recovery."
Monetary policy committee members themselves indicated in March that rates may be increased twice this year, ending the year at between 0.75% and 1%.
"The Fed's communicated path for policy looks at least remotely achievable for the first time in quite some time, though we have argued it may only be able to deliver one hike this year," Morgan Stanley economist Ellen Zentner said in a note to clients Friday. "Over the medium term is where we believe a more significant reality check is in store."
In short, to keep interest-rate policy at a level that supports maximum employment and 2% inflation, the central bank will likely have to raise rates in both 2017 and 2018 fewer than the four times a year it now projects, she said.
While lower rates tend to bolster the markets as a whole, they do the opposite for banking and finance stocks. The finance industry has been pressured by seven years of near-zero interest rates, which reduce net interest income, a key revenue stream made up of the difference between what banks such as JPMorgan Chase (JPM) - Get JPMorgan Chase & Co. Report and Citigroup (C) - Get Citigroup Inc. Report charge to lend money and what they pay to depositors.