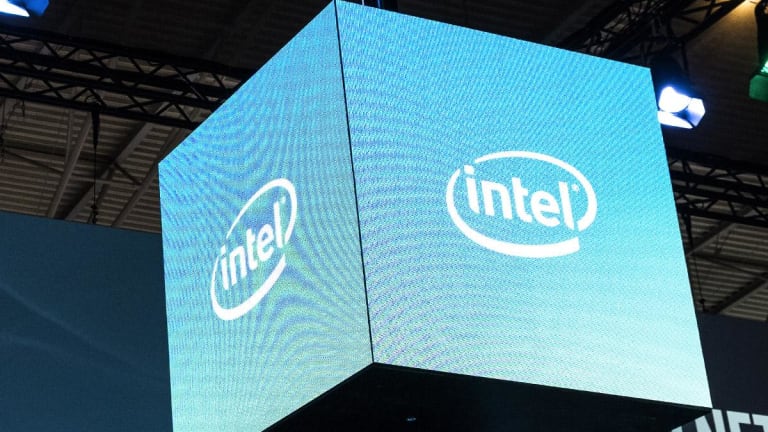 Intel Slumps on a Revenue Miss and Light Guidance: 8 Key Takeaways
The chip giant expects China, a cloud spending slowdown and declining flash memory prices to weigh on its near-term sales.
2019 is shaping up to be a more challenging year for Intel (INTC) - Get Free Report than 2018.
After the bell on Thursday, Intel reported Q4 revenue of $18.66 billion (up 9% annually) and non-GAAP EPS of $1.28 (up 18%). Earnings per share, benefiting from lower marketing spend and $2.3 billion worth of stock buybacks, beat a $1.22 consensus. However, revenue missed a $19.02 billion consensus.
For the seasonally weaker first quarter, Intel is guiding for revenue of about $16 billion (down fractionally relative to Q1 2018) and EPS of $0.87, below consensus estimates of $17.3 billion and $1.00. And for the whole of 2019, Intel forecasts revenue of about $71.5 billion (up 1%) and EPS of $4.60. EPS guidance is above a $4.53 consensus, but revenue guidance is below a $73.1 billion consensus.
The chip giant's shares fell in after-hours trading and were down 6.3% to $46.56 in pre-market trading Friday, after having risen 3.8% in regular trading on Thursday amid a broader chip stock rally.
Here are some notable takeaways from Intel's report and call.
1. China and a Cloud Spending Pause Are Weighing on Server CPU Sales
Intel's Data Center Group (DCG), which provides server CPUs and other data center products, posted Q4 revenue of $6.07 billion, below a $6.35 billion consensus. Annual growth slowed to 9% from Q3's 26%.
Tougher annual comparisons contributed to the growth slowdown, and Intel also noted (echoing the remarks of other chip developers) that weaker Chinese demand is a headwind for DCG. However, it also reported (as was signaled by some recent datapoints) demand from cloud giants is slowing as they digest some of the hardware capacity that they've recently built up. After having risen 50% annually in Q3, DCG's sales to cloud service providers were up 24% in Q4.
In addition, DCG's sales to telecom service providers, which have benefited from efforts by telcos to replace proprietary systems used to handle various network functions with Intel-powered servers, rose just 12% in Q4, after having risen 30% in Q3. And its sales to enterprise and government clients, which are pressured by public cloud infrastructure adoption, fell 5%.
Slower cloud demand is also expected to weigh in the first half of 2019, but (much like some other cloud suppliers) Intel thinks orders will pick up in the second half, as the secular growth drivers that have led cloud capex to surge in recent years reassert themselves.
At the same time, Intel admits -- as AMD (AMD) - Get Free Reportgets set to launch its second-gen Epyc server CPUs in mid-2019 -- that server CPU competition will intensify later this year. Notably, in a remark that might suggest Intel is willing to cut prices to avoid ceding share to AMD, interim CEO Bob Swan said Intel is "going to fight to protect [its] position."
2. iPhone Modem Sales Fell Short of Expectations
Intel's Client Computing Group (CCG), which covers products sold for PCs and mobile devices, posted revenue of $9.82 billion, up 10% annually but below a $10 billion consensus. Driving the shortfall: Sales of CCG's "adjacency" products, which include wireless modems, connectivity chips and connected home chips, were about $200 million below expectations due to a modem shortfall. The disclosure comes three weeks after Apple (AAPL) - Get Free Report , Intel's primary modem client, issued a sales warning.
Adjacency sales still managed to rise 45% thanks to iPhone modem share gains. "Platform" sales, which cover PC CPUs and complementary products, grew 6%. Higher desktop and notebook average selling prices (ASPs) -- partly the result of healthy demand for business and gaming PCs, which carry higher CPU ASPs -- offset a 2% drop in platform volumes that came amid production constraints.
3. Price Declines Are Weighing on the Flash Memory Division's Profits
With the help of a NAND flash memory production ramp and higher sales of products featuring Intel's Optane next-gen memory, Intel's Non-Volatile Memory Solutions Group (NSG) saw revenue rise 25% to $1.11 billion (nearly even with consensus). However, with NAND prices having tumbled in recent months, NSG also posted a $19 million operating loss.
Not surprisingly, Intel expects NAND price pressures to remain a headwind in Q1.
4. Capital Spending Is Expected to Remain Roughly Steady
After having spent $15.2 billion on capex in 2018 (slightly less than revised guidance of $15.5 billion), Intel is setting its 2019 capex budget at $15.5 billion as well. The company adds it plans to up its capital spending on logic (processor) manufacturing, and (like many other flash memory makers) to lower its spending on memory production.
The guidance comes shortly after The Oregonion reported that Intel plans to build a new plant in Hillsboro, Oregon that would manufacturing chips based on its 7-nanometer (7nm) manufacturing process. In the meantime, Intel is pushing ahead with plans to start volume production for its delayed 10nm process later this year; Swan said on the call that Intel's 10nm production yields "continue to improve."
5. Mobileye and the Programmable Chip Business Continue Seeing Healthy Growth
Intel's Mobileye driver-assistance processor unit saw revenue rise 43% annually to $183 million, while its Programmable Systems Group (PSG), which supplies FPGAs and other programmable chips, saw revenue rise 8% to $612 million. PSG's growth would have been stronger if not for one-time, year-ago orders for products that were set to be discontinued. Its numbers come shortly after archrival Xilinx (XLNX) - Get Free Report reported 34% December quarter sales growth.
The Internet of Things Group (IOTG) officially saw revenue drop 7% to $816 million amid supply constraints. However, the segment grew 4% after backing out the recent sale of its Wind River embedded OS unit.
6. Spending Discipline Is Boosting Earnings
Intel's non-GAAP operating expenses fell 3% in Q4 to $4.95 billion, as lower marketing spend offset higher R&D spend. And for the whole of 2018, operating expenses fell fractionally to $20.29 billion.
On the call, Swan noted Intel has grown its revenue per employee by over 25% during the last three years. He also indicated spending will decline again in 2019. That will help offset an expected "modest" decline in non-GAAP gross margin from a 2018 level of 63.3%.
Intel also forecasts its free cash flow will rise by over $1.7 billion in 2019 to $16 billion.
7. Intel's Dividend Is Getting Hiked
Intel has upped its quarterly dividend by 5% to $0.315 per share. That spells a 2.7% forward yield at current levels.
The move comes two months after Intel added $15 billion to a stock buyback authorization that had $4.7 billion remaining at the time.
8. The CEO Search Continues
Though six months have now passed since CEO Brian Krzanich resigned and Swan (Intel's CFO) took the reins as interim CEO, Intel still isn't ready to name Krzanich's permanent successor.
"The board continues to evaluate candidates for what I believe is the biggest and best open job on the planet," said Swan about the CEO search, while insisting that the board is "proceeding with a sense of urgency." Last week,
that chip engineering exec Johny Srouji is on Intel's candidate list.
Apple is a holding in Jim Cramer's Action Alerts PLUS member club. Want to be alerted before Jim Cramer buys or sells AAPL? Learn more now.