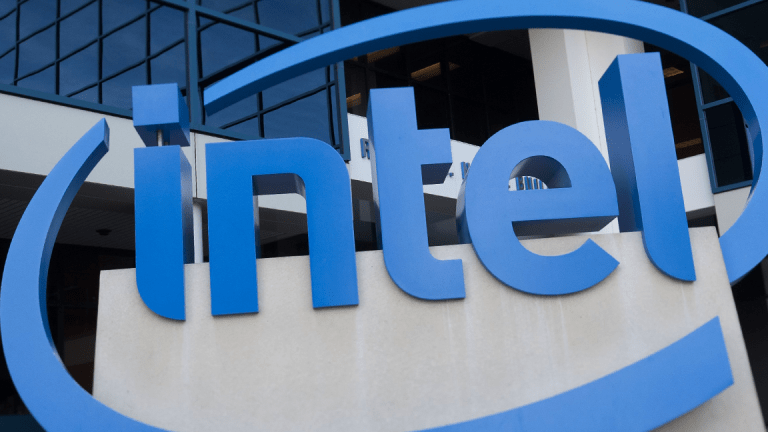 Intel's Latest Manufacturing Delay Is Taking the Shine Off Its Strong Earnings
Though the chip giant beat estimates and issued strong guidance, it also disclosed a new manufacturing process delay that could give rivals an opening.
During a week that has seen Facebook (FB) - Get Meta Platforms Inc. Report , Alphabet/Google (GOOGL) - Get Alphabet Inc. Report , Microsoft (MSFT) - Get Microsoft Corporation Report and to a lesser extent Amazon.com  (AMZN) - Get Amazon.com Inc. Report disclose strong capital spending growth and plans, Intel  (INTC) - Get Intel Corporation Report made it clear that it's benefiting from this data center arms race in a big way.
Unfortunately, the chip giant soon followed that up by disclosing a new manufacturing delay that's raising concerns about execution and which could make life easier for rivals in the data center and elsewhere.
On Thursday afternoon, Intel announced a strong Q1 sales/EPS beat, issued above-consensus Q2 guidance and hiked its full-year sales guidance by $2.5 billion to $66.5 billion to $68.5 billion (implies 7% growth at the midpoint). The company also hiked its 2018 capital spending budget by $500 million, to a range of $14 billion to $15 billion.
Contributing to Intel's Q1 sales beat: The company's Data Center Group (DCG), which supplies server CPUs and a host of complementary products, saw revenue rise 24% annually to $5.2 billion, topping a $4.9 billion consensus. DCG's growth was fueled in large part by a 45% increase in sales to cloud service providers (better than Q4's 35%), and a 33% increase in sales to telecom service providers (driven by investments in network functions virtualization and telco cloud platforms).
Intel also benefited from a 3% increase in Client Computing Group (CCG) sales, which topped expectations for a 2% drop. Although sluggish consumer PC demand and AMD's (AMD) - Get Advanced Micro Devices Inc. Report desktop CPU share gains weighed on CCG, higher average selling prices (ASPs) and improved business PC demand provided a lift. In addition, Intel's IoT, flash memory and programmable chip (FPGA) product segments each grew between 17% and 20%, with the programmable chip unit benefiting from a 150%-plus increase in data center sales (Microsoft and Baidu (BIDU) - Get Baidu Inc. Reportrely on Intel FPGAs to offer AI-powered services).
All of this was good enough to allow Intel's shares to initially rise over 7% post-earnings. But shares pared their gains as the company talked shop on its earnings call. And after opening up 4.5% on Friday morning, they gradually sold off and were down slightly in late afternoon trading.
The biggest culprit behind the selling: CEO Brian Krzanich stated on the call that Intel has pushed back its ETA for volume production of chips relying on its next-gen 10-nanometer (10nm) manufacturing process from the second half of 2018 to 2019 (exactly when in 2019 wasn't shared). Krzanich blamed a slower-than-expected improvement in 10nm manufacturing yields, and promised the situation wouldn't repeat itself with the 7nm process that succeeds the 10nm process (it might arrive in 2020 or 2021).
This is far from Intel's first 10nm delay. At one time, Intel was expected to ramp 10nm production in the second half of 2016. The company then pushed back its timetable to the second half of 2017, before later forecasting a 2018 ramp.
Assuming there are no more delays, Intel's new manufacturing schedule means that around five years will have elapsed between the time that it ramped production of its first 14nm CPUs and the time that it does the same for its first 10nm CPUs. As a result, the company has rolled out an unprecedented four different CPU platforms relying on 14nm processes (Broadwell, Skylake, Kaby Lake and Coffee Lake), and is set to launch a fifth (Whiskey Lake) later this year.
For comparison, prior to 14nm, Intel typically launched just two CPU platforms per manufacturing process node -- its historical tick-tock approach. In 2016, the company announced (citing the slowing of Moore's Law) it was shifting to a tick-tock-tock design cadence in which it would launch three platforms per node. But clearly, what Intel is doing at 14nm goes well beyond that.
In some ways, Intel's engineering teams have done a good job of making the best out of a bad situation: The solid performance gains delivered by Intel's recently-launched 8th-gen Core PC CPUs, which include both Kaby Lake and Coffee Lake chips, stand as a testament to this. But it's hard to ignore the degree to which Intel's 10nm delays have served to wither its once-large manufacturing process lead.
Last year, Taiwan Semiconductor (TSM) - Get Taiwan Semiconductor Manufacturing Company Ltd. Report and Samsung ramped production of 10nm processes that are roughly on par with Intel's 14nm processes. Several of the companies' big-name clients, including Apple (AAPL) - Get Apple Inc. Report , Qualcomm  (QCOM) - Get QUALCOMM Incorporated Report and MediaTek, have since rolled out 10nm chips.
And in the second half of 2018, TSMC will ramp production of a 7nm process that's seen as being on par with Intel's 10nm process. The Apple A-series system-on-chips (SoCs) powering this year's iPhones are expected to make use of it. For their parts, TSMC rivals Samsung (SSNLF) and Globalfoundries are expected to see 7nm ramps in 2019.
Translation: With its latest delay, Intel's decades-old manufacturing process lead appears to be completely gone. It's possible that Intel could eventually regain a lead if it executes well with its 7nm ramp. But until then, rivals will at at least be on even footing manufacturing-wise, and perhaps in some cases a little ahead.
This has implications in a number of markets. AMD, which relies on both Globalfoundries and TSMC, plans to start sampling 7nm CPUs and GPUs by the end of 2018 ahead of 2019 product launches. Qualcomm has announced plans to launch a 7nm 5G modem that will be manufactured by Samsung, and will reportedly use TSMC's 7nm process to launch a next-gen processor (the Snapdragon 855) in early 2019. Xilinx (XLNX) - Get Xilinx Inc. Report , Intel's FPGA archrival and a TSMC client, plans to launch 7nm chips next year based on its innovative ACAP platform.
One also has to wonder if Intel's 10nm delays, together with the company's plans to first make use of future manufacturing processes with data center products rather than PC CPUs, have something to do with Apple's reported plans to use home-grown processors within Macs as soon as 2020. By 2020, Apple partner TSMC plans to be making chips using a 5nm process that could be competitive with Intel's 7nm process.
Just as many IBM (IBM) - Get International Business Machines Corporation Report investors seem to have run out patience regarding the company's turnaround efforts, it looks like some Intel investors are no longer willing to give the company the benefit of the doubt regarding its manufacturing issues. And while these issues don't spell doom for the company, it's not hard to see them taking a toll on its top line starting in 2019.
Jim Cramer and the AAP team hold positions in Apple, Facebook, Microsoft, Amazon and Alphabet for their Action Alerts PLUS Charitable Trust Portfolio. Want to be alerted before Cramer buys or sells AAPL, FB, MSFT, AMZN or GOOGL? Learn more now.