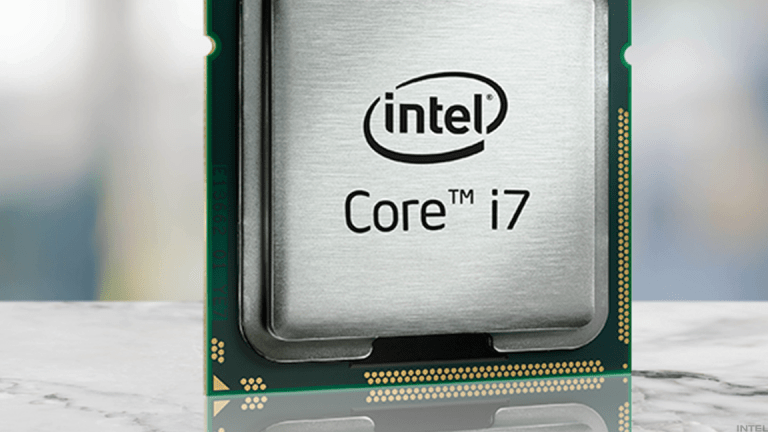 Intel's Stock Is Rapidly Deteriorating
Money flow is the only nice-looking item on the chart of Intel.
Alright gang, this is where we buckle our chinstraps and earn our keep. Let's look at the chart of the heavily tested Intel (INTC) - Get Report  -- a stock that has been in the news a lot lately, associated with scary words like "Meltdown" and "Spectre". Money Flow looks positive. That's the only nice-looking item on this chart. Throw it out.
Moving average convergence divergence MACD? Just experienced a bearish crossover. On top of that, the nine-day exponential moving average (EMA) now sports a minus sign. Relative strength is rapidly deteriorating.
See the Pitchfork? Was working well. Looks broken now. 50-day simple moving average (SMA)? Broken too. News events will do that to you. You know what looks like it's not broken? Those blue Fibonacci levels that I threw up there.
See that intra-day rebound that Intel experienced on Thursday? Right at (or close enough to) a 38.2% retracement of the move from the August low through the December high. Conclusion here? $42.50 could be the gateway that allows for considerably lower prices should these stories persist, and the level crack.
Intel is expected to report fourth-quarter earnings after the closing bell on Thursday, Jan. 25. Wall Street consensus is looking for about $0.86 on roughly $16.3 billion. The firm earned EPS of $1.01 for the third quarter, on expectations of just $0.80. That was on revenue of $16.1 billion. The actual data here will likely matter less than how the firm presents itself and what they project for 2018. The already mentioned issues will be front and center.
(This is an excerpt from Stephen "Sarge" Guilfoyle's Morning Recon, which now appears exclusively on Real Money, our premium site for active traders. Click here for a free 14-day trial and receive Morning Recon every day, along with exclusive columns from Jim Cramer, James "RevShark" DePorre, technical analyst Bruce Kamich and more.)
Watch the replay of Jim Cramer's full NYSE live show:
More of What's Trending on TheStreet:
At the time of publication, Stephen Guilfoyle was long INTC, although positions may change at any time.