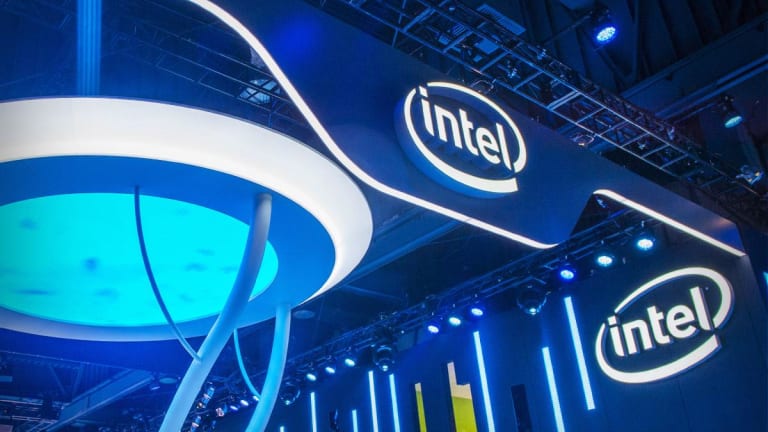 Intel and Nvidia Are U.S. Chipmakers Feeling China Pain
The U.S. semiconductor industry has proven especially sensitive to trade and market issues with regard to China. From the largest to smallest, chipmakers have not been able to avoid the impact of China's slowing economy or of the simmering trade tensions.
With President Trump's recent imposition of new tariffs on $200 billion worth of China trade, the tensions between the two countries again have hit the headlines. While a bout of tit-for-tat tariff battles likely will benefit no one, there is some evidence that the president's trade strategy is working out well - U.S. and Chinese negotiators have not halted their regular meetings and continue to release optimistic statements. As Winston Churchill once said, "Jaw-jaw is better than war-war."
The "trade war" is still being felt, however. The U.S. semiconductor industry has proven especially sensitive to trade and market issues with regard to China. From the largest to smallest, chipmakers have not been able to avoid the impact of China. We'll look at twocompanies, see how the news from China has hit them, and unpack the TipRanks data to understand their current position.
Intel 
The largest of the U.S. semiconductor manufacturers, and No. 2 globally, Intel (INTC) - Get Free Report holds the dominant market share among data center chip suppliers. The company is vulnerable to disruptions in the Chinese trade, as some 25% of Intel's total revenue comes from that country. As the tariff dispute heats up, and as China's economy visibly slows, Intel shares are feeling the pressure.
It's visible in the quarterly numbers. Intel's most recent quarterly report released on April 25, showed total revenue of $16.06 billion and EPS of 89 cents, both slightly higher than expected. Full-year guidance, however, was given at $69 billion, not only lower than the $71.05 billion expected but also lower than 2018's $70.1 billion actual. Data center revenue was down 5%, slipping from $5.2 billion to $4.9 billion for the quarter, and CPU production for the PC sector continues to underwhelm.
With this background of soft revenue, it's no wonder that Intel's stock slipped more than 3% on May 13, the first trading session after President Trump imposed his latest set of tariffs on Chinese goods. The share slip represents investor worries that Intel will be hit with both disruptions and increased costs in the supply chain - of raw materials and finished products - due to the U.S./China trade dispute.
The headwinds facing Intel are clear even to analysts taking a bullish stance on the stock. Vijay Rakesh of Mizuho Securities attended a company investor day recently and afterward set his price target lower. He noted, "INTC guided to three-year, low single-digit topline growth, with GM troughing at 57% in 2021, offset by better spending controls and potentially more buybacks... The weaker GM guide and softer topline could point to a more competitive environment..." His new price target, $56, suggests an upside of 27% to the stock.
Intel shares get a hold from the analyst consensus, based on 10 buy, 12 hold, and seven sell ratings in the past three months. The average price target, $52, gives an upside of 15% when compared to the $44 current trading price.
Nvidia 
Nvidia's (NVDA) - Get Free Report $12.9 billion in 2018 sales made it the No. 10 chipmaker globally. Like Intel, Nvidia is heavily invested in the data center market - its recent acquisition of Mellanox (MLNX) - Get Free Report  is part of that. Its other large market is for gaming processors; its high-end GPUs offer the processing capability hardcore gamers look for. About 20% of Nvidia's business is with China.
Gaming and China are where bad news intersects for Nvidia. The company reported a 39% year-over-year decline in gaming revenue, a clear sign which takes some of the assurance away from company CEO Jensen Huang's declaration that the "gaming market in China is really vibrant and it continues to be vibrant." The lower Q1 2020 revenue comes after Nvidia lowered its China sales outlook last January, anticipating a slowdown in video game demand as China's economy begins to sputter.
Go Behind the Label:Nvidia Is Building the Future. How Did It Get There?
The steep drop in gaming revenue led NVDA's overall slip of 31%. Revenue came in at $2.22 billion for the quarter, slightly above expectation, and the EPS of 88 cents was 7 cents higher than forecast. So while income is down it's not down as far as analysts had predicted. Even so, shares are down since the report as the headwinds keep growing stronger on the tariff front. NVDA is up 14% year to date, but down 18% from its 2019 peak of $92 reached in early April.
Wall Street's analysts are taking note of both Nvidia's revenue softness and the earnings beat. Matthew Ramsay of Cowen noted that he still has questions about the stock, even after the earnings call, due to management's pulling the annual outlook. Barring those questions, however, Ramsay still takes an upbeat view of this company, saying that Nvidia is "the technological leader in gaming, datacenter and autos." His $195 price target, indicative of a 25% upside, and his outperform expectation for NVDA, show that he sees this as a long-term buying opportunity.
Overall, Nvidia's analyst consenus rating is a moderate buy. This is derived from 19 buy ratings, nine holds, and two sells given in the past 90 days. The stock currently trades for $156, and the average price target is $188, for a 20% upside potential.
Nvidia is a holding in Jim Cramer's Action Alerts PLUS member club. Want to be alerted before Jim Cramer buys or sells NVDA? Learn more now.
Learn the History of the Companies in Your Portfolio | Behind the Label
offers exclusive insights for investors by focusing on the moves of experts: Analysts, Insiders, Bloggers, Hedge Fund Managers and more. See what the experts are saying about your stocks now at
. Author: Michael Marcus.