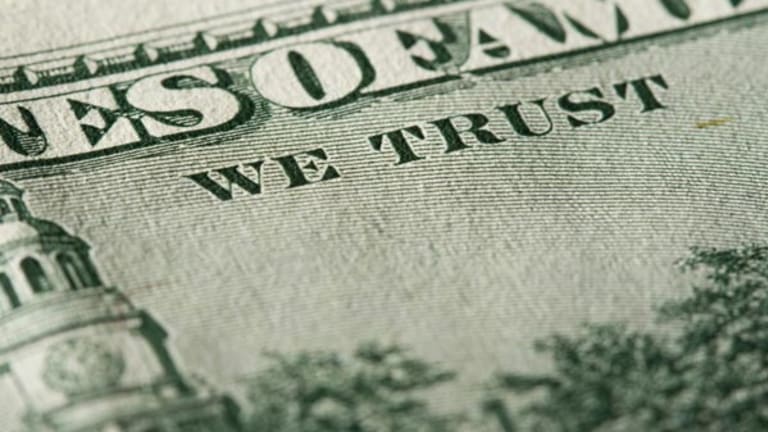 Insurers' Stocks Shed Some Bearishness
Investors have lost some of their dourness on insurance stocks, according to a comparison of short ratios.
NEW YORK (TheStreet) -- First Acceptance Corp.undefined, Berkshire Hathaway (BRK.A) - Get Berkshire Hathaway Inc. Report and Ambac( ABK) have had their short ratios drop dramatically. Though that might indicate investors are less bearish on those insurance stocks, it's not that simple.
First Acceptance's short ratio on Tuesday dropped from 35.1 to 21.2, covering nearly 14 days of shorted stock sales in a day. The stock price fell 0.9%.
Berkshire, hardly the darling of short sellers, saw its short position decline from 5.9 to 2.6. The stock decreased 0.2%. Ambac's dropped from 9.9 to 7.2, and its stock price rose 6%. The average insurer has a short ratio of 5.8, an increase of 0.3 days in the past month.
The short ratio is an indication of how many days that sales of a stock have been sold by investors betting on price declines. If those investors, sometimes called "shorts," cover their positions in sufficient numbers as a stock rises, share prices can be propelled further.
Insurers' stock prices have hit a wall after soaring from the depths of the stock-market low reached a year ago. President Barack Obama is proposing sweeping changes to U.S. health care, while some other politicians are opposed to rising insurance rates, creating undertainty among investors.
Still, First Acceptance benefitted from a ratings upgrade on Tuesday. Berkshire is an active stock, trading at more than three times normal levels in the past month. And Ambac is a speculative stock, trading at less than $1. Investors are bracing themselves for Ambac's 2009 financial results.
Insurers appear vulnerable, according to short ratios.
Primus Guaranty
(PRS) - Get Prudential Financial Inc. 5.625% Junior Subordinated Notes due 2058 Report
has a whopping 30.7 short ratio.
Triple-S Management
(GTS) - Get Triple-S Management Corporation Report
has a short ratio of 25.1, and
Markel
(MKL) - Get Markel Corporation Report
has a short ratio of 24.2.
Each of those stocks has seen rising short interest but also higher share prices. Primus is up 23% in the past month, while Triple-S has risen 8%, and Markel has advanced 7%.
Citizens
(CIA) - Get Citizens Inc. Class A ($1.00 Par) Report
has a short ratio of 20.1, a decline from last month. Its price has risen 16%.
-- Reported by Gavin Magor in Jupiter, Fla.
Gavin Magor is the senior analyst responsible for assigning financial-strength ratings to insurance companies. He conducts industry analysis and supports consumer products. Magor has more than 22 years of international experience in operations and credit-risk management, commercial lending and analysis. His experience includes international assignments in Sweden, Mexico, Brazil and the U.S. He holds a master's degree in business administration from The Open University in the U.K.