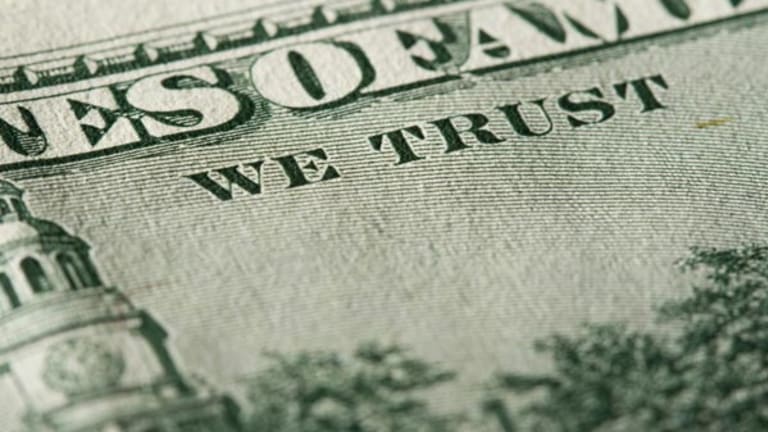 Insurers Jump on TARP Despite Concerns
The insurers looking to get aid from the government bailout face new federal regulatory control risks if Treasury Secretary Paulson doesn't pull the plug.
The latest moves by several insurers to try to qualify for relief under the Troubled Assets Relief Program, or
, are attracting a lot of attention this week. But purchasing troubled savings and loan companies as a way to reinvent themselves into banks or thrift holding companies may prompt these insurers to lose their chance at a piece of the TARP.
First off, mere eligibility for TARP funding does not mean automatic approval.
And although companies like
Hartford Financial
(HIG) - Get Hartford Financial Services Group Inc. (The) Report
,
Lincoln National
(LNC) - Get Lincoln National Corporation Report
,
Genworth Financial
(GNW) - Get Genworth Financial Inc Report
and
Aegon
likely did not take the step of acquiring an S&L without a strong indication that approval would be granted, Treasury Secretary Henry Paulson has not always followed an obviously readable path. He rescued some firms but allowed
Lehman Brothers
to fail; and he has stated that the TARP's funds are not intended for use to bail out automakers
General Motors
(GM) - Get General Motors Company Report
,
Ford
(F) - Get Ford Motor Company Report
and
Chrysler
.
The reason that Paulson might not take action is very simple -- federal oversight. Paulson is currently engaged in a battle with the National Association of Insurance Commissioners, or NAIC, the states' insurance divisions, for control of the insurance companies. Paulson wants to bring insurance companies under federal control, and this is being vigorously opposed by the states.
Life was given to Paulson's idea as
American International Group
(AIG) - Get American International Group Inc. Report
fell into his hands. Initially reluctant, or not, to provide a federal bailout of AIG, Paulson has subsequently committed the American taxpayer to a massive $173 billion through a combination of preferred equity investments, loans and credit lines. AIG's failure has provided a catalyst for Paulson to pursue the federal oversight mantra further and lead to a federal charter for insurance companies.
Paulson's supporters are wide-ranging, even if they have not committed to his entire process. Congressman Paul Kanjorski (D., Pa.), chairs a House Financial Services subcommittee sponsoring H.R. 5840, the Insurance Information Act of 2008, which proposes creating a new Treasury department called the Office of Insurance Information. According to the Library of Congress, this office will assist the Secretary of the Treasury "to advise the president and Congress on domestic and international policy issues regarding all lines of insurance except health insurance."
Although Kanjorski's bill is enthusiastically supported by Barney Frank (D., Mass.), chairman of the House Financial Services Committee, the NAIC fears that any introduction of legislation bringing an element of federal oversight will be the thin end of the wedge and that there is a misconception as to what happened with AIG.
AIG: The Misperceptions
President and Kansas Insurance Commissioner Sandy Praeger stated the following at the time AIG received its first bailout funds:
"Both the American Insurance Association (AIA) and the American Council of Life Insurers (ACLI) released statements saying that the recent crisis and the $85 billion line of credit offered by the Federal Reserve to American International Group, Inc., demonstrate the need for a federal insurance regulatory presence. An examination of the facts will clearly show that these organizations have gotten it wrong and are letting their desire to have an optional federal charter get in the way of making a common sense recommendation to address the problem."
Praeger went on to discuss what is now more widely and better known, that the
were not the cause of the problems at the company and continue to meet capital requirements set by the state insurance commissioners.
Appearing in front of the U.S. House Committee on Oversight and Government Reform at the beginning of October, New York State Insurance Superintendent Eric Dinallo outlined the steps that the New York State Insurance Department -- and state insurance regulators from across the nation -- have taken to protect policyholders and ensure the solvency of AIG's insurance subsidiaries.
"It's important for everyone, and especially policyholders in AIG insurance companies, to understand that the insurance companies, which are regulated by New York and other states, are solvent and have the funds to pay any policyholder claims," Dinallo said. "AIG's problems came from its parent company and from its non-insurance operations, which are not regulated by New York or any other state."
Federal Oversight
Whit Cornman, spokesman for the ACLI, refuted the suggestion that it was using the current financial situation to advance an optional federal charter (OFC), saying:
"We've spoken with Commissioner Praeger since then and have explained what we were asking for in the letter to Sec. Paulson: for the Treasury Secretary to create an office to collect insurance information. Indeed, the NAIC supports federal legislation that would also create this office. The discussion of the role of the federal government in insurance regulation has been fueled by the crisis. It is not something we generated."
He emphasized that state regulation served consumers, the industry and the nation well for many years, saying "the regulators have much to be proud of, but this is a new era, and reform that encompasses federal involvement is crucial."
Cornman went on to explain that the ACLI has been pursuing an optional federal charter for eight years "because of the need for our regulatory system to reflect the realities of the 21st-century marketplace. Part of that equation is the need for the federal government to be involved in some way in all lines of financial services, including the life insurance industry. Life insurers are dealing with national issues like Americans' financial and retirement security. Federal involvement makes sense."
With
annuities
and the insurers' performance such a current concern, Cornman said:
"As we have consistently and persistently maintained, the current system of state regulation worked well when insurers operated in one, two or a handful of states. However, times have changed. Today, insurers are operating in all 50 states and internationally. With each state setting its own rules and regulations, the current system has created a patchwork of laws and regulations that is a detriment to product innovation and consumer protections."
Countering Cornman, Virginia Insurance Commissioner Al Gross, commenting on the October adoption of some international supervisory standards and guidance addressing risk-management practices of insurers, recognized the current crisis in financial markets raises a number of critical issues regarding the practices of all financial institutions. Said Gross:
"To date, insurance companies have not been the source of the failure of major financial institutions, but there are undoubtedly valuable lessons to be learned. Adoption of these papers is the first step in creating a broad, comprehensive framework of supervision -- both for insurance companies and for more complex financial holding companies."
The papers raise unanswered questions about the ongoing analysis of the current financial crisis:
Were the financial models used in some of today's troubled financial institutions simply incorrect?
Did management and/or regulators of these firms understand what the models were and were not saying?
Was there adequate communication between the companies and their regulators?
"
The NAIC continues to develop and expand the use of risk-management tools in monitoring the solvency of insurance companies," Gross added.
Two proponents of federal charters for insurance companies -- the American Insurance Association, which represents property and casualty insurers, and the National Association of Insurance and Financial Advisers, or NAIFA -- were asked to comment for this article but did not respond.
Commenting on the idea of introducing federal oversight to insurance companies, Bob Hanten, an insurance agent from Minnesota, was less reticent. Hanten said:
"I have been infuriated at the movement of the feds to regulate insurance. There is not a single area in financial services under federal regulation where the federal oversight has not been a dismal failure. We have bailed the banks out every decade. In contrast, the state LHGA Life and Health Guarantee Associations have been able to handle large failures at no cost to the taxpayer. Look at the state response to the bad indexed annuity sales. There is now in place much higher scrutiny and much better review of products at the state level before allowing a product for sale."
Hanten, referring to the state restrictions on assets being transferred out of insurance companies, went on to say, "If it hadn't been for the NAIC, the feds would have raided the insurance companies. The states act in defense of the consumer and Paulson commented that this shows why there should be federal oversight! It is inscrutable to me. Federal oversight is unnecessary."
Congressman Kanjorski, who was re-elected in November, did not respond to specific questions sent to his press secretary but reiterated that his office stood by the position offered in a September press release in which the congressman strongly advocated passing his bill and will no doubt reintroduce legislation in the next Congress when it begins in January.
Part of the congressman's release said the following:
"A few outlying critics of the bill, who believe that the federal government should have no role in the field of insurance whatsoever, used the recent AIG government intervention as an opportunity to obscure the progress we have made on creating an Office of Insurance Information within the Treasury Department. This is a 'hear, see and speak no evil' approach to governance. It is foolish and unwise. "Without question, the business of insurance affects our national economy, and increasingly the global economy. The AIG situation demonstrates that fact clearly, as did the turmoil in the bond insurance industry earlier this year. To make informed policy decisions, the Administration and the Congress need to have better access to insurance expertise. We also need to work to assist state insurance regulators, especially in the international arena. H.R. 5840 does just that."
So Paulson appears to have his supporters, but the opposition is extremely vocal. Florida Insurance Commissioner Kevin McCarty said in September:
"I am very concerned and deeply troubled by U.S. Treasury Secretary Henry Paulson's comments on Sunday's NBC program 'Meet the Press' as well as by comments from various trade associations suggesting that the current AIG saga reinforces the need for a federal office to regulate insurance companies. Mr. Paulson has done a heroic job of stabilizing the financial markets in recent weeks; however, the facts of the matter regarding the AIG crisis clearly highlight that the state-based system of insurance regulation employed in the United States has actually worked in this case -- as it has in the past and will in the future -- to lessen the systemic impact of financial distress in the world financial markets."
The question remains that if an insurer brings itself under partial federal control through its own actions, will Paulson choose to support a request for TARP funding because insurers will inadvertently be giving succor to his own master plan of federal oversight for insurance companies? It certainly will be easier to achieve with more companies already partially there.
TheStreet.com Ratings issues financial strength ratings for 4,000 life, health, annuity, and property/casualty insurers are available at no charge on the Insurers & HMOs Screener. In addition, the Financial Strength Ratings on each of the nation's 8,600 banks and savings and loans are available on the Banks & Thrifts Screener.For more coverage from TheStreet.com Ratings team, check out TheStreet.com Ratings section.
Gavin Magor joined TheStreet.com Ratings in 2008, and is the senior analyst responsible for assigning financial strength ratings to health insurers and supporting other health care-related consumer products, including Medicare supplement insurance, long-term care insurance and elder care information. He conducts industry analysis in these areas. He has more than 20 years' international experience in credit risk management, commercial lending and analysis, working in the U.K., Sweden, Mexico, Brazil and the U.S. He holds a master's degree in business administration from The Open University in the U.K.