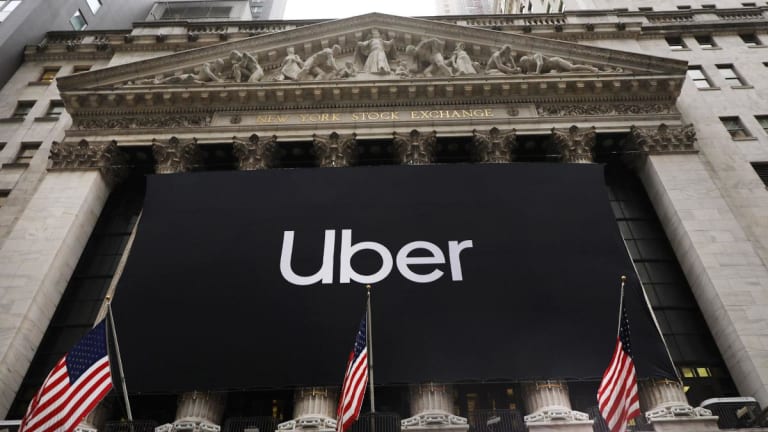 Insiders Got Rich in Uber's IPO, But Many Retail Investors Shied Away
Compared to other much-hyped tech IPOs, trading activity among retail investors was muted on Uber's first day of trading.
Plenty of stakeholders got rich in Uber's IPO, but everyday investors seemed a tad wary in Uber's first day of trading.
The much-hyped public offering fell flat in its first day of trading. Uber's (UBER) stock closed at $41.57, below its opening price of $42 and 7.62% lower than its initial offering price of $45 per share.
Many new millionaires and billionaires were minted among Uber's founders, major stakeholders and early employees, but activity among retail investors was somewhat muted compared to other blockbuster tech IPOs in recent history.
According to TDAmeritrade, the widely-used trading platform that caters to retail investors, Uber trades made up 10% of all equity trades on the platform on Friday.
That may sound like a lot -- but it pales in comparison to another much-hyped tech IP: Facebook. In Facebook's first day of trading in May 2012, Facebook activity accounted for a whopping 22% of all equity trades on the platform. In Alibaba's record-shattering IPO, it was 13%.
Nonetheless, retail investor interest in Uber's IPO, according to TDAmeritrade's data, was still higher than Snapchat (5%) and Lyft (LYFT) (3%), and above average compared to what they typically see in a well-known tech IPO. 
"People love to invest and trade in the things they know," said Quirk, adding that trading activity spiked in the first 10 minutes and then began tapering off, as is typical in many IPOs.
Those who did buy Uber stock on Friday likely have their fingers crossed for a Facebook-esque outcome over the long term. After its May 2012 IPO, Facebook's (FB) stock struggled for about a year before finally gaining its footing, and now trades nearly 400% above what it did in its first day of trading.
"[Uber] opened at the same price as Facebook, and look at Facebook now," Quirk added.
There are many ways to interpret Uber's first day performance, but one might be that investors are simply giving Uber's business model a cautious look -- particularly in light of Lyft's performance as a public company thus far.
Down about 30% since its Mar. 29 IPO, Lyft has been dogged by skepticism about its profitability prospects, among other issues. It also posted a heavier-than-expected loss in its first earnings report this week, and management's assurances that 2019 will be a peak loss year didn't do much to reassure investors. Alongside Uber's weak debut, Lyft's stock plunged 10% on Friday. 
"We believe the recent volatility surrounding both Uber and Lyft is partially driven by investor hesitance to invest in highly capital-intensive, deeply unprofitable and untested business models at this late stage of the economic cycle," wrote Pitchbook analyst Asad Hussain in an email.
Facebook is a holding in Jim Cramer'sAction Alerts PLUS Charitable Trust Portfolio. Want to be alerted before Cramer buys or sells FB? Learn more now.