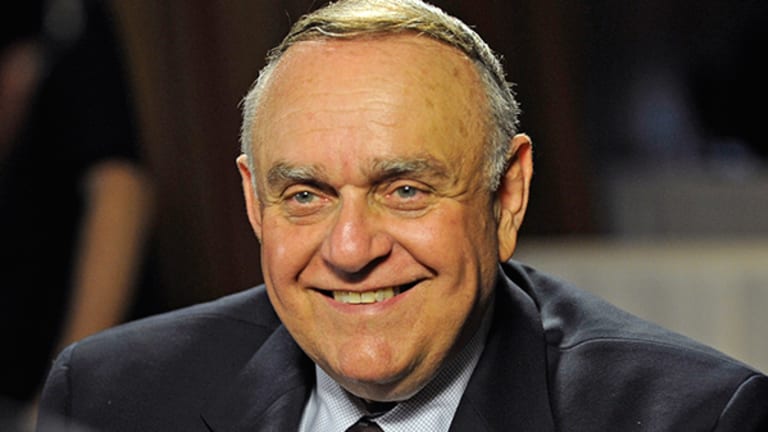 Insider Trading Charges Filed Against Omega Advisors, Leon Cooperman
The SEC alleged Wednesday that Cooperman 'generated significant illegal profits' by trading in Atlas Pipeline Partners.
As Real Money said was possible months earlier, Leon Cooperman and his Omega Advisors were both charged Wednesday with insider trading with regards to Atlas Pipeline Partners, according to a filing by the Securities and Exchange Commission.
In the 34-page report, the SEC details how Cooperman "generated significant illegal profits by trading in the securities of Atlas Pipeline Partners on the basis of material nonpublic information," beginning in 2010 through personal and Omega client holdings. The alleged illicit trading centers on Cooperman being tipped off that Atlas would sell its Elk City, Okla., operating facilities in summer 2010.
As Real Money reported at the time, before formal charges had been brought against Omega, Cooperman acknowledged in a letter to shareholders that Omega Advisors received a Wells Notice from the Securities and Exchange Commission tied to trades in a single security that took place in July 2010. (A Wells Notice essentially equates to an SEC warning that charges may be pending.) As reported at the time, the investment in question "ties to several holdings within Omega's portfolio."
Omega Advisors did not have an immediate comment on the charges.
The Real Money report from March noted:
In an off-camera interview with CNBC... Cooperman said that the notice focuses on trades the company made in Atlas Pipeline Partners, a company the fund has held since 2007. Atlas Pipeline is part of a loosely related family of companies Omega has been invested in for several years. Philadelphia-based Atlas Pipeline was a midstream oil and gas company that operated as a subsidiary of Atlas Energy (ATLS) . Both were acquired by subsidiaries of Targa Resources (TRGP) - Get Targa Resources Corp. Report and Targa Resources Partners (NGLS) in February 2015.

Cooperman declined to comment ... beyond sharing the letter Omega sent to shareholders in which he said the SEC's concerns were tied to the timeliness of the filings Omega made.

As of Omega's fourth-quarter 2015 13-F filing, the firm still has an interest in Atlas Energy, Targa Resources Partners (which was fully acquired by Targa Resources on Feb. 17, 2016) and Resource America (REXI) . The latter was the parent company of Atlas America until it was spun off in 2005 (and it was the company whose earnings call Cooperman joined late). At the time of the spinoff, Atlas America owned 100% of the general partner of Atlas Pipeline, which was a master limited partnership. Management between the family of companies was shared after the spinoff from Resource America.

In the letter to shareholders, Cooperman said that he was subpoenaed to testify before the SEC on March 11, three days before he received the Wells Notice. On the advice of counsel, Cooperman asserted his Fifth Amendment rights. He also said that his legal team is working to persuade the SEC not to file an enforcement action.

In the letter, Cooperman also noted that in late 2011 Omega received a subpoena from the SEC tied to trading activity in the same security. Omega responded to that subpoena in early 2012 and had not heard from the SEC on that matter until March 2015, and then again last week when they received the Wells Notice.
-- Carleton English contributed to this Real Money report.
Editor's Note: This article was originally published on Real Money at 12:08 p.m. on Sept. 21.
Employees of TheStreet are restricted from owning individual securities.