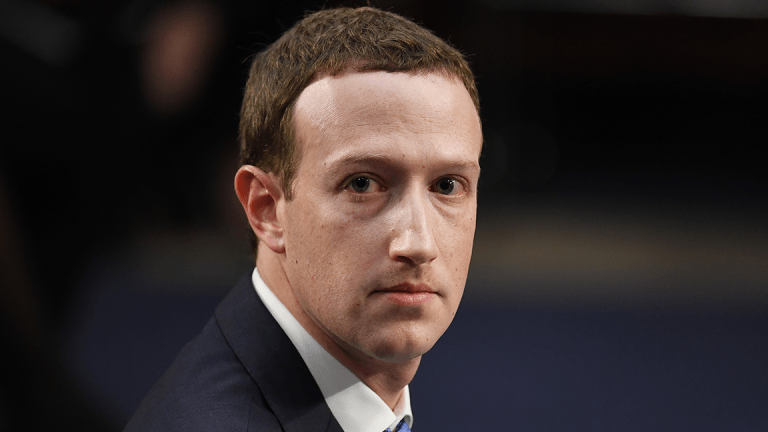 Facebook Is Thinking Outside the Box as It Bets Big on Video
The social media giant is still betting big on ad-supported video, even as it cuts down on how many videos are shown on its news feed.
The social media giant is still betting big on ad-supported video, even as it cuts down on how many videos are shown on its news feed.
Facebook's (FB) - Get Report attitudes towards video are pretty conflicted these days.
On one hand, Mark Zuckerberg's company is still making sizable investments in its Watch video platform, as recently-announced deals to finance news shows from CNN, Fox News, Univision and others makes clear. And growing video viewing is still a priority for Instagram, as recent reports about a new platform for longer professional videos demonstrate.
On the other hand, Facebook has changed its algorithms to lower the amount of "passive" video viewing that happens in its main news feed, in favor of promoting content shared by friends/family and more generally encouraging social interactions. The company has cautioned that this strategy change will hurt time spent on Facebook in the near-term, and has disclosed that efforts to show fewer viral videos in the news lowered time spent on Facebook by about 50 million hours per day in Q4 2017.
In addition, while Facebook clearly remains committed to Watch, which was launched last summer, Facebook execs have stressed that they want Watch to be a platform that emphasizes social viewing experiences rather than passive consumption. "[W]e're trying to make a different experience than what you might be able to get on YouTube or any of these other services by making [Watch] more about connecting with people in different ways," said Zuckerberg on Facebook's Q1 earnings call.
Along with news shows, Facebook's Watch content bets have included sporting events and other material that could spark lively comment threads. The company has also launched Watch Party, a feature that lets Facebook Group admins create events during which Group members simultaneously view and comment on a Watch video.
Facebook's official reason for trying to cut passive media consumption and grow social interactions: It wants time spent on its platform to be "time well spent." When discussing Facebook's news feed changes in January, Zuck made sure to mention a Facebook-sponsored study that found passive social media viewing to be harmful to a user's mental well-being, and social interaction to be beneficial.
And amid ongoing criticism over the spread of fake/misleading news, Russian-bought political ads and low-quality content via its news feed, cutting down on how much media content is shown in the feed (and being more judicious about the media content that is promoted) fits with the company's broader content quality and security efforts. Likewise, Facebook asserts its Watch news shows represent "another investment in quality news on Facebook."
But upon closer review, there are also motivations behind Facebook's strategic shift. Chief among them: Facebook usage in the U.S., which still accounts for close to half of the company's ad revenue, has been slumping, particularly among younger users. With many users cutting down on their aimless browsing of news feed content, Facebook wants to emphasize the kind of interactions that still make its platform an indispensible utility for legions of consumers.
It's worth noting here that even as Facebook tries to reduce passive news feed video viewing, it's looking for ways to grow Instagram's video consumption, much of which is passive. The simple explanation for this: Instagram still appears to be seeing healthy user growth and engagement trends, in the U.S. and elsewhere.
As for Watch's "social" video strategy, part of Facebook's motivation for going in this direction could be a wish to avoid Watch be seen as a second-rate alternative to Alphabet/Google's (GOOGL) - Get Report YouTube. With YouTube claiming massive leads over all rival platforms in terms of its user base, creator base, video library and much else, there's some logic to avoiding a head-on fight, and instead developing a platform that leverages and emphasizes Facebook's social strengths.
Its misgivings about passive news feed viewing aside, Facebook clearly can't afford to be an also-ran when it comes to ad-supported online video. Mobile video viewing has skyrocketed in recent years, and online video ad spend is taking off with it.
Facebook already does plenty of business selling standalone news feed ads that feature videos, and from the looks of things, Instagram's video ad sales are growing nicely as well. And though some of its public comments might suggest otherwise, the company still seems pretty eager to grow how much monetized video content is seen on its various platforms.
Facebook and Alphabet are holdings in Jim Cramer's Action Alerts PLUS member club. Want to be alerted before Jim Cramer buys or sells FB or GOOGL? Learn more now.