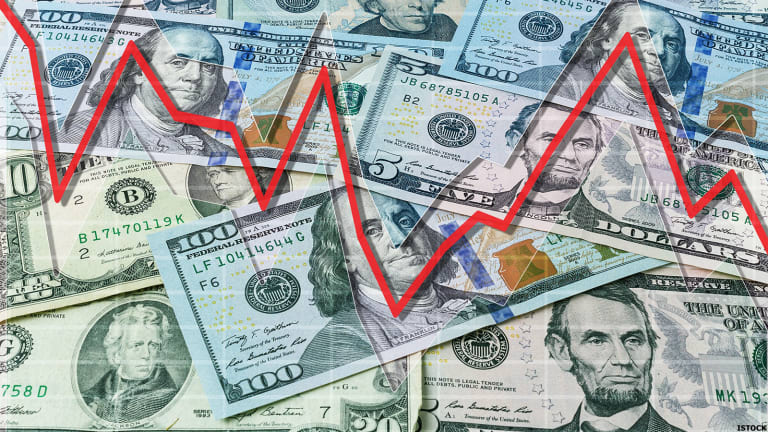 Industrial Sector Fundamentals Remain Robust Amid Increased Market Volatility
RBC Capital Markets says fundamentals remain robust for most industrial sub-sectors and present buying opportunities.
Volatility is here to stay, and while the exchange-traded products tied to the VIX have the potential to roil markets again, perpetuating a sense of unease among investors, the underlying fundamentals for equities, particularly in the industrials sector, remain solid.
"The key takeaway from the past month is that despite the recent volatile gyrations in the markets and growing investor jitters, fundamentals remain broadly constructive for most industrial sub-sectors, presenting potential strategic buying opportunities," RBC Capital Markets analysts, including Deane Dray, wrote in a Feb. 12 research note.
The Cboe Volatility Index I:VIX rose about 2.7% to 26.30 at 1 p.m. on Tuesday, Feb. 13, easing back from 27.82 earlier in the day. Last week, the volatility index, which is also known as the investor fear gauge, saw one of its largest increases in over a year, rising to as high as 50 after hovering around 10 for almost all of 2017.
Volatility touched off by inflation and worries about higher interest rates, RBC said, exposed the vulnerability of extended equity valuations. In last week's sell-off, the Dow Jones Industrial Average and the S&P 500 both declined by more than 5%.
"U.S. equities are at a key inflection point directionally, on track for a V-shaped recovery but at risk of a secondary shock if equity stress spills over to rates and credit and the Fed put strike is tested," Bank of America Merrill Lynch analysts wrote in a Feb. 13 research note. The Fed put, previously coined the "Greenspan put," refers to the central bank's tendency to cut rates or hold off on rate increases in response to turmoil in the markets.
Still, New York Fed President William Dudley said in an interview with Bloomberg last Thursday that the drop in the U.S. stock market has "virtually no implications for the economic outlook."
Despite the return of volatility, investors should remain calm, Mark Tepper of Strategic Wealth Partners said Friday on CNBC.
"The proper strategy here is to buy the dip," said Tepper. "Now is the best time for investors to be repositioning their portfolios because the bull market isn't over."
For investors, "the good news is that fundamentals [across most industrial sub-sectors] remain robust and were reinforced during the fourth quarter of 2017 earnings season," RBC said.
The firm's top global picks are roofing and insulation company Owens Corning (OC) - Get Owens Corning Report , buildings materials manufacturer Louisiana-Pacific Corp. (LPX) - Get Louisiana-Pacific Corporation Report , and chemical producer DowDupont Inc. undefined , which is a holding in TheStreet founder Jim Cramer's Action Alerts PLUS Charitable Trust portfolio.
"Recent weakness following the quarter (and resulting from the market correction) has provided for a buying opportunity," Cramer wrote in a Feb. 9 note to AAP subscribers.
DowDuPont is holding in Jim Cramer's Action Alerts PLUS Charitable Trust Portfolio. Want to be alerted before Cramer buys or sells DWDP? Learn more now.
To be sure, the exchange-traded products, or ETPs, that exacerbated the sell-off last week still have the potential to agitate the markets.
"The short VIX strategy is not going away," John Deters, chief strategy officer at Cboe Global Markets Inc. (CBOE) - Get Cboe Global Markets Inc Report , said during a conference call with analysts on Feb. 9.
Management noted that two VIX ETPs, ProShares Short VIX Short-Term Futures (SVXY) - Get ProShares Short VIX Short-Term Futures ETF Report and VelocityShares Daily Inverse VIX Short-Term ETN (XIV) , that are used to short VIX futures constituted less than 5% of VIX futures volumes, Jefferies analyst Daniel Fannon said. But the latter of those two EPTs, XIV, is being liquidated.
Separately, a Washington-based law firm that represents an "anonymous whistleblower" told U.S. financial regulators of an alleged scheme to manipulate the VIX, according to a Reuters report.
"The flaw allows trading firms with advanced algorithms to move the VIX up or down by simply posting quotes on S&P options and without needing to physically engage in any trading or deploying any capital," the firm said in a letter.
The Cboe rebutted the allegations.
"This letter is replete with inaccurate statements, misconceptions and factual errors, including a fundamental misunderstanding of the relationship between the VIX Index, VIX futures and volatility exchange-traded products, among other things," a Cboe spokesperson said in a statement via email. "As a result of these errors, we feel the conclusionary statements contained in this letter lack credibility."
Keefe, Bruyette & Woods analysts Kyle Voigt and Matthew Moon think that investors will remain "cautious and prefer to 'wait and see' with respects to VIX volumes."